Large, dark purple eggplants are the most common, but this fruit—yes, eggplant is a fruit—can be big or small, as well as light or dark purple, white, green or multi-colored. Regardless of size and color, most eggplant can be used interchangeably. Here's what you need to know when shopping, plus tips for storage and prep.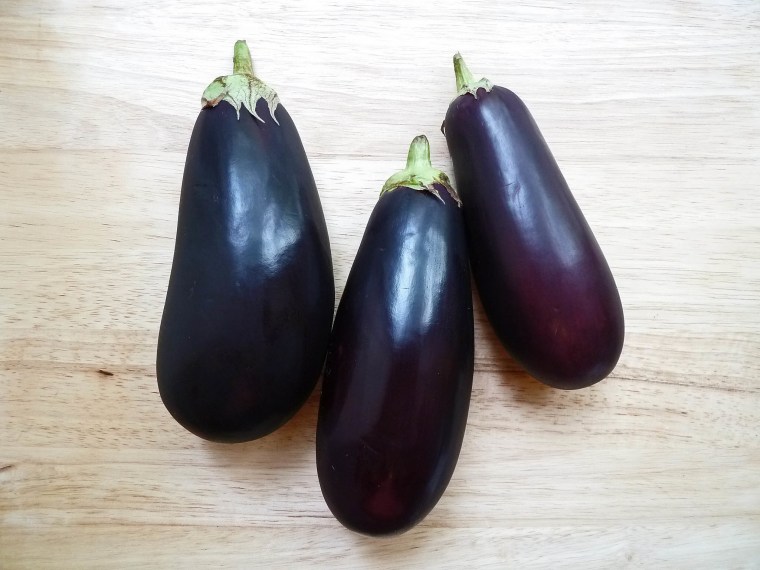 How to shop for eggplant
Look for eggplant that has smooth, shiny skin with no bruises, soft spots or wrinkles, which can be signs of age. The flesh should be firm but slightly springy and the stem should be green with leaves still attached.
Older eggplants tend to have more seeds and can be slightly bitter and tough, so avoid any that seem too mature.
How to store eggplant
It's best to use eggplant sooner rather than later, as the older it gets the more bitter it will taste. Eggplants are grown in temperate climates and don't fare well when refrigerated. Store eggplant at cool room temperature and try to use within 2-3 days.
How to prepare eggplant
Older, larger eggplants can be bitter and they have a habit of absorbing too much oil and getting soggy. To avoid this, cut or slice the eggplant, toss it with a generous amount of salt (about ½ tablespoon for 1 medium eggplant) and let it sit in a colander for about 30 minutes. Rinse the eggplant then press it with paper towels to remove excess water, and proceed with your recipe. You can skip this step when using fresher, smaller eggplant.
Eggplant Recipes
Siri Pinter's roasted eggplant dip and more must-try recipes
Make Mario Carbone's drool-worthy chicken and eggplant parmesan recipes
Cheesy meatloaf stacks with grilled eggplant and fresh basil
Yakitori (Japanese grilled-chicken skewers) with eggplant
Fresco's famous eggplant and zucchini pie
Another easy way to enjoy fresh eggplant
Eggplant Pizza Bites
Cut several small or medium eggplants into ½-inch thick slices, arrange on parchment paper-lined baking sheets, sprinkle with salt and bake in a 425°F oven for 15 minutes. Carefully flip the eggplant slices, then spread 1-2 tablespoons tomato sauce on each slice, followed by about 1 tablespoon shredded mozzarella. Sprinkle with dried oregano or crushed red pepper flakes and bake until the cheese is bubbling and just starting to brown, about 10 minutes.