Eggs are all the rage these days.
While they once were blamed for causing high cholesterol, science now shows they can actually improve cholesterol and blood pressure, while promoting weight loss.
Naturally, they've become a staple in many diets, like the trendy high-fat, low-carb ketogenic (or keto for short) diet. Now, keto recipes are trending on Pinterest as people search for creative ways to adhere to the relatively restrictive eating rules.
A Pinterest spokesperson told TODAY Food that saves, or "pins," for egg recipes have spiked by about 45 percent over last year, and they indicated it may likely be tied to the nearly 1,000 percent increase in saves of keto recipes over 2017. According to Pinterest, low-carb recipe saves are also on the rise.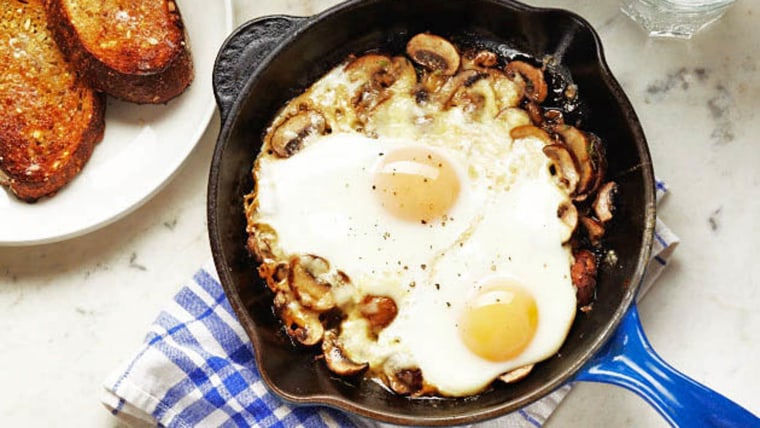 So far in 2018, the No. 1 egg recipe on Pinterest is a keto-friendly recipe from the blog Life Made Sweeter: an egg "muffin" recipe that's been saved 154,000 times.
Handy because you can make them ahead of time, store them in the fridge or freezer and reheat them for breakfast, the muffins can include a variety of vegetables and proteins like kale, broccoli, bacon, mushrooms or jalapenos. Described as "mini personal-size frittatas," the muffins are low in carbs and safe for those following a keto diet plan.
The second most popular egg recipe pin, which has been saved 88,000 times, is for a turkey and egg breakfast casserole. Aimee Mars of Aimee Mars Living said she makes this easy-to-prepare dish, which features turkey, sweet potato, egg and spinach with some spices, almost every two weeks for her family.
One-pot meals are also popular due to their ease of preparation, and this version with eggs from the UK's delicious magazine is the third most saved egg recipe on Pinterest with 43,000 saves. A mixture of eggs, mushrooms, spinach, potatoes and gruyere, it's got 34 grams of carbs ... so it's not a great fit for keto adherents but it looks absolutely delicious.
Another one-pot recipe, this version is a spicy take on poached eggs from Pinch of Yum that mixes tomatoes, potatoes, kale, goat cheese and chili powder. The blog recommends serving it with crusty bread to sop up all the sauce. More than 37,000 people have saved it to their Pinterest boards.
Twists on traditional deviled eggs are also trending with this avocado version from Chef de Home coming in fifth on the list of most popular Pinterest egg recipes. These deviled eggs skip the mayo entirely and opt for a mixture using avocado, lemon, garlic and jalapeno for a healthier alternative.
Whether poached, scrambled, baked or fried, many people are finding the egg incredible and edible once again.