What started with a widespread, somewhat fanatical, love of the original Pumpkin Spice Latte has turned into a craze for pumpkin spiced-everything. But the latest pumpkin product out on store shelves soon is basically a frozen take on the Starbucks' beverage: Edy's Pumpkin Spice Latte ice cream.
Unlike many of the pumpkin flavored foods on the market, this new ice cream actually incorporates coffee flavoring ... but without the caffeine. And we're not sure about that. Isn't caffeine the best part of our morning latte?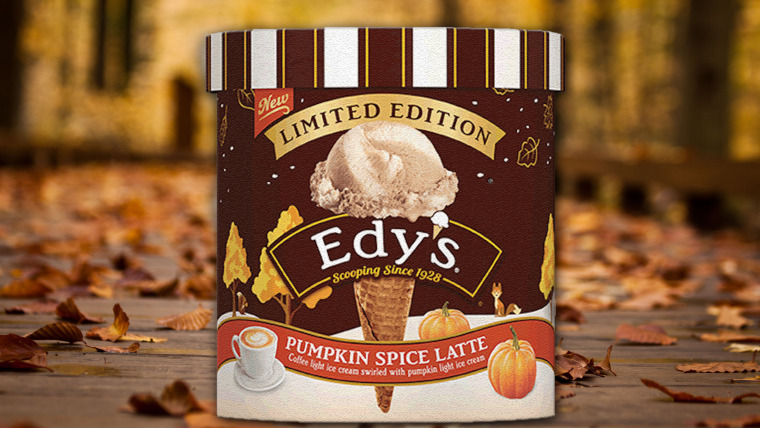 The new ice cream flavor, which Edy's officially announced on Instagram, is a mix of coffee and pumpkin spice — think nutmeg and cinnamon — ice creams. As for the latte part? Well, since ice cream is made of milk, there's plenty of creaminess in there for true latte lovers.
This isn't the first time Edy's has tried its hand at flavoring ice cream with pumpkin. About a decade ago, they released a limited-edition Pumpkin Pie flavor. And pumpkin certainly isn't new to the ice cream market, either, with Halo Top launching their own limited-edition Pumpkin Pie flavor just last month and Talenti offering a Pumpkin Pie gelato flavor.
But pumpkin spice latte ice cream is a new concept that we're excited to try.
As for when to expect this item, the brand says "soon" and it will be limited-edition. While you're waiting, perhaps you can get by on some Pumpkin Pie Kit Kat bars?