Sometimes, winning a food challenge can earn you a spot on a restaurant wall of fame. But starting Sunday at one Mexican eatery, polishing off a 30-pound burrito will get you so much more than mere bragging rights.
"You're way beyond getting your name on the wall. You're getting the wall. You're becoming an owner," said Vic Robey, a co-owner himself of Brooklyn's Don Chingon. "You'll have free food for life, in addition to 10 percent of the profits."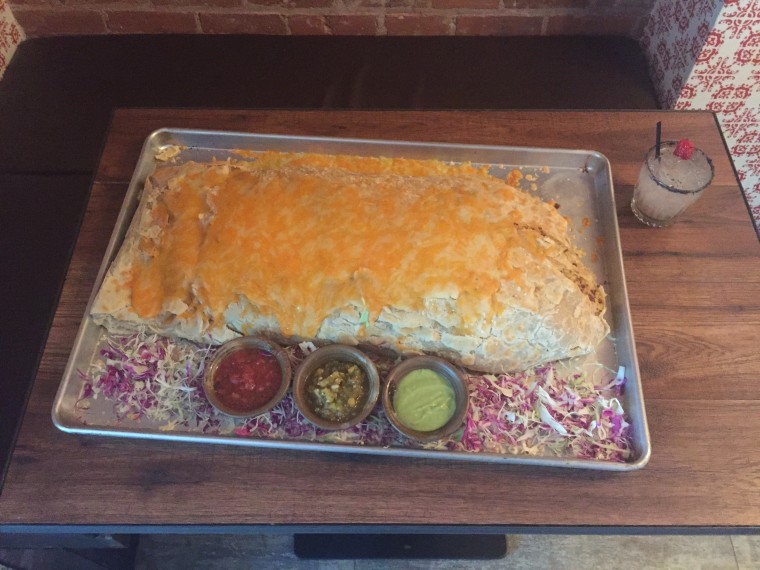 The Gran Chingon is a massive tortilla filled with pork, chicken, carne asada, rice, beans, four pounds of salsa and three pounds of cheese.
Finish the thing within an an hour, along with one extremely spicy ghost pepper margarita, and a 10 percent restaurant ownership is yours. But be warned: Vomiting and bathroom breaks will disqualify you.
"This challenge is very difficult. It will take one of the best eaters in the world in order to accomplish it," Robey acknowledged, before warning: "Eat at your own risk. We're advising people to eat up to your limit, but not beyond."
That's because Don Chingon makes it very clear it won't accept responsibility for death or illness.
It costs $150 to enter the competition, and only one burrito a day will be made, Robey said, in part because it takes about two hours to make the creation. Any order must be placed 24 hours in advance.
For those who want to try the behemoth burrito, just not alone, "we do have a tiered challenge," Robey offered.
For two people who can finish the burrito within an hour, each partner will get $500 in cash, a $500 food and beverage credit and restaurant T-shirts. All other rules apply.
Follow TODAY.com writer Eun Kyung Kim on Twitter.