While we all love cookout season, the food can become monotonous by mid-summer without a little creativity. That's especially true for vegetarians and vegans, who are usually stuck eating some dry frozen patties that may or may not actually contain any vegetables, along with some iceberg lettuce, and, if lucky, a passable side dish. Stand out from the crowd and serve up these dishes created by vegan food blogger Angela Liddon and featured in "The Oh She Glows Cookbook." They are vegan, can be made gluten-free and oh so delicious – you may see the omnivores lining up to fill their plates as well. 
Creamy avocado-potato salad
Makes 3 servings; prep time: 25 minutes; cook time 30 - 35 minutes
Gluten-free, nut-free, soy-free, sugar-free, grain-free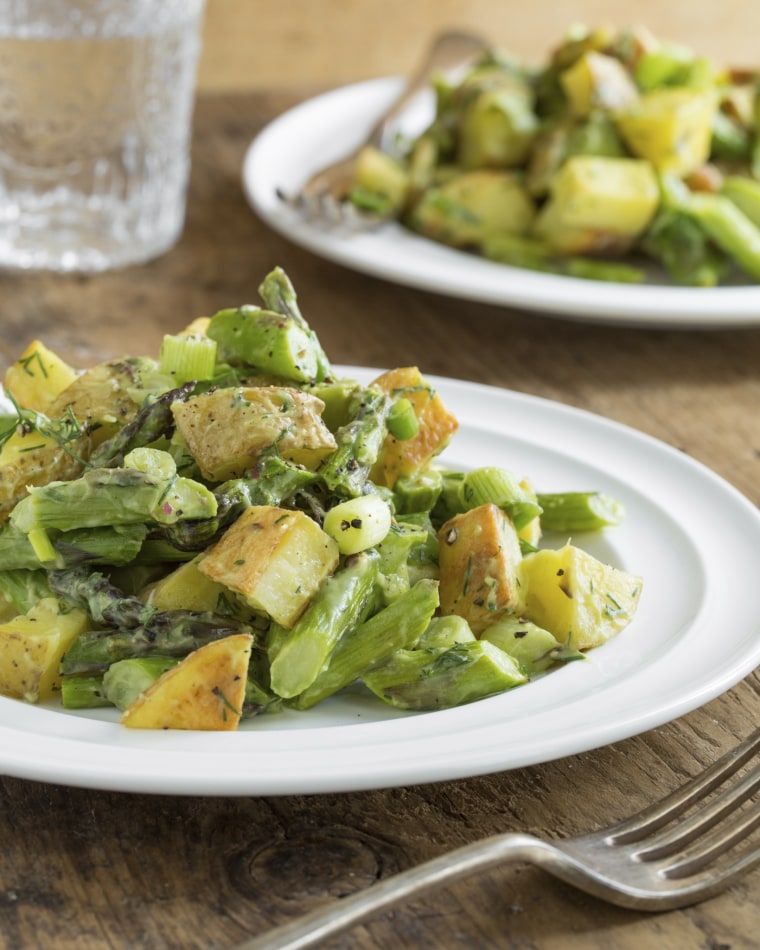 This recipe blends avocado with fresh dill, green onion, and lemon juice to create a tangy, creamy dressing for roasted potatoes and asparagus. I promise you will never see potato saladthe same way again! Traditional potato salads tend to call for boiled potatoes, but I like to use crispy roasted potatoes to give my potato salads a fantastic, mush-free texture. Try it and see the difference yourself.

For salad:

1 1⁄2 to 2 pounds yellow potatoes, chopped into 1⁄2-inch cubes (4 1⁄2 to 5 1⁄2 cups)

3 teaspoons extra-virgin olive oil

1⁄2 teaspoon fine-grain sea salt

1⁄4 teaspoon freshly ground black pepper

1 bunch asparagus, woody ends broken off, stalks chopped into 1-inch pieces

1⁄2 cup chopped green onions

For the dressing:
1⁄2 cup avocado

2 tablespoons minced fresh dill

4 teaspoons fresh lemon juice

1 green onion, roughly chopped

1⁄4 teaspoon fine-grain sea salt, or to taste, plus more for serving

Freshly ground black pepper

1. Preheat the oven to 425°F. Line two rimmed baking sheets with parchment paper.
2. Spread the potatoes in an even layer on one of the prepared baking sheets and drizzle them with 1 ½ teaspoons of the oil. Season with half of the salt and pepper. Spread the asparagus on the second baking sheet and drizzle with the remaining 1 ½ teaspoons oil. Season with the remaining salt and pepper.
3. Roast the potatoes for 15 minutes, flip them, and roast for 15 to 20 minutes more, until golden and fork-tender. During the last 15 minutes of roasting the potatoes, place the asparagus in the oven and roast for 9 to 12 minutes, until tender. Transfer the roasted potatoes and asparagus to a large bowl and stir in the green onions.
4. Make the Dressing: In a mini food processor, combine the avocado, dill, lemon juice, green onion, salt, pepper, to taste, and ¼ cup water and process until smooth.
5. Add the dressing to the bowl with the potatoes and asparagus and stir until combined. Season with salt and pepper to taste and serve immediately. The salad is also good chilled and will keep in an airtight container in the refrigerator for a couple of days.
Long weekend grilled salad

Makes 6 servings; prep time 20 minutes; cook time 20 - 25 minutes
Gluten-free, nut-free, soy-free, refined sugar–free, grain-free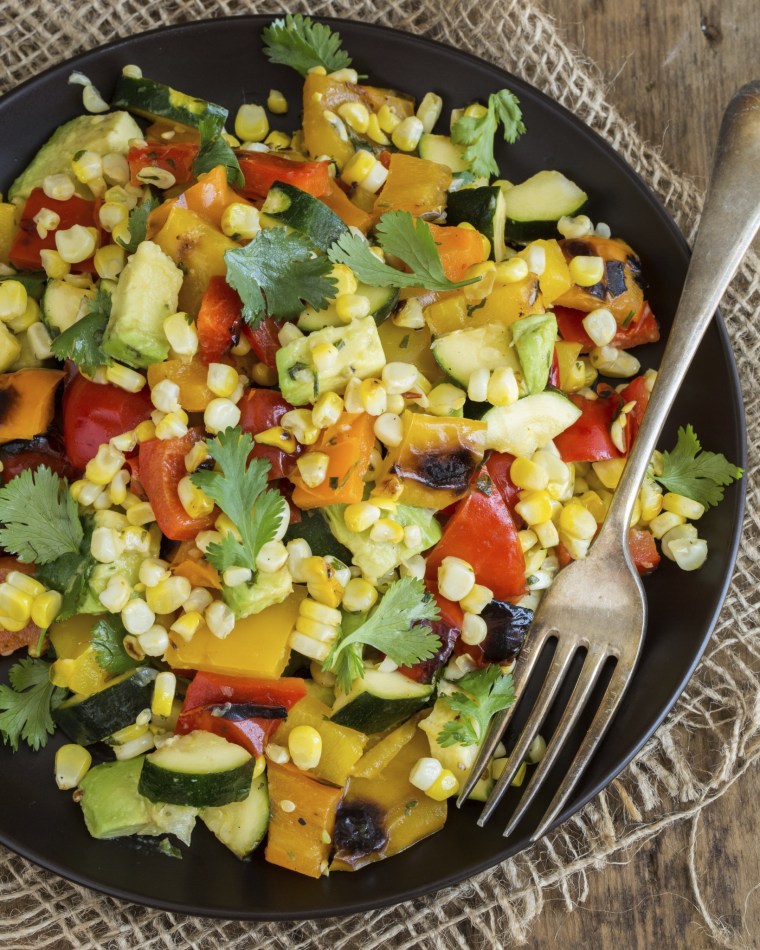 This salad is light, fresh, filling, and easy to throw together for any summer gathering. You can make it the day before—just throw it into a container and let the flavors marry overnight in the fridge. It travels well to any summer picnic or potluck gathering. Just give it a good shake or stir before serving so the dressing is evenly dispersed.
For the grilled vegetables:
6 ears corn

Coconut oil or grapeseed oil, for brushing

Fine-grain sea salt and freshly ground black pepper

3 bell peppers (I use 1 red, 1 yellow, and 1 orange), quartered lengthwise

2 medium zucchini, halved lengthwise

For the dressing:
3 tablespoons extra-virgin olive oil

3 tablespoons fresh lime juice

1 small clove garlic, minced

2 tablespoons minced fresh cilantro leaves

1 teaspoon agave nectar or other liquid sweetener

1⁄4 teaspoon fine-grain sea salt, plus more as needed

Freshly ground black pepper, to taste

To assemble:
1 avocado, halved and pitted

Fine-grain sea salt and freshly ground black pepper

Fresh cilantro leaves, for serving (optional)

Our favorite veggie burger
Makes 8 servings; prep time 25 minutes; cook time 30 - 35 minutes
Nut-free, sugar-free, gluten-free option, soy-free option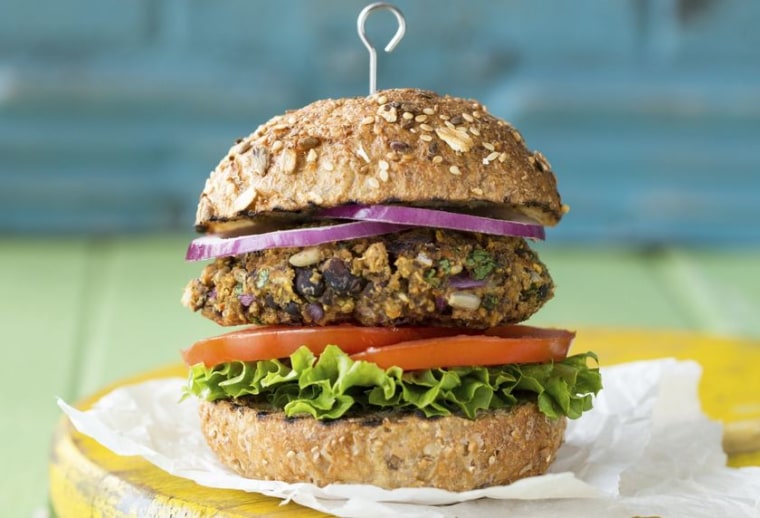 These sturdy and flavorful veggie burgers have all the elements my family and I love in a veggie burger—they're chewy and hearty, and they hold together when cooking. Veggie burgers are fantastic because they keep well for the entire week and can be frozen after cooking for quick and easy meals down the road. Serve them with toasted multiseed buns, with lettuce wraps, or crumbled over salads. Really, you can't go wrong no matter which way you serve them. This recipe is inspired by Shelley Adams, author of the Whitewater Cooks cookbook series. You can find Shelley online at whitewatercooks.com — thanks, Shelley!

1 tablespoon ground flaxseed

1 can black beans, drained and rinsed

1 cup grated carrots or sweet potato

1⁄3 cup finely chopped fresh parsley or cilantro leaves

2 large cloves garlic, minced

1⁄2 cup finely chopped red or yellow onions

1⁄2 cup sunflower seeds, toasted, if preferred

3⁄4 cup gluten-free rolled oats, processed into a flour

1⁄2 cup spelt bread crumbs or

Bread crumbs, optional

1⁄2 tablespoon extra-virgin olive oil

1 to 2 tablespoons tamari or coconut aminos, to taste

1 teaspoon chili powder

1 teaspoon dried oregano

1 teaspoon ground cumin

3⁄4 to 1 teaspoon fine-grain sea salt

Freshly ground black pepper

1. Preheat the oven to 350°F. Line a baking sheet with parchment paper.
2. In a large bowl, mash the black beans into a paste, leaving a few beans intact for texture. Stir in the rest of the ingredients and the flaxseed mixture. Adjust the seasonings to taste, if desired. Mix well until combined.
3. With slightly wet hands, shape the dough into 8 patties. Pack the dough tightly to help it hold together during cooking and place the patties on the prepared baking sheet.
4. Bake the patties for 15 minutes, gently flip them, and bake for 15 to 20 minutes more, until the patties are firm and golden. Alternatively, grill the veggie burgers: Preheat a grill over medium heat. Prebake the patties in the oven for about 15 minutes at 350°F, then place them on the grill. Grill on each side for a few minutes until lightly golden.
5. Serve with toasted buns or lettuce leaf "wraps."
Tips: To make these burgers gluten-free, use certified gluten-free oats, gluten-free tamari, and omit the bread crumbs.
To make these burgers soy-free, use a soy-free tamari (such as a brown rice–based tamari) or coconut aminos.
Reprinted by arrangement with Avery, a member of Penguin Group (USA) LLC, A Penguin Random House Company. Copyright © Glo Bakery Corporation, 2014.