Want to know the secret to the best sweet and savory pumpkin dishes? It all starts with canned pumpkin puree. Ereka Vetrini shares her tips for cooking with pumpkin puree and demonstrates three recipes from Allrecipes: Savory turkey chili, double-layer pumpkin cheesecake and mini pumpkin whoopie pies. 
Savory turkey chili
6 servings
1 tablespoon vegetable oil

1 cup chopped onion

1/2 cup chopped green bell pepper

1/2 cup chopped yellow bell pepper

1 clove garlic, minced

1 pound ground turkey

1 14.5 ounce can diced tomatoes

2 cups pumpkin puree

1 1/2 tablespoons chili powder

1/2 teaspoon ground black pepper

1 dash salt

1/2 cup shredded cheddar cheese

1/2 cup sour cream 

Heat the oil in a large skillet over medium heat and saute the onion, green bell pepper, yellow bell pepper and garlic until tender. Stir in the turkey and cook until evenly browned. Drain and mix in tomatoes and pumpkin. Season with chili powder, pepper and salt. Reduce heat to low, cover and simmer 20 minutes. Serve topped with cheddar cheese and sour cream.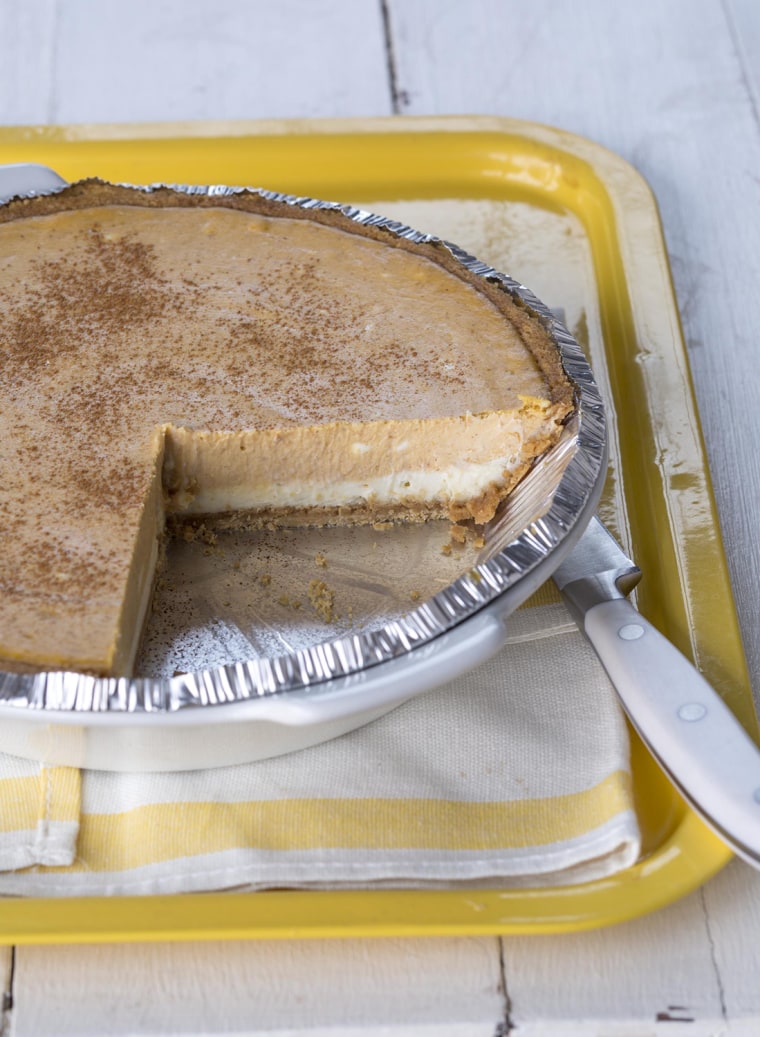 Double-layer pumpkin cheesecake
2 8-ounce packages cream cheese, softened

1/2 cup sugar

1/2 teaspoon vanilla extract

2 eggs

1 9-inch prepared graham cracker crust

1/2 cup canned pumpkin puree

1/2 teaspoon cinnamon

1 pinch ground cloves

1 pinch nutmeg

1/2 cup frozen whipped topping, thawed or whipped cream (From our kitchen: This is enough to dollop on top, but you'll need 1 cup if you want to cover the entire top of the cheesecake.)

1. Preheat oven to 325 degrees. In a large bowl, beat cream cheese, sugar and vanilla with an electric mixer until smooth. Blend in eggs one at a time.
2. Spread 1 cup of batter into bottom of crust. Add pumpkin, cinnamon, cloves and nutmeg to remaining batter in bowl and stir gently until well blended. Carefully spread over batter in crust.

3. Bake 35 to 40 minutes or until center is almost set. Cool, then refrigerate 3 hours or overnight. (From our kitchen: Make this a day ahead if you have the time. Three hours wasn't quite enough chill time for ours, but it really did set up and slice beautifully after a night in the fridge.) Dollop with whipped topping before serving.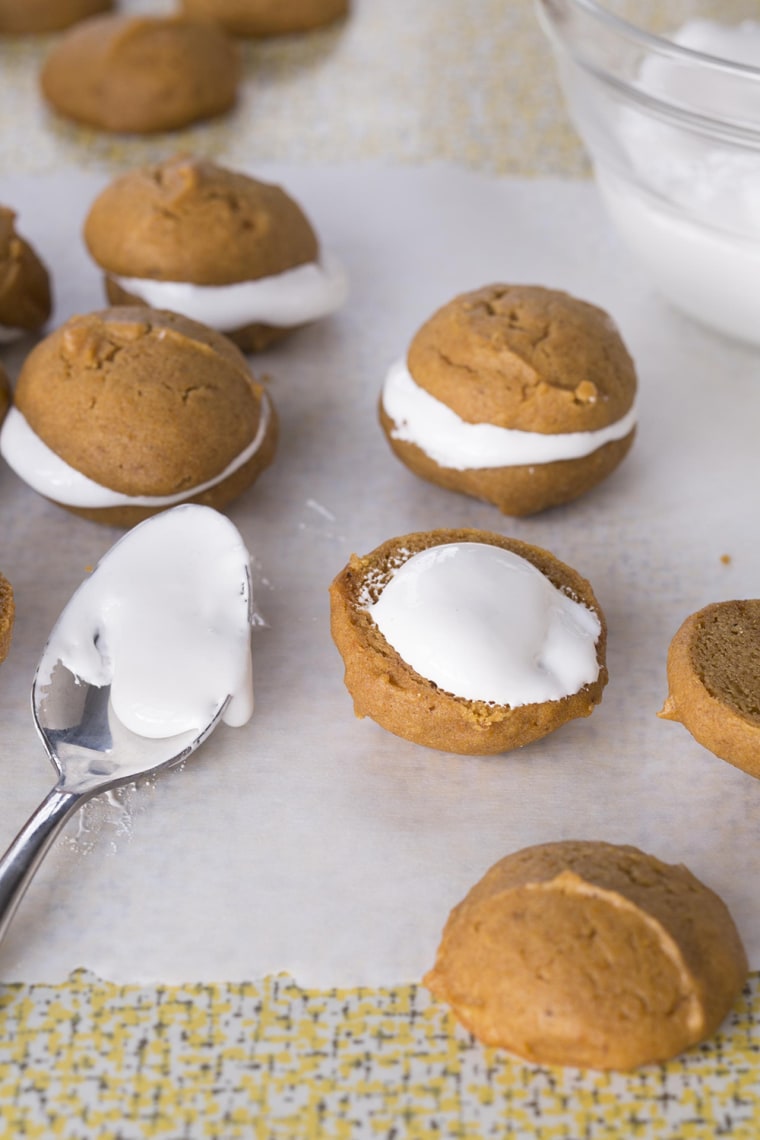 Mini pumpkin whoopie pies

2 cups packed brown sugar

1 cup vegetable oil

1 1/2 cups canned pumpkin puree

2 eggs

1 teaspoon vanilla extract

3 cups flour

1 teaspoon salt

1 teaspoon baking powder

1 teaspoon baking soda

1 1/2 teaspoons cinnamon

1/2 teaspoon ground ginger

1/2 teaspoon ground cloves

1 cup prepared marshmallow crème

1. Arrange racks in upper and lower thirds of oven, and preheat oven to 350 degrees. Lightly grease two baking sheets.
2. In a bowl, combine brown sugar and oil, then add pumpkin and eggs and beat well with an electric mixer. Stir in vanilla. Add flour, salt, baking powder, baking soda, cinnamon, ginger and cloves and beat well.

3. Drop tablespoons of dough onto prepared baking sheets, spacing 1 inch apart. Bake in 2 batches (2 sheets at a time) for 10 to 12 minutes, or until cookies are lightly puffed, dry to touch, and lightly browned on edges. Transfer to a rack and cool completely, about 30 minutes.

4. Turn half the cookies upside down, and top each with 1 teaspoon marshmallow crème. (From our kitchen: Marshmallow crème is very sticky, so it's easier to pipe than spread. Spoon it into a piping bag or a quart-sized zip-top plastic bag with a corner snipped off.) Top with remaining cookies to form sandwiches.
Ereka's pumpkin puree tips:
Why canned? 
"Cooking with canned pumpkin puree saves time and still tastes great! Deseeding, baking and scooping out the flesh of a 4-pound pumpkin can take over two hours! Homemade steamed pumpkin puree is generally thinner than the canned version so be sure to mash and drain the flesh using a cheesecloth before you bake with it."

Do you have tips on buying pumpkin puree?
"I always choose organic canned pumpkin puree when it's available. Also read the ingredients to make sure it's 100 percent pumpkin and be sure that you are getting plain pumpkin puree not 'pumpkin pie filling,' which is already flavored and sweetened. I like to be in charge of which warm fall spices (nutmeg, cinnamon, allspice, ginger) I add to my pumpkin dish."

What about cooking with puree?
"Remember that pumpkin puree can be used in both savory and sweet dishes and that spices like nutmeg, allspice, ginger, cinnamon and cloves really complement the natural pumpkin flavor. It's a very versatile ingredient so if you have leftovers, store it overnight in the fridge and use it the next morning in your parfait, smoothies or in your pancakes!"

What are some of your other favorite sweet and savory pumpkin ideas?
"I've never met a pumpkin dish I didn't like, but here are some of my favorites: savory pumpkin ravioli, savory pumpkin soup, pumpkin pudding, pumpkin parfait, pumpkin bread and pumpkin pancakes (shaped like pumpkins). 
Any other good-to-know pumpkin info? 
"Pumpkin is a wonderful source of alpha-carotene, which promotes healthy vision, so feel good about serving it to your kids."