Sick of staying up until midnight, trolling Pinterest for the perfect party spread ideas? Spare yourself the exhaustion this year and keep things simple by dressing up simple, ready-made ingredients and turning them into instant appetizers, without driving yourself to the brink of insanity.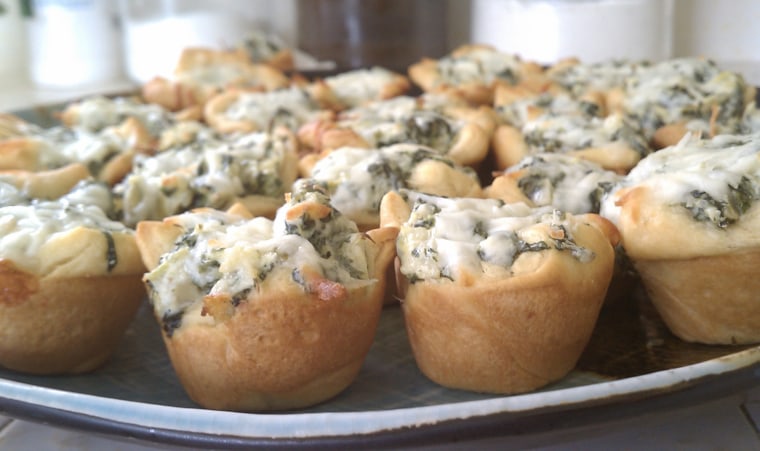 1. Crescent rolls + spinach artichoke dip: Spinach artichoke dip is a must-have classic at this point. But putting dip in edible hand-held cups made of store-bought crescent roll dough? Even better. Christine Crocker of the blog Park House Love does just this, by pressing the dough into muffin pans and filling the cups with dip. She makes her own dip in advance, but if you are squeezed for time, it's also a great way to make the store-bought stuff more presentable than serving it in the plastic container.
2. Veggie tray + bottled dressing + plastic cups: Yes, you can plop the flower-shaped veggie tray on the table and call it a day. Or, you can look like a super star with this easy trick from recipe developer Kelly Salemi at Live Love Pasta. She pours bottled green goddess dressing (or scoops hummus) into the bottom of clear plastic tumblers, then arranges pre-cut veggies on top for individual veggie cups that guests can carry around the party. 
Watch: Turn your crudités into an edible garden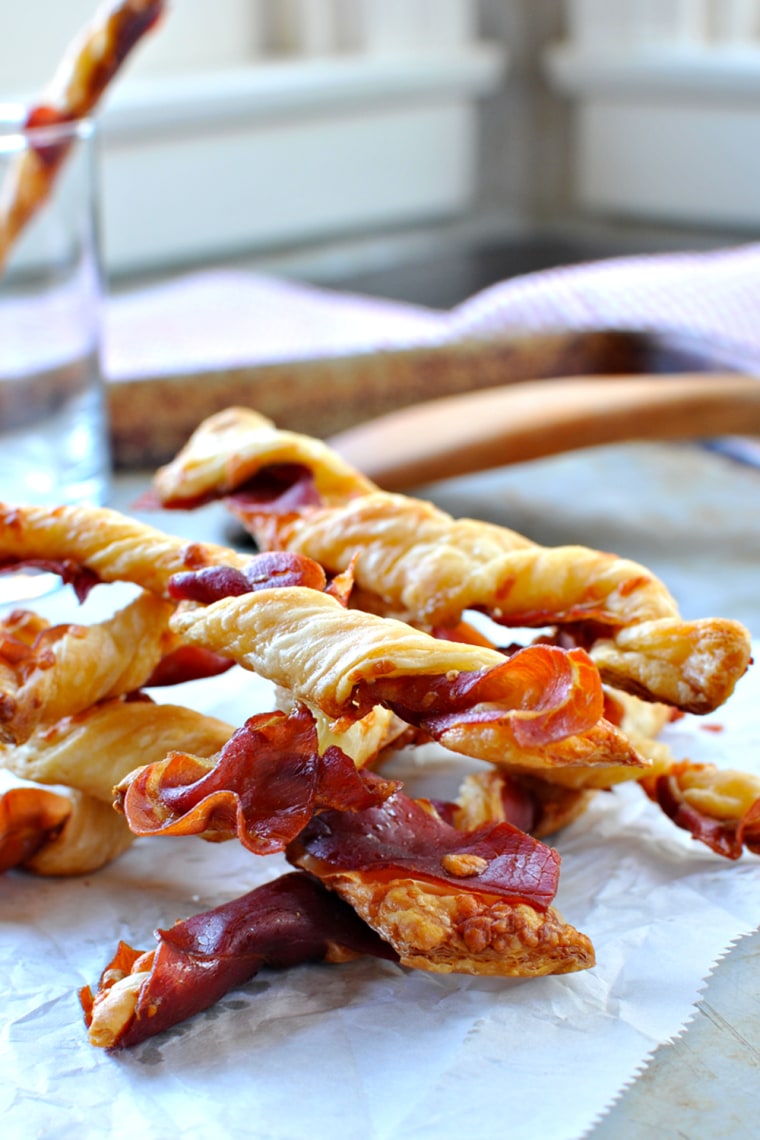 3. Puff pastry + prosciutto: Serve these cheese straws at your shindig and people will think you had it catered. But they couldn't be easier: Blogger Emily Stoffel of the Pig and Quill blog brushes puff pastry (from the freezer aisle) with oil, scatters it with cheese, cuts it into strips and twists a bit of prosciutto into each one. "These are just as popular without the prosciutto if you want to account for any vegetarian snackers," she told TODAY.com. 
4. Goat cheese log + pistachios: This cheese log looks like it could have come from a specialty store, but blogger Amanda Paa made it at home with just five ingredients (including the salt!). She simply grinds up pistachios and thyme, rolls the cheese in it and sprinkles the platter with pomegranate seeds for holiday flair. You can make it up to two days ahead of time, and if you have a guest allergic to nuts, swap in roasted pumpkin seeds, she tells TODAY.com. 
5. Pitas + guacamole + pretzels: If you have kiddos coming to your party, try this cute appetizer that will also please health-conscious parents: Christmas-tree shaped pita bread "trees" covered in green guacamole. Real Mom Kitchen author Laura Powell spreads pita bread with guac and cuts them intro triangles to make the tree shapes, and gives them a pretzel-stick stump. (Go crazy and decorate with red bell pepper and herbs if you'd like.) She says the hardest part of the whole thing is pressing the pretzel into the bottom of the pita. Done and done!