/ Source: TODAY Contributor
We are officially in the holiday season and that means parties galore. If you're planning to entertain but panicked you can't pull it off, we've got you covered with 7 holiday party hacks for a stress-free celebration.
1. Use wrapping paper as a table runner
Forget tablecloths and think paper. Just tape on wrapping paper for a festive table. Not only will you be recycling, but clean-up is super simple too.
What you'll need:
Holiday wrapping paper
Tape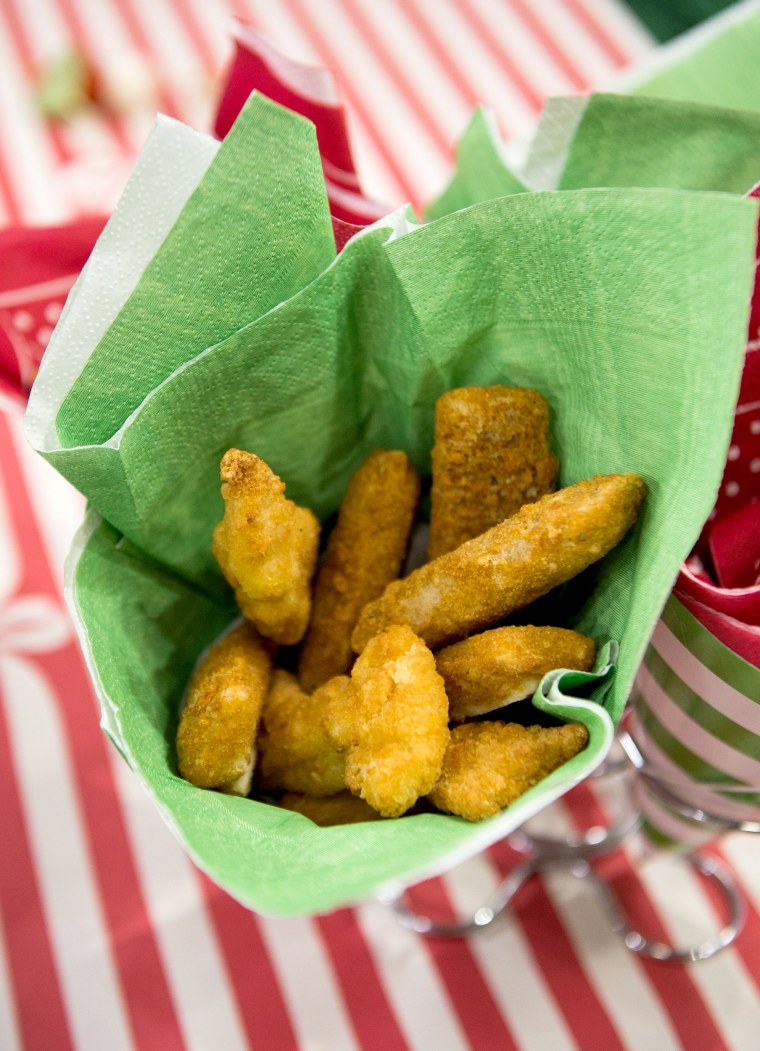 2. Serve appetizers for kids in party hats
Skip the boring platters and bowls. Simply line party hats with napkins, fill with kid-friendly finger foods like chicken fingers and mozzarella sticks, then serve them on a pretty tray.
What you'll need:
Party hats
Red and green paper napkins
Chicken fingers or mozzarella sticks
Serving tray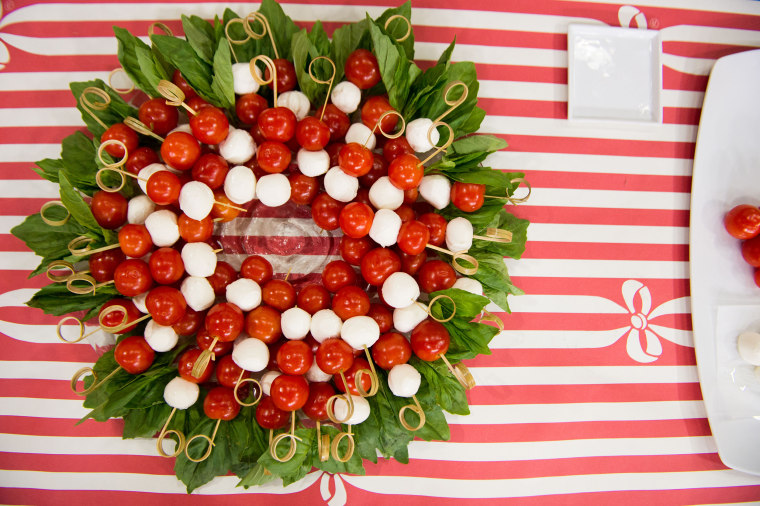 3. Create an edible wreath
Place small tomatoes and mozzarella balls on skewers and arrange on a round platter decorated with basil leaves. Drizzle some olive oil and season with salt and pepper for a beautiful and delicious Caprese wreath.
What you'll need:
Cherry tomatoes
Mini-mozzarella balls
Olive oil
Salt and pepper to taste
Fresh basil leaves
Wood skewers
Round platter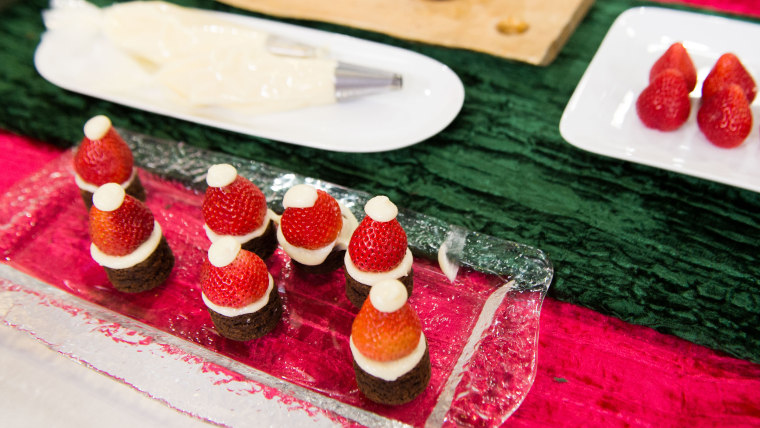 4. Make mini Santa hat brownies
For a fast and festive treat, fill strawberries with a quickly whipped vanilla mascarpone and place on top of brownies.
What you'll need:
8 ounces mascarpone
1/4 cup sugar
1/2 teaspoon vanilla
2 cups heavy whipping cream
Strawberries (hulled)
Homemade brownies, cut into small circles with a biscuit or round cookie cutter or store-bought round brownie bites
Here's how:
For the mascarpone cream: with an electric mixer fitted with the whisk attachment, whisk together the mascarpone, sugar and vanilla until blended. Add the cream and continue to blend on low speed until the cream is incorporated. Scrape sides of bowl then increase speed to high and beat until stiff peaks form.
To assemble: With a pastry tube fitted with a round tip, pipe a dollop of prepared mascarpone cream to cover top of brownie. Top with strawberry, cut side down. Top with a small dab of mascarpone cream. Repeat with remaining brownies.
5. Turn your red plastic cup into an adorable Santa suit
It's so easy to dress up the red plastic cups into Solo cup Santas.
What you'll need:
Red solo cups
Black gros grain ribbon
Scissors
Rhinestone invitation buckles
Glue dots
Here's how: Cut ribbon into pieces the size of the circumference of the middle of the Solo cup. Thread buckle onto the ribbon. Use glue dots to secure "Santa belt" into place.
6. Use Christmas gel window clings as drink markers
Help guests keep track of their wine glasses with this smart hack.
What you'll need:
Wine glasses
Small window clings
7. Create a frozen ice bucket with rosemary (or mint) and cranberries
Chill a bottle of wine in a super festive bucket that's inspired by this floral ice bucket on The Buggy Blog.
What you'll need:
Ice bucket or 3 liter bottle
Rosemary
Cranberries
Tall plastic take out container filled with pebbles
Your favorite white or sparkling wine
Here's how:
1. Fill ice bucket (or 3 liter plastic soda bottle with top cut off) with about 1 inch of water. Place rosemary and cranberries (or red peppercorns) along edges. Freeze for about 4 hours or until first layer is frozen.
2. Fill a tall plastic take out container with rocks and seal tightly (the rocks will weigh down the plastic container so when adding water to ice bucket, the container will not float up). Place plastic container in center of ice bucket over first frozen layer. Fill the ice bucket up with more water. Add more rosemary sprigs and cranberries to water if necessary. Freeze overnight.
3. Take ice bucket out of freezer. Run warm water around outside of bucket to release the ice sculpture. Sometimes the plastic container will come out easily, other times it takes a little bit of warm water added inside the container to loosen to release. Place ice bottle chiller mold on napkin (so it doesn't slide around) and serve on silver platter. Place a chilled wine or Champagne bottle in the ice bucket.