/ Source: TODAY Contributor
Halloween is the perfect time to pull together a Pinterest-perfect party, but if you're short on time and decorating skills, these easy last-minute DIY Halloween party ideas for crafts, games, food and drinks only take a few minutes each to make. Plus, they're all made with items that may already be in the house — or can be easily picked up at a local grocery store or drugstore.
Halloween drinks
1. Vampire Punch
Use blood orange juice, cranberry or another red fruit juice as the base for your party drink, then add a creepy touch by decorating the pitcher with dripping red food gel frosting to mimic blood. Can't find gel frosting? Stir a few drops of red food coloring into light corn syrup for an easy homemade version.
2. Bloody Shirley Temples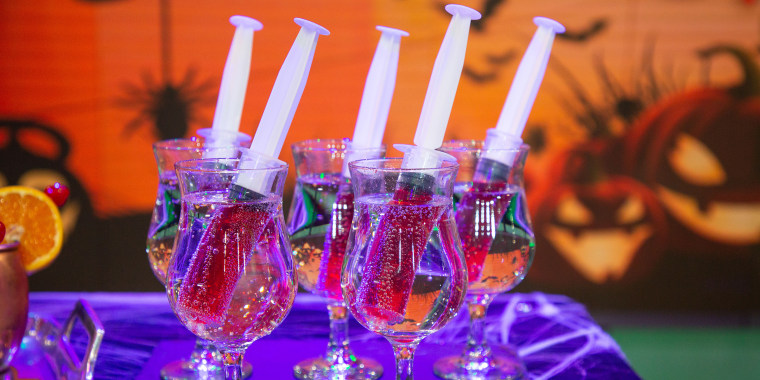 The classic ginger ale and grenadine mocktail gets a spooky twist with this easy hack. Pick up a few plastic syringes in the first aid aisle at a drug store, then fill each one with 1 ounce of grenadine.
Place the grenadine-filled syringes inside glasses filled with chilled soda and instruct your guests to "inject" the sweet syrup into their drinks.
Halloween decor
1. Create a creepy mad scientist centerpiece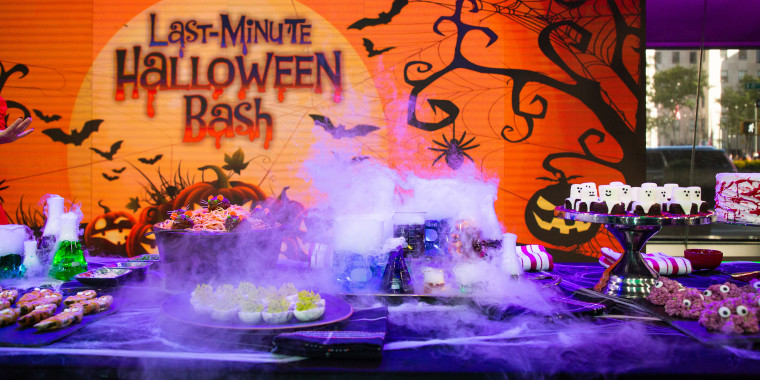 Turn the dining room or backyard into a mad scientist's laboratory with this easy centerpiece idea. Gather an assortment of glass beakers, flasks, mason jars and vases. Fill each glass with water, then add a drop of different food coloring to each one. Add dry ice for an extra spooky effect. Mix in a few LED tea lights or a string of blinking holiday lights to add even more drama.
2. DIY Moscow Mule Jack-o-Lanterns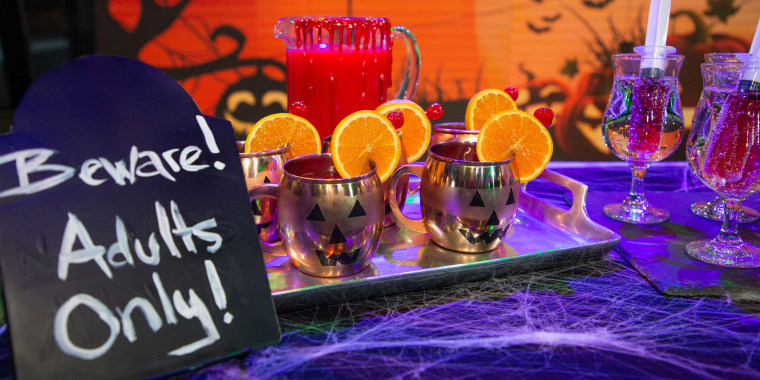 Use black duct tape or electrical tape to temporarily dress up copper Moscow Mule mugs.
Simply cut the black tape into small triangles and scary mouth shapes using scissors or a blade knife, then apply them to each mug. The "costumes" will last throughout the party, but can be easily removed once Halloween ends.
Halloween recipes
1. Spaghetti and Rat Balls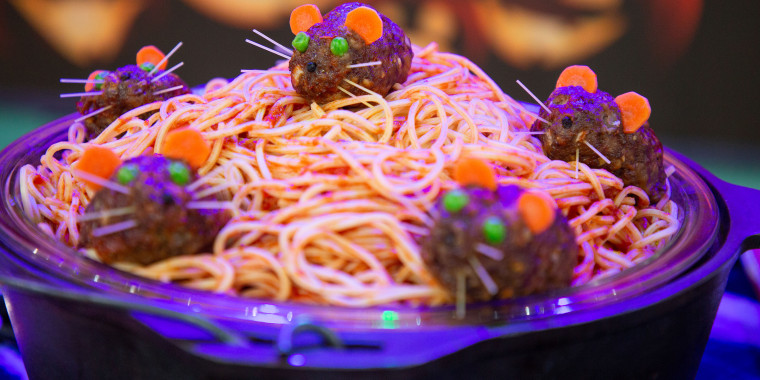 Swap meatballs for mini meatloaves shaped to look like rats for a spaghetti night they'll never forget!
Shape your go-to meat loaf recipe into individual mini loaves, then add carrot slices, peas and almonds to make little faces. Bake the little loaves and serve them with spaghetti and marinara sauce.
2. Jalapeño Popper Mummies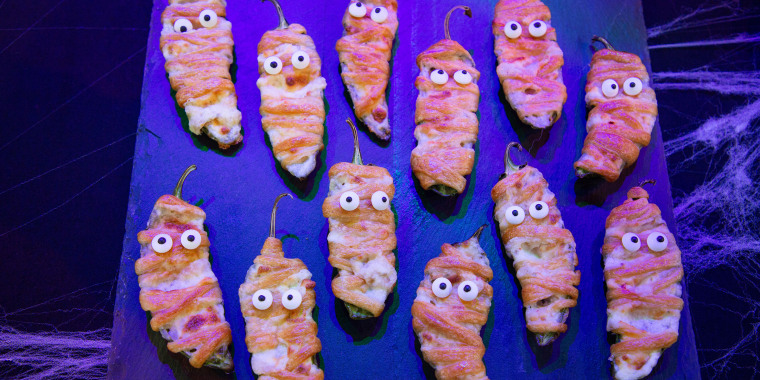 Stuff halved jalapeños with cream cheese, then wrap them up with strips of thawed frozen puff pastry to turn them into adorable mummies.
Use candy eyes or black olive slices to make eyes. Bake them at 350 degrees until they're puffed and golden, about 20 minutes.
3. Rotten Deviled Eggs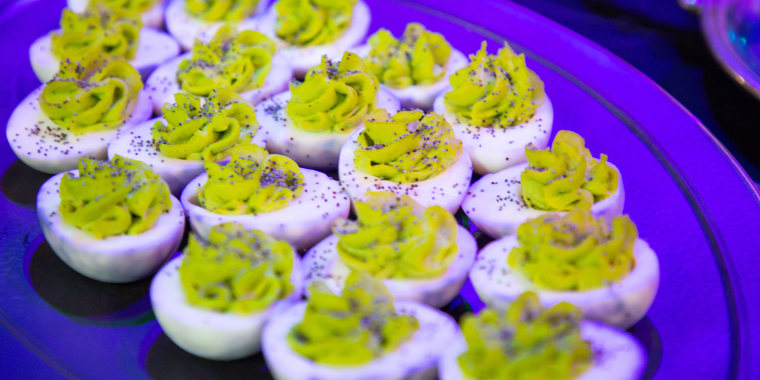 Add a few drops of green food coloring to your favorite deviled egg recipe to turn the retro party fave into a gruesome Halloween snack.
Want to skip the food coloring? Fill the hardboiled egg halves with guacamole instead!
4. Boo! Brownies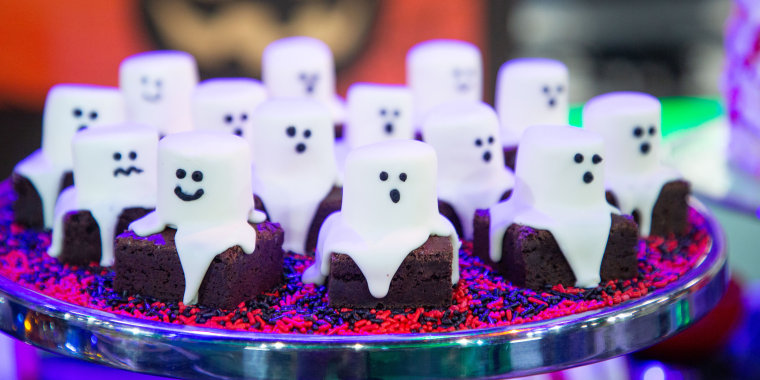 Decorate homemade or store-bought brownie squares with marshmallow ghosts.
Simply dip marshmallows in melted white chocolate or vanilla frosting and place them on top of the brownies. Use mini chocolate chips or dots of black gel frosting to draw on spooky faces.
5. Rice Creepy Treats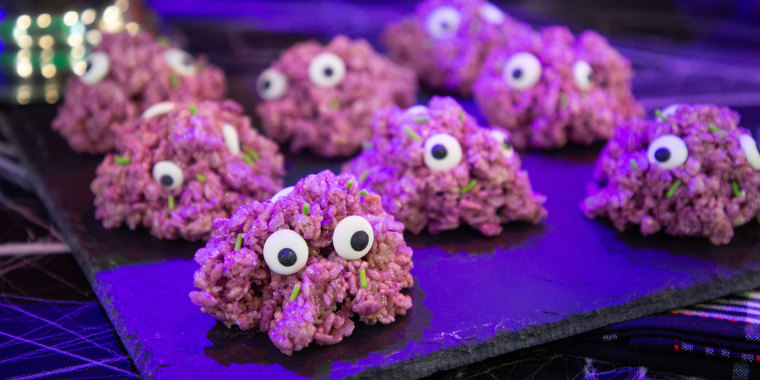 Add purple food coloring to the classic marshmallow treat recipe, then use your hands or an ice cream scoop to mold the dessert into round monster shapes. Pro tip: oil your hands or a scoop with baking spray to keep everything from sticking.
Decorate them with candy eyeballs or chocolate chips.
6. Blood Splatter Dessert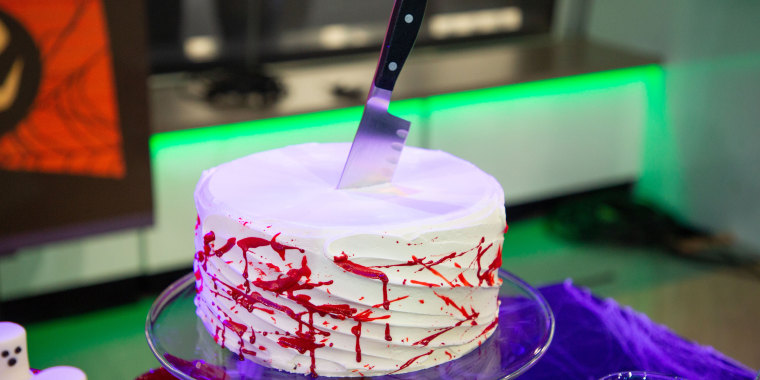 You don't need baking or decorating skills to make this killer dessert.
Add some gore to a plain bakery or grocery store layer cake by drizzling and splattering it with red gel food coloring, cherry pie filling or even just your favorite red berry jam.
Halloween games
1. Mummy Races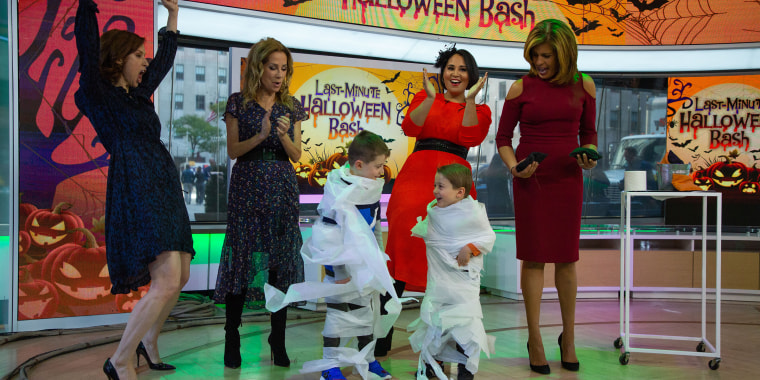 All you need are a few rolls of toilet paper and some willing participants for this easy Halloween game.
Divide party guests into teams of two. Give each team one roll of toilet paper. Set a timer and see how fast the players can turn their teammates into mummies. The first one to get fully mummified wins!
2. Tombstone Toss (aka Halloween Corn Hole)
Cut a hole into black foam board or an old cardboard box. Then decorate it to look like a scary tombstone. Balance the tombstone on a large heavy ceramic salad bowl, and let players take turns tossing bean bags or small plush toys at the board.
Points go to the ones who make it in!
Related: