If you love pizza — and really, who doesn't? — you've probably tried making it at home. Perhaps you've perfected your homemade dough. Maybe you've invested in a pizza stone. But no matter the fussing you do in the kitchen, the real trick is to head outside. The best way to make pizza at home is to fire up your backyard grill.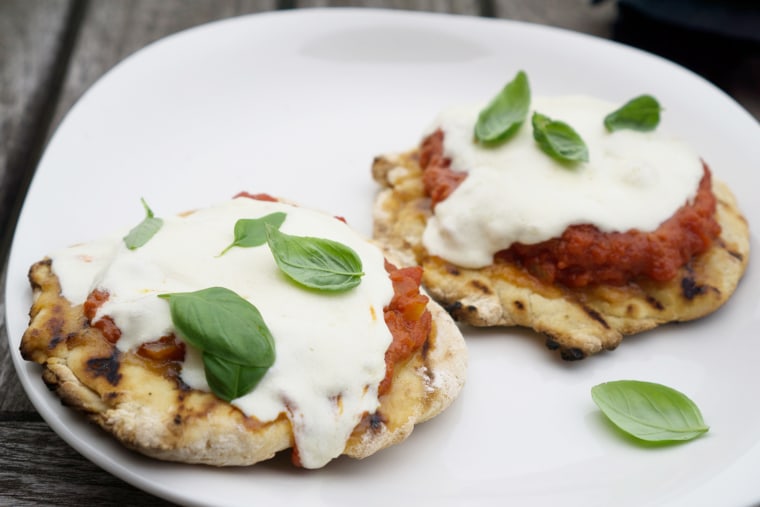 Making pizza on the grill offers several major advantages. First off, who doesn't enjoy cooking outside? And if you happen to be entertaining, that's all the better, because you get to mingle with your guests while you tend the grill. Cooking outside also tends to be less messy, requires less dishwashing and doesn't heat up the house -- something we can all appreciate as temperatures start to climb.
Related: Watch Al Roker make his recipe for grilled pizza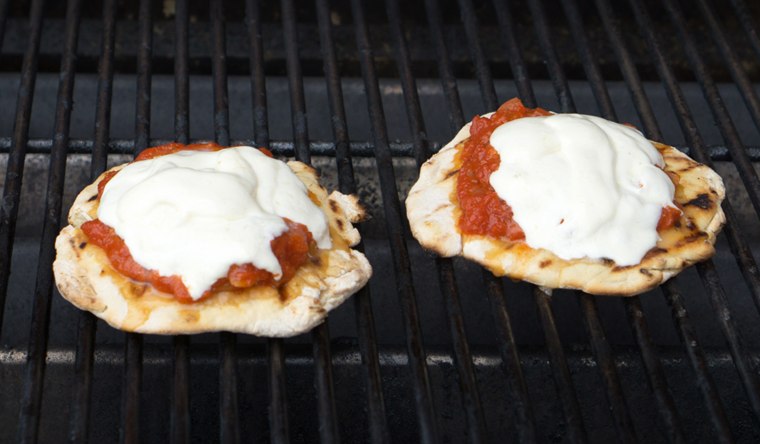 Still, the real reason to grill pizza is taste. With its crisp, slightly charred crust and bright fresh flavor, grilled pizza is more satisfying than anything you can make in the oven. To get you started, here's a basic recipe for grilled pizza, plus four ideas for different toppings and five tips for mastering grilled pizza. The recipe makes two balls of dough and each ball makes one (12- to 14-inch) pizza. Enjoy two pies now or freeze half the dough for later. You'll also have more than enough sauce to make two pizzas, with some leftovers that can be refrigerated or frozen.
4 more ideas for grilled pizza toppings
Sausage and Kale: Warm 1 tablespoon olive oil in a medium skillet over medium heat. Remove the casings from 2 sweet or hot Italian sausages and crumble the meat into the skillet. Brown the meat, breaking it up with a wooden spoon, until cooked through, 8-10 minutes; drain on a paper towel-lined plate. Return the skillet to medium heat (add 1 tablespoon oil if necessary), add 2-3 handfuls of chopped kale and a pinch of crushed red pepper flakes and sauté until wilted, 2-3 minutes. Let cool, then squeeze out any excess liquid. Top your pizza with tomato sauce and mozzarella, followed by the sausage and kale and finish grilling.
Spinach, Artichoke, Red Onion and Feta: Warm 1 tablespoon olive oil in a medium skillet over medium heat. Add 2-3 handfuls of baby spinach and sauté until wilted, 2 minutes. Let cool then squeeze out any excess liquid. Thinly slice a small red onion, thinly slice 4-5 jarred marinated artichoke hearts, and crumble about 3 ounces of Feta. Top your pizza with tomato sauce and mozzarella (use about half the total amount), followed by the spinach, artichokes, red onion and Feta and finish grilling.
Prosciutto, Arugula and Parmesan: In a large bowl, drizzle 2-3 handfuls of baby arugula with olive oil and lemon juice, season with salt and pepper and toss to combine. Top your pizza with tomato sauce and mozzarella and finish grilling. As soon as the pizza comes off the grill, top it with the arugula, 3-4 ounces thinly sliced prosciutto, and freshly shaved Parmesan cheese.
Pesto, Zucchini and Tomato: Top your pizza with about 1/4 cup homemade or purchased pesto, leaving a 1/2-inch border, then top with mozzarella. Cut 1 small zucchini crosswise into very thin rounds, then cut 1 tomato into very thin slices. Spread the zucchini and tomato over the pizza and finish grilling.
5 tips for easy grilled pizza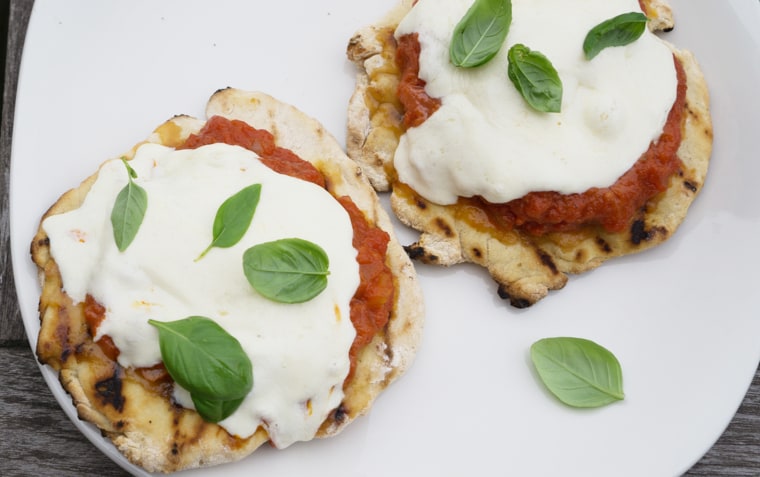 1. Don't make it, buy it: If you're short on time, feel free to use purchased pizza dough and tomato sauce — your grilled pizza will still be delicious. Some pizzerias will sell you balls of dough. Otherwise, check the freezer or refrigerated case at the supermarket. If using frozen dough, take it out of the freezer the morning of the day you plan to use it and let it defrost slowly in the refrigerator. And if your dough is cold, let it sit for a few minutes at room temperature before rolling it out.
2. Start small: If you're new to grilling pizza — or making pizza in general — you may find it easier to divide the dough into smaller balls and shape them into smaller pizzas. This takes the pressure off in terms of shaping the dough and makes it easier to transfer the dough to and from the hot grill. Another option is to shape the dough into rectangles, which you may find easier to place on the grill. Rectangular pizzas can also be sliced crosswise for easy serving.
3. Be prepared: The actual grilling process is quite fast — depending on how hot your grill is, the dough can crisp up in as little as 1-2 minutes. With that in mind, make sure you have all your toppings ready to go before you get started.
4. Go thin: Speaking of toppings, it's best to cut any cheese, meat and vegetables as thin or small as possible, so they fully cook in the short time they spend on the grill. Also, when you're adding the sauce and toppings to the dough, be careful not to over do it—too much sauce or excessive toppings can weigh down the dough and create holes when you're transferring the pizza back onto the grill.
5. Serve in style: If you're making multiple pies, you can easily serve them as they come off the hot grill, but if you prefer to serve everything at once, keep the finished pizzas warm in a 200°F oven while you finish the rest. This trick can also help if the crust is browning (or even burning) but the toppings aren't quite cooked or the cheese isn't fully melted.
Related: "Grill Grrrl" Robin Lindars shares another recipe for grilled pizza