For many of us, it just doesn't feel like the holidays until we have a few squares of fudge — it's an irresistible edible gift that we're happy to both give and receive. And fudge is the perfect family treat to make and share together, especially with this simple three-step recipe. Just heat, stir and pour your way to homemade fudge in any flavor you fancy, from classic chocolate to minty candy cane and more.
Make sure to have your bags of chips, marshmallows and any mix-ins or toppings ready to go before you start cooking the fudge — it will start to cool and harden quickly once it's off the heat.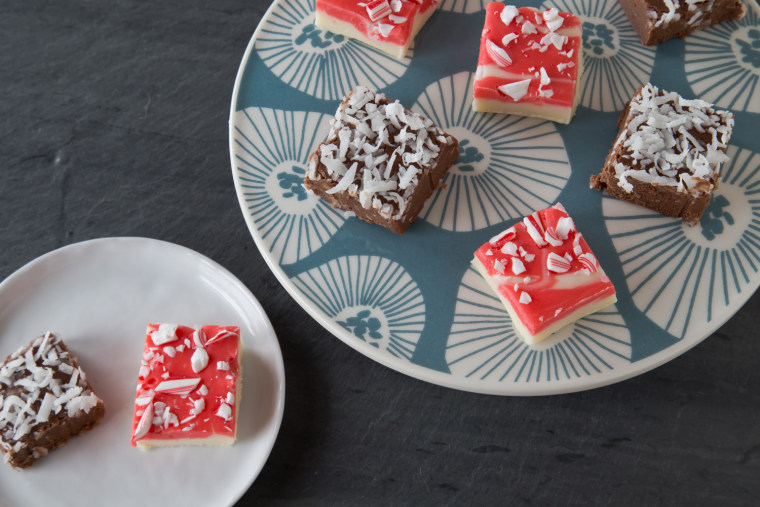 World's easiest fudge
Makes about 4 dozen pieces of fudge
Active time: 30 minutes
Total time: 2 hours, 30 minutes including chill time

Ingredients:

2 sticks (16 tablespoons; 1/2 pound) unsalted butter

2 (5-ounce) cans evaporated milk

2 cups granulated sugar

1 (12-ounce) bag semisweet chocolate chips (or any of the variations that follow)

1 (10-ounce) bag mini marshmallows

Before you make the fudge, prep your pan: Line a 9x13-inch baking pan with three pieces of aluminum foil, pressing one piece tightly down the length of the pan and overlapping two pieces perpendicular to the first so the bottom and all 4 sides of the pan are covered with about an inch of overhang on each side. Spritz with nonstick baking spray.
Fudge in 3 step:
1. Make the base
Melt the butter in a large (3-4 quart), high-sided saucepan over medium heat, then add the evaporated milk and sugar. Stir constantly with a silicone spatula until the sugar dissolves and the liquid boils. Continue to cook, stirring frequently, for about 10 minutes more. The liquid will bubble up to a froth, then settle slightly and thicken to the consistency of warm pudding.

2. Stir in chips and marshmallows
Remove the pan from the heat and vigorously stir in the chocolate chips and marshmallows until fully melted and smooth, scraping the bottom and sides of the pot with the spatula.

3. Pour, chill and serve
Pour the fudge into the foil-lined baking pan and tap the pan on the counter a few times to smooth the top. Refrigerate, uncovered, for about 2 hours until the fudge is completely cool and firm.

Cut the fudge into pieces: Lift the chilled fudge out of the pan and carefully peel the foil away from the block. Place the fudge on a cutting board and cut into approximately 1 1/2-inch squares with a sharp knife or pizza cutter.

Store the fudge in the refrigerator in an airtight container for up to 2 weeks.
5 Fudge Variations:
1. Candy cane fudge: Use white chocolate chips instead of semisweet, and add 1/2 teaspoon peppermint oil to the fudge after stirring in the chips and marshmallows. Sprinkle 1/4 cup crushed candy canes over the fudge after pouring into the pan.
2. Chocolate-coconut fudge: Stir 1/2 cup shredded sweetened coconut into the finished fudge before pouring into the pan, and sprinkle 1/4 cup coconut over the fudge after pouring into the pan.

3. Praline fudge: Replace the granulated sugar with 1 3/4 cups packed light or dark brown sugar. Stir 1/2 cup chopped toasted pecans into the finished fudge before pouring into the pan.
4. Swirled fudge: Choose two flavors of chocolate or baking chips (chocolate, white chocolate, peanut butter, butterscotch, etc.), Divide the cooked butter, milk, and sugar equally between two bowls. Pour half a bag (1 cup; 6 ounces) of each type of chip, and half a bag (2 1/2 cups; 5 ounces) marshmallows into each bowl, and stir to melt and combine.
To make a swirled effect with food coloring, use 1 bag of white chocolate chips, divide the finished fudge equally between two bowls, and stir in two different colors as desired.
Pour one flavor or color into the prepared pan and dollop the second flavor or color on top. Swirl the two together with a butter knife or mini spatula.
5. Peanut butter fudge: Swirl chocolate fudge and peanut butter fudge together as noted above, or make an entire batch of fudge with peanut butter chips. Sprinkle 1/2 cup chopped Reese's Pieces candies over the fudge after pouring into the pan, pressing gently with your palms to make sure any large pieces of candy adhere.