Entertaining extpert JJ Keras is joining TODAY to share some of her best Easter entertaining tips, tricks, recipes and techniques. She shows us how to make festive foods, delicious drinks, adorable décor and much more.
Drinks
Welcome guests with a themed drink to get the holiday hopping. A fun drink lightens the mood, serves as an icebreaker, shows thought, and makes an inviting entrance. For both kids and adults alike, consider Easter themes such as carrots, bunnies, chocolates, etc. I also love using flavors such as lemon, elderflower, lavender, citrus and coconut this time of year. If you aren't able to make your drinks in a large batch, enlist helpers to blend, garnish and serve!
Carrot Smoothies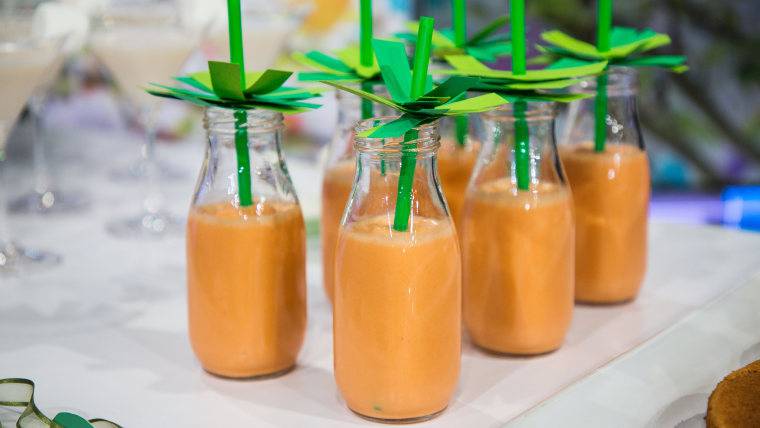 Cool, creamy and carrot-y smoothies get an extra festive touch from adorable decorative straws.
Makes 2 smoothies
Ingredients:
1/2 cup Greek yogurt
2 bananas
4 carrots1 tablespoon honey
1 splash orange juice
Light green and dark green card stock
Scissors
Straws
Hole punch
Method:
1. Combine the yogurt, bananas, carrots, honey and orange juice in blender and process until smooth.
2. Divide the mixture into two glasses.
3. Cut card stock into strips 1/2- by 4-inch strips. Use a hole punch to create a hole in center of the strips. Place strips around straw alternating light green and dark green paper.
4. Add the decorated straws to the drinks and serve.
The Cottontail Martini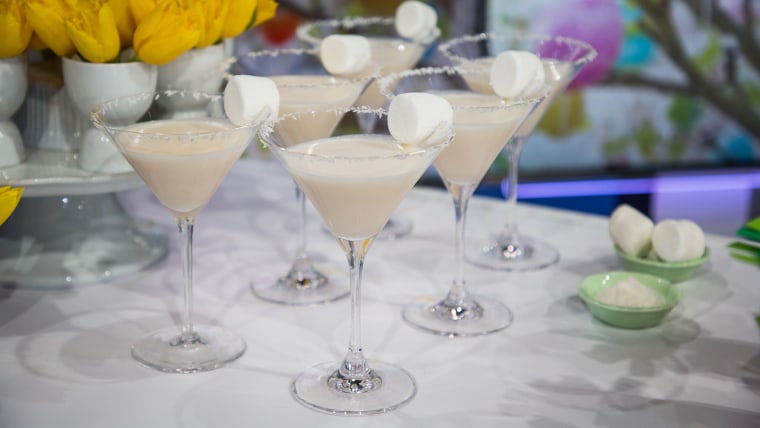 Shake your tail feather with Peter Rabbit's favorite drink! This party perfect sipper is a tasty take on these cute cocktails from Inspired by Charm.
Ingredients:
1½ ounces coconut rum
1½ ounces vanilla vodka
1 ounce cream of coconut or coconut milk
1 splash pineapple juice
Honey
Finely chopped coconut flakes
Large marshmallows, slit down one side
Method:
1. In a cocktail shaker filled with ice, add the rum, vodka, cream of coconut and pineapple juice. Shake well to combine.
2. Pour honey onto a small plate and place coconut flakes on a second small pate.
3. Dip the rim of a martini glass into the honey to coat the edge. Then dip into the coconut.
4. Pour the cocktails into the rimmed glasses, garnish with a marshmallow and serve.
Food
Focus on the idea of creating shapes and patterns relevant to the theme. For inspiration, go to Pinterest or your favorite food blog for ideas on using carrots, cabbage, deviled eggs, ham, peeps, etc. Searching for your ideas can be half the fun! Also, don't be shy about asking guests to bring a dish. Most guests like to feel involved in creating the holiday magic.
Deviled Chicks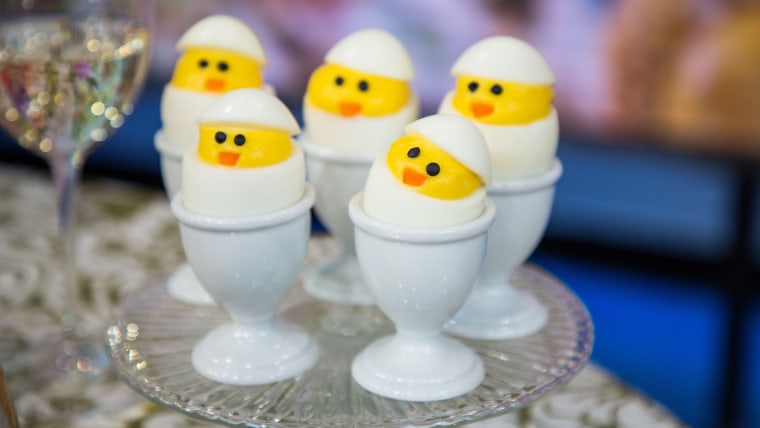 No Easter meal is complete without deviled eggs! Take them up a notch by turning them into chicks. They are a great make-ahead appetizer because they can be served at room temperature. These egg-cellent bites were inspired by Good Housekeeping.
Ingredients:
12 large eggs, hard boiled and peeled
1/2 cup mayonnaise
1/4 cup finely grated Parmesan cheese
2 teaspoon Dijon mustard
1 red pepper, cut into small triangles for the "beaks"
6 black olives, sliced
Method:
1. Trim bottom of eggs so they stand upright. Cut off the top third of each egg, saving egg white tops.
2. Carefully remove yolks to a small bowl. Add the mustard, mayonnaise and Parmesan to the yolks and mash. Transfer mixture to piping bag. Pipe the yolk mixture into each egg white. Top with egg white tops.
3. Decorate the exposed yolk mixture with the pepper triangle "beaks" and olive "eyes." Refrigerate at least 1 hour.
Carrot Cheese Dip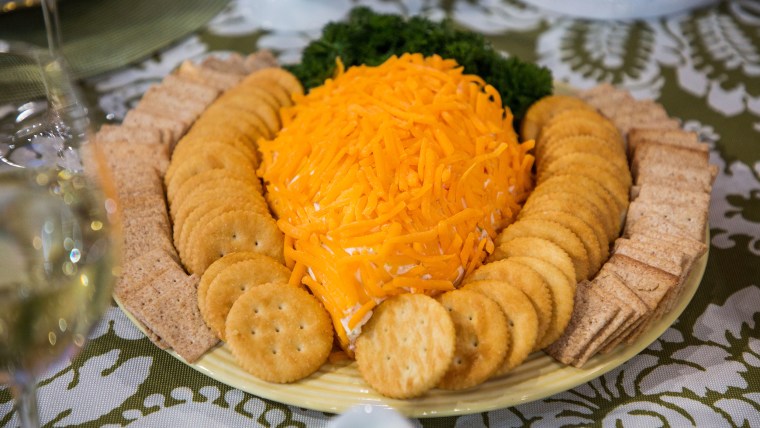 Give your regular cheese and crackers an Easter theme by shaping the cheese into a large carrot. This easy, cheesy snack was inspired by Kraft.
Ingredients:
Two 8-ounce packages cream cheese, softened
1½ cups finely shredded mild cheddar cheese, divided
4 green onions, white and light green parts chopped, dark green tops left whole for garnish
2 tablespoons finely chopped carrots
2 tablespoons finely chopped cucumbers
2 tablespoons finely chopped red peppers
Ritz crackers, for serving
Method:
Beat cream cheese and 1/2 cup cheddar in bowl until blended. Add the chopped green onions, carrots, cucumbers and red peppers and mix well. Cover and refrigerate 1 hour.
Shape cream cheese mixture on plate to resemble a carrot and cover with remaining cheddar cheese. Add the dark green onions to the plate at the top of the cheese carrot.
Bunny Cake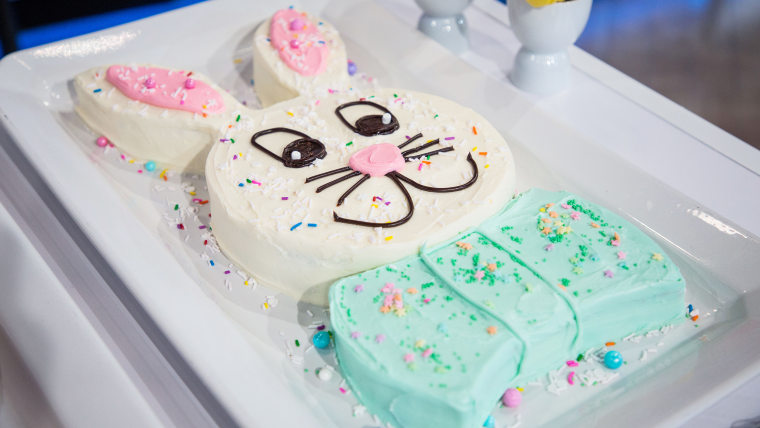 No need for a large bunny-shaped cake tin, simply use two 8-inch round cake tins to create this look.
Kids
If your Easter meal tends to be long, choose plenty of food related crafts to keep the kids entertained and full at the table. I like a variety of choices because not all kids enjoy the same activity depending on age, sex and interests. For example, making play dough may not appeal to older kids, but making peep s'mores in over-sized bunny could be egg-cellent for them. Before planning your activities, assessing the ages of your guests can make for a smoother holiday. It is also nice if the older kids can help the younger kids craft. My kid's also love to get involved in setting the table and assigning every guest a seat with a creative personalized placed card.
Carrot Dips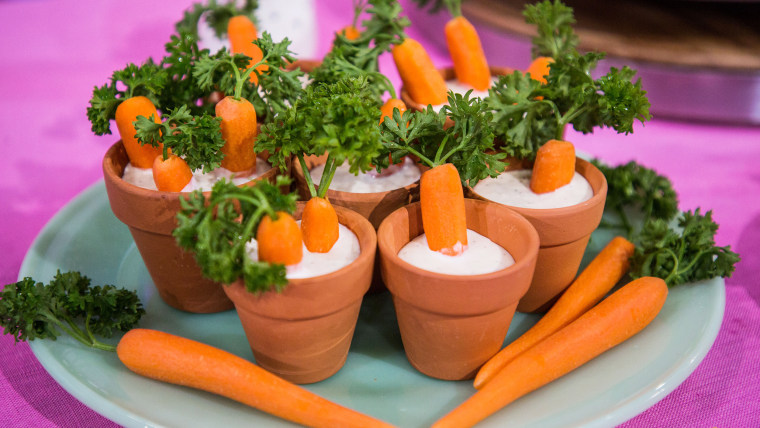 Let the kids snack on the Easter bunny's favorite food with this activity. Purchase a mini clay pot at a craft store and fill with ranch dip. Using a toothpick, poke a small hole in the top of each baby carrot to create a hole. Slip a sprig of parsley into the top of each carrot. Place the decorated baby carrots into the pot and let your little bunnies munch away.
Bunny Bread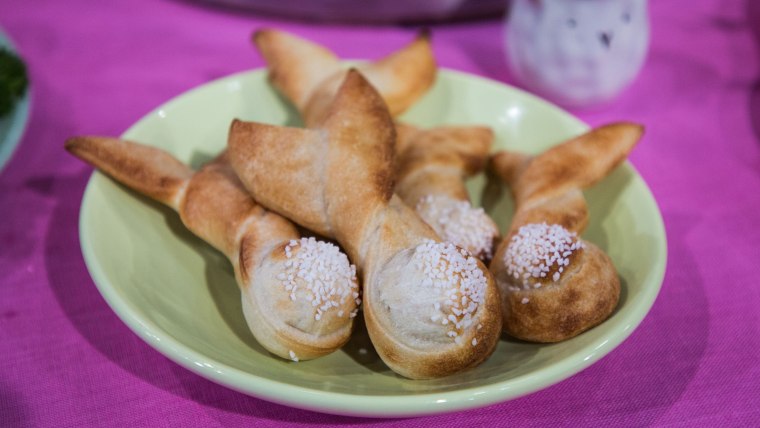 Create your own custom bunny with either homemade or store-bought dough. Let kids twist their dough into the bunny shape and size of their choice. For the tail, roll out a separate dough ball and place on bunny.
Easter Peep S'mores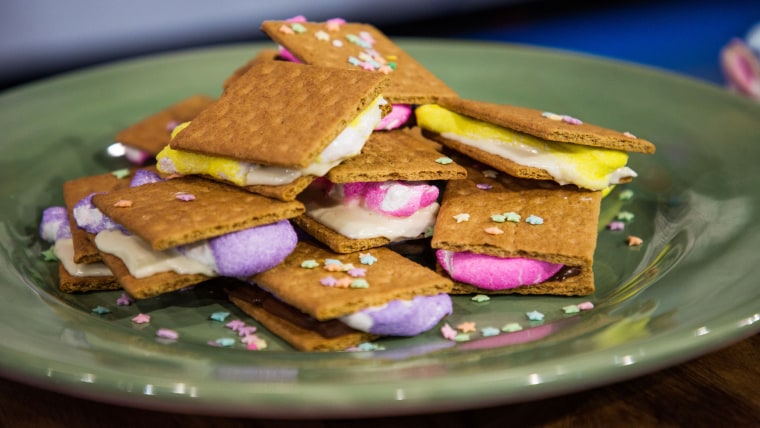 Enjoy s'mores with your favorite peeps! Substitute sweet peeps for regular marshmallows and white to make these colorful and delicious treats.
DIY Bunny Ears
Use white chenille pipe cleaners, pink fur pipe cleaners, a headband and a hot glue gun to create cute headpieces for the holiday.
Carrot Play Dough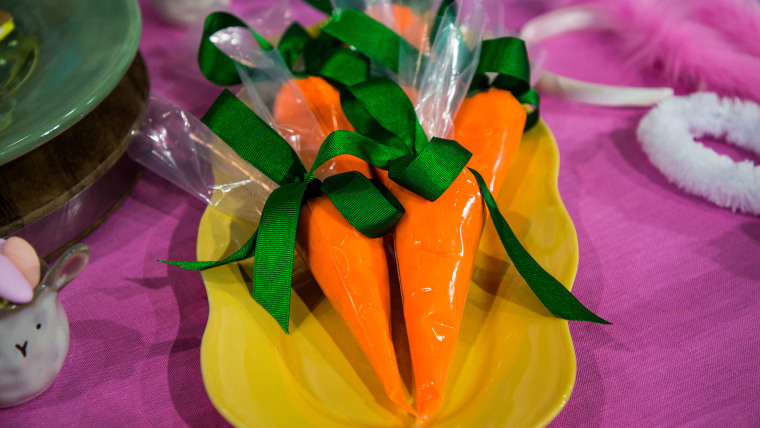 Use orange play dough, cake decorating bags and green grosgrain ribbon to make this easy carrot-themed craft.
Decor
It's hard not to pull out all the pastel decor this time of year! With gorgeous flowers in full bloom, set a table that is fragrant and full of life. I love to bring the outdoors in for Easter with tulips, anemones, hyacinths and a variety of ferns found in the yard. Also, consider doing a garden theme at your table with cabbage, moss and colorful bulbs. Another way to give your table a spring look is with colored glassware. Using monogrammed napkins also adds a personal touch to the table.
DIY Egg Garland
Decorate your table with this DIY egg garland made from paint color samples. Pick up free paint samples at your local hardware store and simply cut each color into an egg shape (ours are 2½-inch-wide ovals). Use a whole punch to create hole toward the bottom of each egg and string together with decorative ribbon.
Blooming Cabbage Centerpiece
Create a garden themed centerpiece for your holiday table. Buy a cabbage and carve out the center with a sharp knife (similar to carving out a pumpkin). Place a vase filled with water in the center of cabbage and fill with tulips and hyacinth.
Cake Stand Tulip Centerpiece
To create this, I used two different sized cake stands. I choose white egg cups and filled them with tulips. As a take home gift, guests can each take home a flower-filled egg cup.
Bunny Place Cards
If you are having a seated meal, it's nice to leave the guesswork out and use place cards — especially these ones that are inspired by Martha Stewart. Use a dyed egg for the bunny's body and for the ears use the same color paper and glue on. Add a small piece of cotton for the nose and tail and write the guests name with a black permanent marker. Place your bunny in a cupcake wrapper.