Putting together a party can be an exhausting effort, but it doesn't need to be. Check out these quick and easy ideas, and get ready to wow your friends — with minimal time and effort!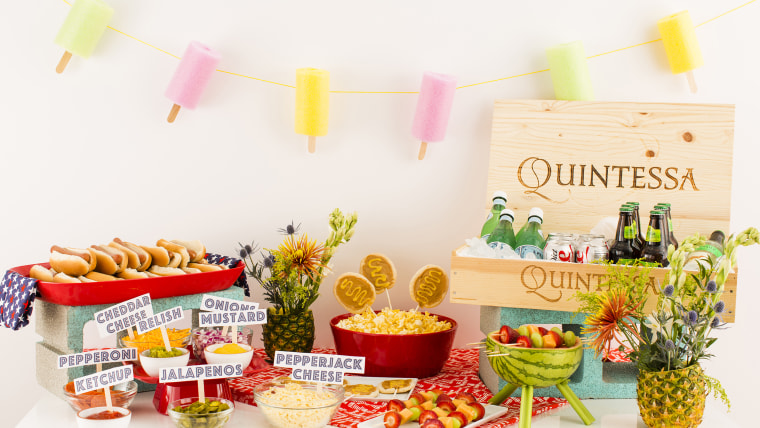 Taco bar
Taco bars are an easy way to get dinner on the table, since people love personalizing their own plates. Make sure to always have a box of taco shells and a package of seasoning mix in your pantry. When ready, cook the meat, chop up vegetables (or to make your life even easier, buy pre-cut veggies) and serve bowls of cheese, sour cream, salsa and other taco condiments.
Cheat with meat
Need to serve a complete meal? Cheat! Grab a rotisserie chicken, pre-cooked shrimp or smoked fish and make that the centerpiece of the plate. Serve with a simple salad (to save more time, use packaged lettuce) or visit the prepared foods department and grab some roasted vegetables. Pair these foods with a fast and convenient grain (think minute rice or couscous). Before you know it, you've composed a balanced (and impressive!) meal.
Fun with fondue
Make dinner and dessert interactive, and let your guests do all the work. To serve DIY cheese or chocolate fondue, use nearly any cheese, such as Swiss or cheddar, that you may already have in your refrigerator. Keep bags of chocolate chips in your pantry that you can just pop into the microwave, and use common ingredients for dipping, like fruit, bread, pretzels or even marshmallows.
Baked brie
Looking for a quick and classic appetizer? Look no further than melted cheese. Simply place a wheel of brie on a cookie sheet and bake at 300 degrees until the cheese starts to ooze. Dress it up by topping it with everyday items like jelly or slivered nuts and serve with crackers or bread.
Easy dips
Packaged dips don't go bad for some time, so keep a few on hand. Use them for appetizers, afternoon snacks or cocktail nibbles. Pair hummus, guacamole or even favorite salad dressings with baby carrots, sliced vegetables, pita, pretzels or crackers. Dress up dips by topping them with fresh herbs, diced vegetables or other complementary ingredients that can be stirred in or layered on top.
RELATED: 4 awesome snack hacks you should know
Kebabs
Before guests arrive, chop and prepare the meat or vegetables. Your work is practically done. As guests arrive, give each a few empty skewers and have them assemble the kebabs as they wish. Since the meat and vegetables will already be covered, all that's left to think about is a starch. Try a simple side of pita bread or rice prepared in an automatic rice cooker.
Frittatas
Need to plan for a last-minute sleepover or brunch guests? A frittata is a great dish that can be thrown together using anything you stumble upon in your kitchen, even leftovers. You can even make it in advance, freeze it and thaw it whenever you're ready.
Salads
No time to rinse, chop and prep a salad? Buy packaged, pre-washed lettuce instead. Toss greens in a bowl with your favorite salad dressing, nuts, dried fruit, beans or deli meats. Serve with bread or crackers, or if time and energy permit, grilled cheese sandwiches.
Pre-cooked
Frozen food doesn't have to taste like it's been hanging out in the freezer. There are some versions that are convenient but don't sacrifice taste and quality. Glance through the products your store carries to see what you can find and store a selection in the freezer until needed to whip out for a quick appetizer, snack, dinner or dessert fix.
Fresh fruit
Sweet fruit naturally makes a perfect dessert. Serve a colorful fruit salad or make a quick parfait by layering fruit with cookies and yogurt, cream or ice cream when impromptu guests stop by.