Ready to enjoy baked ham, deviled eggs and all of those yummy savory and sweet Easter treats?
Holiday meal prep can be a joy or a chore, but with so many cooks in the kitchen (and so much food being prepped), sometimes safe food handling practices fly out the window. Make sure you're preparing — and storing — food properly, so all of your guests leave with a full tummy — and not a sick stomach.
Take extra care with eggs
Whether you like 'em dyed, deviled or hard-boiled, you can't have Easter without eggs. But eggs can carry salmonella, which can make you very sick. "Infants, young children, older adults, pregnant women and people with weakened immune systems are particularly vulnerable to [salmonella] infections," Argyris K. Magoulas, a technical information specialist for the United States Department of Agriculture Food Safety and Inspection Service (USDA), told TODAY Food.
According to the USDA, salmonella can be present on both the inside and outside of normal-looking eggs. To avoid the risk of getting sick from eggs, the agency suggests:
Keeping eggs in the refrigerator until you're ready to cook them
Trashing cracked or dirty eggs right away
Washing your hands and kitchen surfaces after handling eggs
Cooking eggs until both the yolk and white are firm
Cooking recipes containing eggs to an internal temperature of 160 degrees
Not eating eggs that have been at room temperature for more than 2 hours
That means you should definitely skip eating those hard-boiled eggs used in Easter egg hunts, or as decoration, if they've been lying around for a few hours. Sorry, but all those hard-to-hunt-for eggs are going to have to go in the trash.
Helpful ham habits
When it comes to that delicious Easter ham, double check the label to see if the ham is ready-to-eat or needs to be cooked. If it does need to be cooked, the USDA says you should cook it at no lower than 325 degrees to an internal temperature of 145 degrees. This will destroy any food-borne pathogens found in the pork.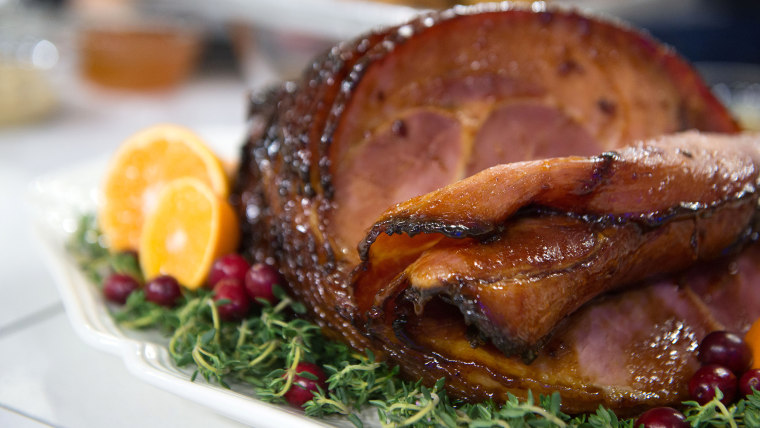 After the holiday, you'll probably have plenty of ham left over for sandwiches — but that doesn't mean you can snack on it forever. Magoulas told TODAY that a fully-cooked or ready-to-eat ham can be safely kept in the refrigerator for up to a week, while spiral ham will last about three to five days. Check out the FSIS Ham Storage Chart for more details.
Love your lamb
Lamb is another popular main attraction at Easter because of its religious ties to the holiday. The USDA advises using raw ground lamb or stew meat within one to two days of purchase, while lamb chops, roasts or steaks should be cooked within three to five days of purchase. Before the meat is cooked, make sure to stre it in the refrigerator at 40 degrees or lower.
And, just like chicken, you should not rinse lamb meat before cooking it, because of the risk of cross-contamination. Heating it to an internal temperature of 145 to 160 degrees, depending on the cut of meat, will destroy any harmful bacteria. Any lamb leftovers should be eaten within three to four days.
Always Cook with care
A common mistake that many home cooks make with a variety of dishes, according to Magoulas, is that they leave foods out that either need to be heated or refrigerated for too long. "Be sure to keep hot foods hot (at 140 degrees minimum) and cold foods cold (40 degrees or less)," he advised, suggesting serving cold foods like egg salads over a shallow dish of ice.
Magoulas also explained that foods should not stay at room temperature for more than two hours, and if it's 90 degrees or hotter where you live, food shouldn't be kept out for more than an hour.
Got more questions about food safety? Here are 10 food safety myths debunked.