We've all got bucket lists – experiences we want to have and places we want to see before we lose the chance. Clint Lanier and Derek Hembree have been working through theirs, conducting the enviable task of determining the coolest bars in the country, one sip at a time.
For their new book, "Bucket List Bars," released this week, the duo did some serious (and tasty) research over 13 months to determine which bars are not to be missed, drilling down to 40.
Lanier and Hembree chatted with TODAY.com – but before we could even get into their picks, we had to ask: How did they manage to accomplish the dream of every frat boy, getting paid for traveling around the country drinking at the best bars?
"A lot of people say that to us," laughed Lanier. "We talked to locals and regulars at the bars and they'd say, 'I want that job!' It was certainly an amazing adventure."

Lanier added that the idea for the book stemmed from a 2009 trip to New York City.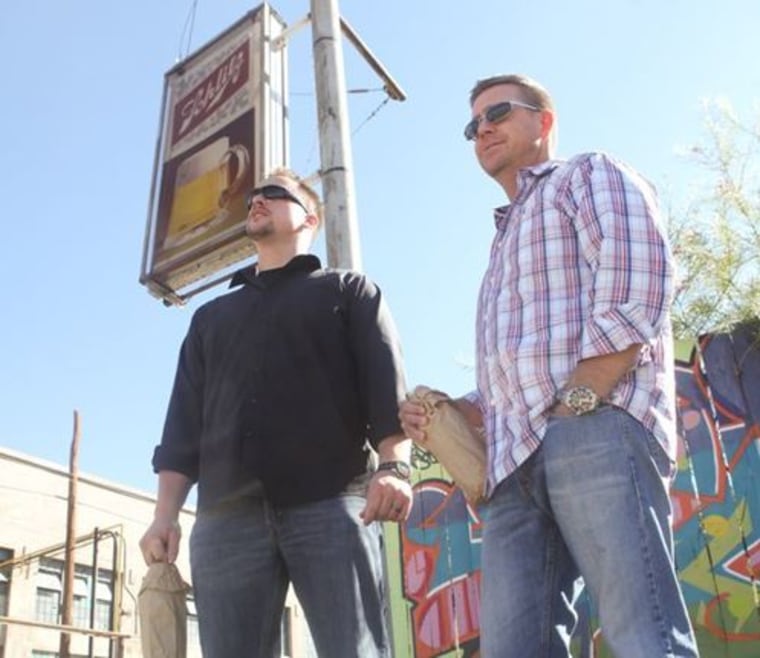 "We were with our wives and we couldn't find a central resource about what cool bars we had to hit – that was the seed of it," he said.
After a few "bad days at work," Lanier, then a professor at New Mexico Tech, shared his idea with pal Hembree, who works as a trader and has a flexible schedule, allowing him to come on board immediately.
"We did a lot of research before we went into these places," said Lanier. "We asked for recommendations, checked out social media, scoured the Web, and had a short list going in."
The two men spent three to five days at each bar, getting to know regular patrons, owners and bartenders. They also gathered historical tales about the bars, some of which are a few hundred years old.
"The greatest thing about doing this was meeting people who were so passionate about these places," explained Hembree. "We went to Old 76 House in Tappan, N.Y. – it was the place where the British gave [George] Washington the order to leave the city. When we started this journey, we knew that bar had history, but were surprised how much of American history occurred in bars. Thomas Jefferson was in a bar when he wrote the Declaration of Independence. Public houses were integral to society."
Lanier and Hembree also found that bars in the 12 cities they visited held important places in the hearts of locals.
"It's easy to dismiss bars as places where frat kids get drunk," said Lanier. "But these places really are important to neighborhoods and cities – we need these spaces to find companionship and to unwind."
He recalled meeting a patron at Rosa's Cantina in El Paso, Texas, who had been going there for 35 years.
"This was his second home. For him, it wasn't a tourist destination," said Lanier. "When these bars are shut down or sold, people really feel a loss."
And after hearing many such stories, the guys were on a mission that amounted to much more than just schmoozing over drinks.
"We don't know how long these places will be around – they are super, super special," said Hembree. "So we wanted to publicize them and tell people that they should go now while they can –you never know when they're going to go away, and the history will go with them."
In fact, a few of the bars they visited were already shut down or seriously threatened by rising rents by the time they finished the book -- like Harlem's Lenox Lounge, where the likes of John Coltrane and Billie Holiday once performed.
While enjoying the buzz over their book, the authors are already getting ready to work on a second volume, exploring many additional cities, including Memphis and Miami.
Below, Hembree and Lanier each share their picks for the top bars they say are not to be missed:
Old76 House, Tappan, N.Y.: "You have to go, solely because of the history there. It is one of the oldest bars in the country, from 1668," said Lanier.
Tonga Hut, North Hollywood, Calif. "It's one of the oldest tiki bars left in America, and the current owners totally restored the place," said Lanier.
Green Mill Cocktail Lounge, Chicago: "It was Al Capone's favorite bar. Enough said!" said Hembree.
Bridge Café, New YorkCity: "This building was built in 1794, and it was a brothel at one point as well as a pirate hangout," said Hembree. "It's truly a unique place."
Townhouse, Venice, Calif.: "You walk in and you have to think that Al Capone is going to come sit down next you," Hembree joked about this speakeasy-style bar that serves up tasty craft cocktails.
Tell us, what are the not-to-be-missed bars in your city?