Dunkin' Donuts may be paring down its signature pastry flavors, but the chain is moving full speed ahead with other fast food mashups to entice doughnut lovers.
World, meet "Donut Fries."
Donut fries are basically deep-fried, sugar-coated doughnut sticks (churros, anyone?) that come in bags with five per order.
In addition to releasing Girl Scout Cookie-flavored coffees, the chain has quietly unveiled a $2 snack menu that's being tested at locations in the Greater Boston area. It includes items like pretzel bites, Munchkin dippers and even a waffle-breaded chicken tender — which is really a chicken strip dipped in waffle batter and fried.
Other items on the new $2 menu include ham and cheese roll-ups, gluten-free fudge brownies and warm chocolate chip cookies, according to Reddit users who posted that they recently stumbled upon the new options.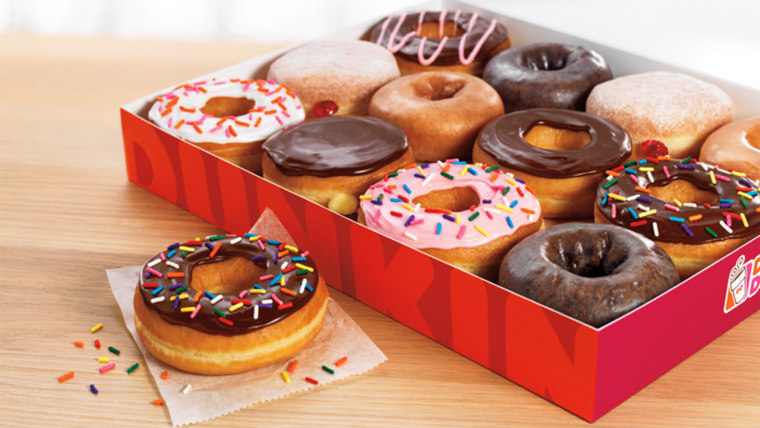 Outside of Boston, this week the chain just launched a nationwide sandwich deal, Dunkin' Go2s, which offers double breakfast sandwich deals ranging from $2 to $5, and features items like Wake-Up Wraps and croissant sandwiches. The deal isn't a super steal since the prices are pretty close to their a la carte menu: the wraps are usually $1.39, while an egg and cheese sandwich will set you back about $2.69.
Dunkin's new discounted menu comes on the heels of McDonald's bringing back its own dollar value menu, with options for $1, $2 and $3. There are similar grouped-item deals being offered at Taco Bell and Subway.
The chain is also running a social media contest to promote Dunkin' Go2: Beginning April 9, customers can nominate themselves as the ultimate go-getter on Instagram (because getting two-fer sandwiches is totally a go-getter move) using the hashtags #GoGetter and #contest. Dunkin' will choose three winners to score a customized trophy, as well as a gift card to share a Go2 breakfast sandwich with a friend. The contest runs through the month of April.
But will donut fries be unleashed nationwide any time soon?
A representative for Dunkin' Donuts told TODAY Food over email, "The test is designed to gather valuable feedback from consumers, franchisees and their employees to help inform future decisions about a possible national rollout."