UPDATE: The rumors — started by Instagram account @thejunkfoodaisle back in April — are true! Oreo and Dunkin' Donuts just had a food baby: a mocha-flavored Oreo. They're available on store shelves nationwide right now.
Is this flavor a good excuse to eat Oreos for breakfast? We think so.
See the original post below:
A Dunkin' Donuts–flavored Oreo: It just makes sense.
That's what we immediately thought when a company spokesperson confirmed to us that the latest Oreo flavor from the "Oreo Wonder Vault" — Dunkin' Donuts Mocha — will be hitting stores this summer. The flavor was first spotted by the snack sleuths over at @thejunkfoodaisle.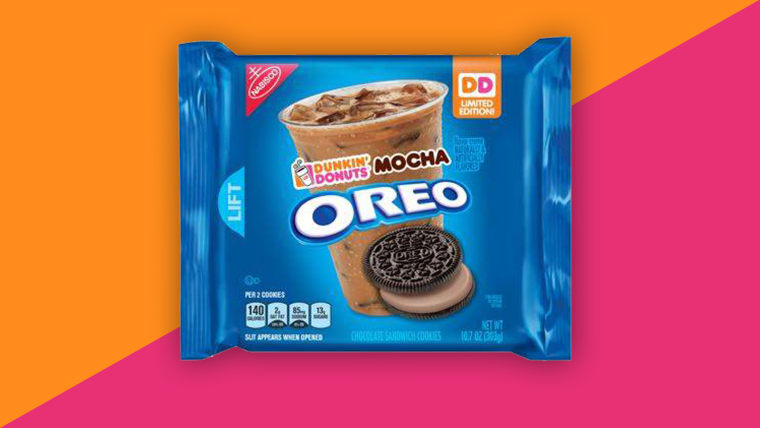 Trying all the new Oreo flavors is a favorite past time here at TODAY Food, and sometimes, it feels like we're getting punk'd when we hear the latest flavor (of course we're looking at you, Swedish Fish Oreos).
But with this one, well, we can't wait.
One of my earliest taste-memories of coffee is sneaking a dunk of an Oreo into my mom's coffee. I was probably in kindergarten, but the sweetness of the Oreo tempered the bitterness of the coffee, and the cookie got pleasantly soggy, with the cream filling taking on the chocolate notes of the java (sort of like a Tim Tam Slam).
Of course, that's not how my 5-year-old self would have described it, but I just knew the flavor combo was right, and I can still taste it.
We might have preferred a straight-up Dunkin' Donuts coffee-flavored Oreo to start with, before veering off with the mocha, but we are patiently waiting to get our hands on a box (a spokesperson for the company told TODAY that the flavor is so new, even she hadn't tried it yet).
From Swedish Fish to Blueberry Pie, here are 20 Oreo flavors you probably didn't even know existed but now definitely need to try.
In the meantime, check your local stores to see if any Peeps Oreos are still lingering around, in case you haven't had your fill of the marshmallow chicks yet this spring.
This post was originally published on Apr. 20, 2017.