When it comes to luxurious libations, you might be under the assumption that the Barefoot Contessa has tried it all — but there's one classic cocktail that she had never sipped until recently: a martini. Yes, really.
On March 1, People shared a first look at the next episode "Be My Guest with Ina Garten" on Food Network and discovery+ where Stanley Tucci serves Garten her first martini ever.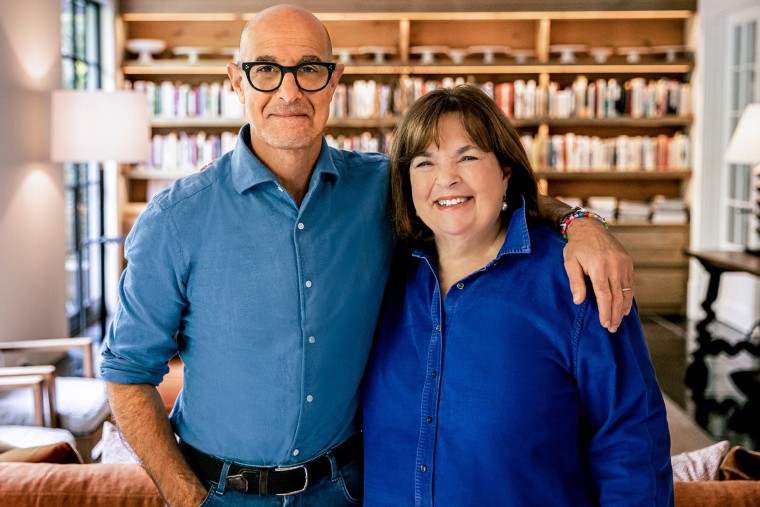 The cooking show, in its third season, will later welcome guests like Norah Jones and Misty Copeland, but for this season's second episode, premiering March 5, Garten welcomes the Oscar-nominated and Emmy-winning actor to share a meal, a drink and plenty of conversation.
The clip opens with Garten showing Tucci a dish she prepared in advance: her Oysters Rockefeller. 
"I made oysters because I understand you're making martinis, is that right?" Garten asks.
When Tucci replies in the affirmative, Garten breaks the fourth wall and tells the audience. "How jealous are you?" (Very Ina, very.)
After explaining that she thinks oysters pair well with martinis, Garten makes a surprising admission to Tucci.
"Let me tell you a secret: I've never had a martini in my life," she says, to Tucci's astonishment.
"Jeez, you gotta get out more," he jokes.
"I had a lot of cocktails, but I haven't had a real martini," Garten explains, laughing. (She has, though, had a cranberry martini — a recipe she's shared on TODAY.)
Although Garten frequently shares cocktail recipes, the Contessa only seems to have enjoyed other drinks in her more than 20 years on TV. Particularly noteworthy, however, is Garten's use during quarantine of a giant martini glass in a video that has since become a popular meme. Still, that giant martini glass was filled to the brim with a Cosmopolitan (well, many Cosmopolitans).
Knowing that this is Garten's first martini, Tucci tells her that he won't make the cocktail "super dry" which refers to the amount of vermouth in a cocktail.
Adding 3/4 ounce of white vermouth to a cocktail mixing glass with ice, Tucci then pours four ounces of gin to make two servings, then notably doesn't shake the cocktail, but stirs it instead.
"Stirring gives it a slightly more delicate taste," Tucci explains. "You don't get any of the little pieces of ice."
"So, I'll always remember who I had my first martini with," Garten says with a laugh, while grabbing two chill martini glasses from the freezer, ready for the finishing touches, which Tucci grabs.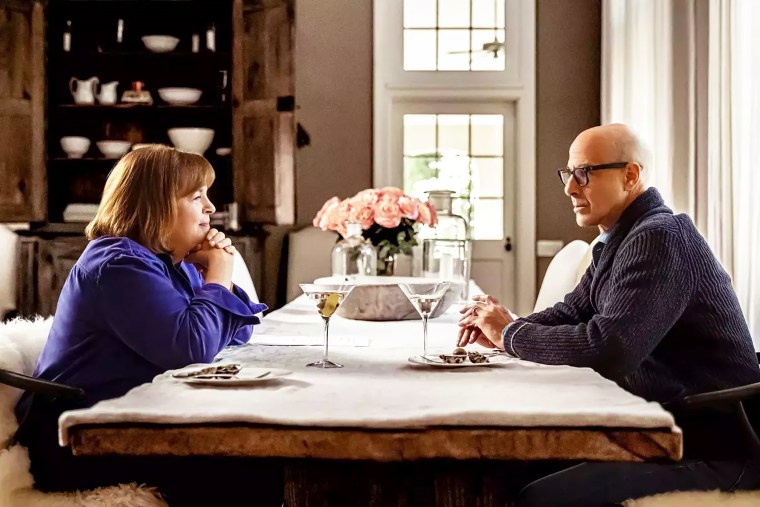 "You know what I'm gonna do? I'm gonna put a lemon and an olive in mine. Yes, I'm greedy," Tucci says, encouraging Garten to put whatever she wants in hers, except "pineapple" or "a meatball," they joke. The gracious host opts for both garnishes like her guest.
"Kiss me goodnight," Garten says as she picks up her glass, to which Tucci jokes, "Well, we'll have to shut the cameras off" — and this is before they've even had anything to drink.
After taking a sip of her first martini, the Barefoot Contessa's verdict arrives.
"That's gorgeous," she says. "I thought it was gonna be sheer alcohol, but it's not."
"That's lovely, isn't it?" Tucci says, referring to the martini, but could also be referring to the chemistry of a pleasant interview.