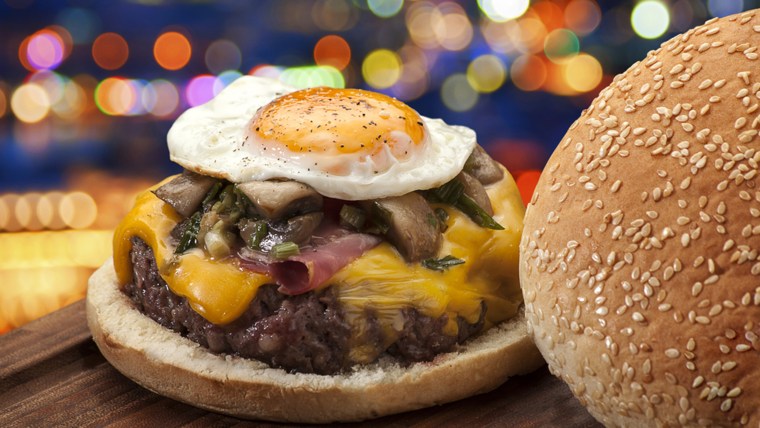 Did you know that a single chicken can lay 250 to 300 eggs a year? Thank goodness there's no shortage of eggs, since the humble ingredient has become the darling of the food world: Trendy chefs and home cooks alike are answering the question of how to perk up all kinds of dishes with "Put an egg on it!"
On Oct. 10 — World Egg Day — we celebrate a kitchen hero that knows no mealtime limitations, a true champion that can transform breakfast, lunch or dinner into something special in just a couple of minutes. Here are a dozen ways to let those sunny yolks shine. 

Burgers: Is it a little over-the-top to add an egg to your burger? Maybe. But making something even more insanely delicious shouldn't be a crime. Bring on the protein with an Aussie burger with 'the lot' from the blog Manu's Menu.
Tacos: When you need something delicious in your stomach immediately, let a taco with a fried or scrambled egg be your friend. On the blog Simply Reem, fried egg tacos are dolled up with fresh pico de gallo, but you could simply use store-bought salsa or hot sauce to add some zing.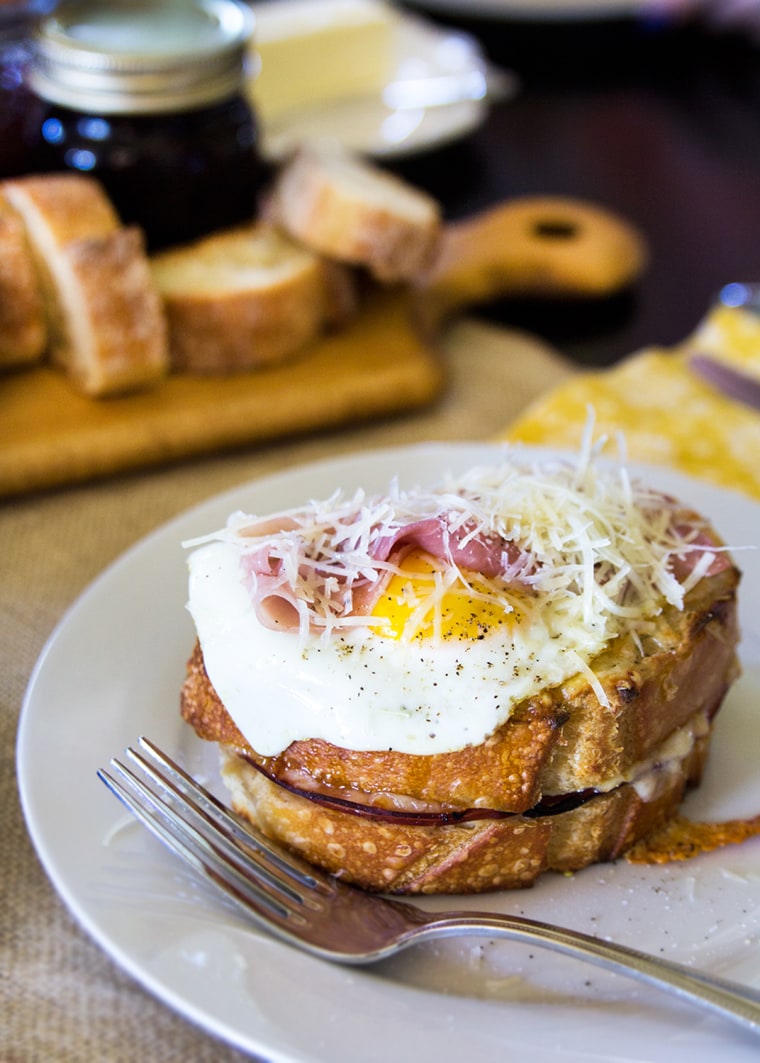 Sandwiches: Turkey? Ham? Vegetable? There's really no sandwich a good fried egg can't make that much better. Try the Stiers Aesthetic's take on the classic Croque Madame (pictured above) for something a little cheesy, or follow the lead of chef Thomas Keller who adds both egg and cheese to a BLT. 
Pizza: Do yourself a favor and crack a couple of eggs on the next pizza you make at home — the eggs bake right with the pizza and when you slice your pie, gooey yolk oozes deliciously over it. A Couple Cooks does a white pizza with pecorino, scallions and eggs, while I Eat Therefore I Cook replaces tomato sauce with refried beans for a knock-out huevos rancheros pizza. For a really easy version, add eggs to store-bought crust with your favorite toppings.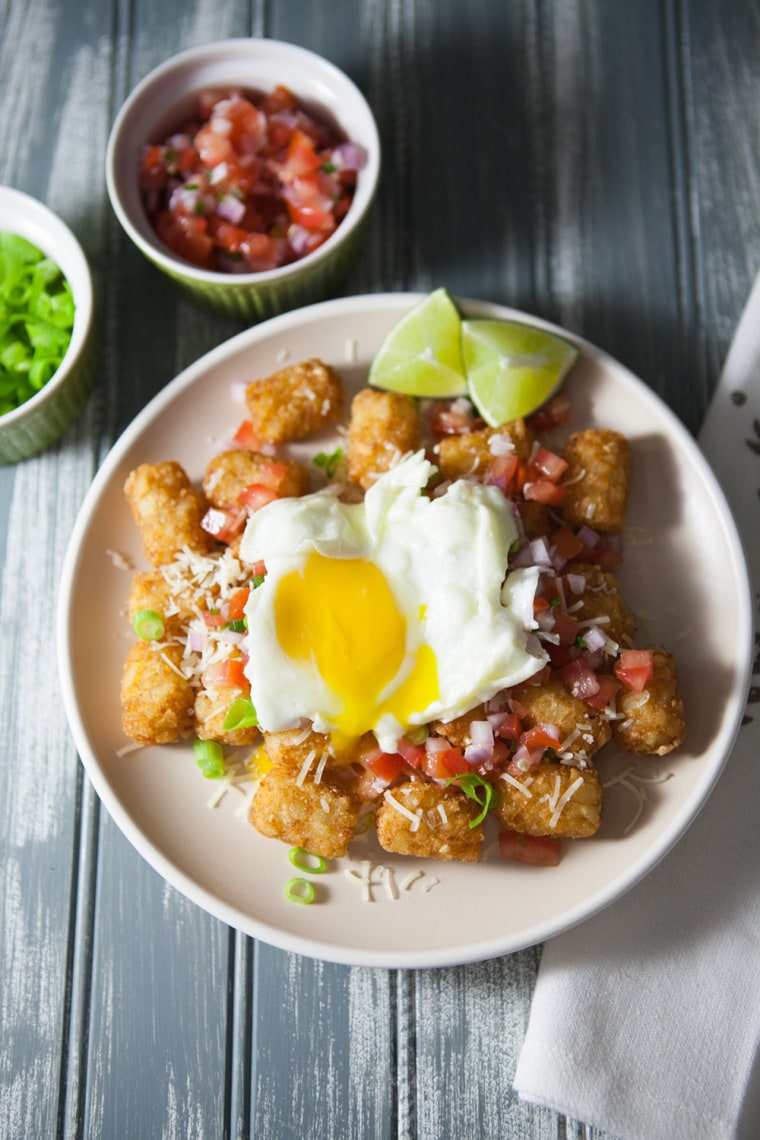 Tater Tots: You know what makes Totchos (Tater Tot nachos) even crazier? That's right — a fried egg! The Little Kitchen does Totchos with deep-fried Tater Tots, but you could swap in oven-baked Tots for a dish that's easier and just as delicious.  
Avocado Toast: Avocado toast has been having a moment lately. Add an egg and this super easy breakfast or snack is that much more filling and satisfying. Pinch of Yum's take on avocado toast calls for poached eggs, but fried eggs, scrambled eggs and sliced hard-boiled eggs work just as well. 

Salad: A boiled, fried or poached egg or two can turn any side salad, like this broad bean bowl from Dine and Dash, into a dinner salad in a snap.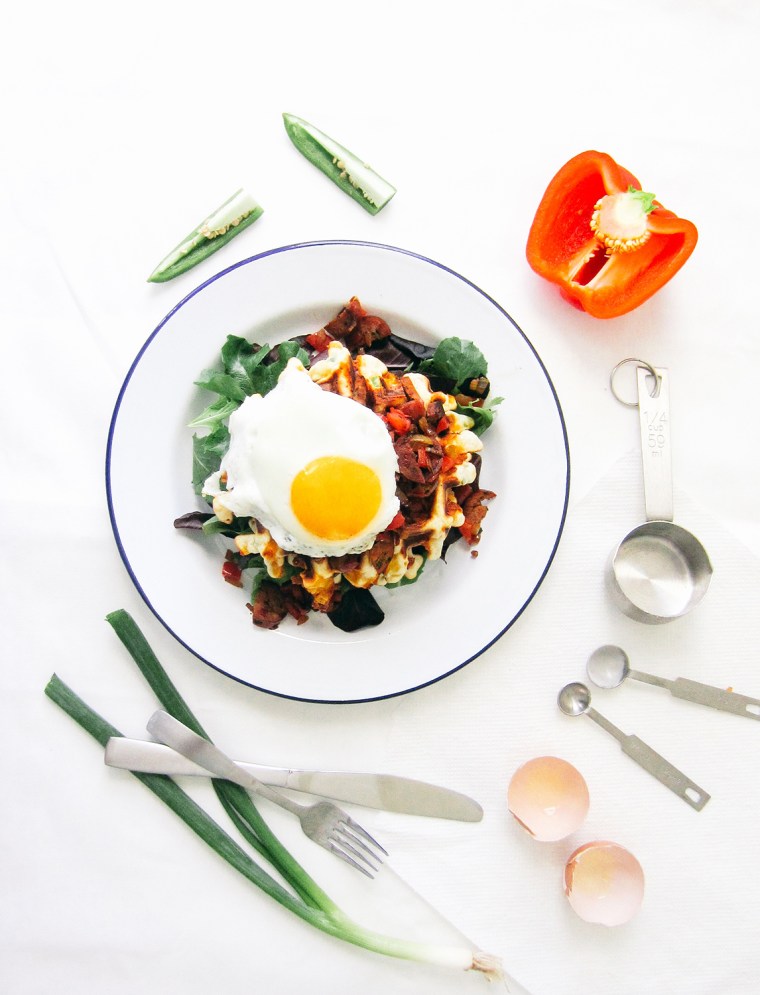 Waffles: Bacon Egg and Cheese(cake) knows what you should make when you kind of want all the options for breakfast. Waffles? Check! Sausage hash? Check! Just remember: Put an egg on it! 
Rice: Eating plain rice by itself seems sad. But add an egg and life just got interesting. An egg is a classic addition to Korean bibimbap, but eggs also add interest to all sorts of grain bowls, like this 10-minute rice bowl with fried egg and avocado from Bon Appétit. 
Potatoes: You can't go wrong with eggs and a side of potatoes, but how 'bout putting those eggs on the potatoes? I'm Bored Let's Go features a recipe for hasselback potatoes with chorizo and eggs that's impressive-looking, and way easier to make than you might think.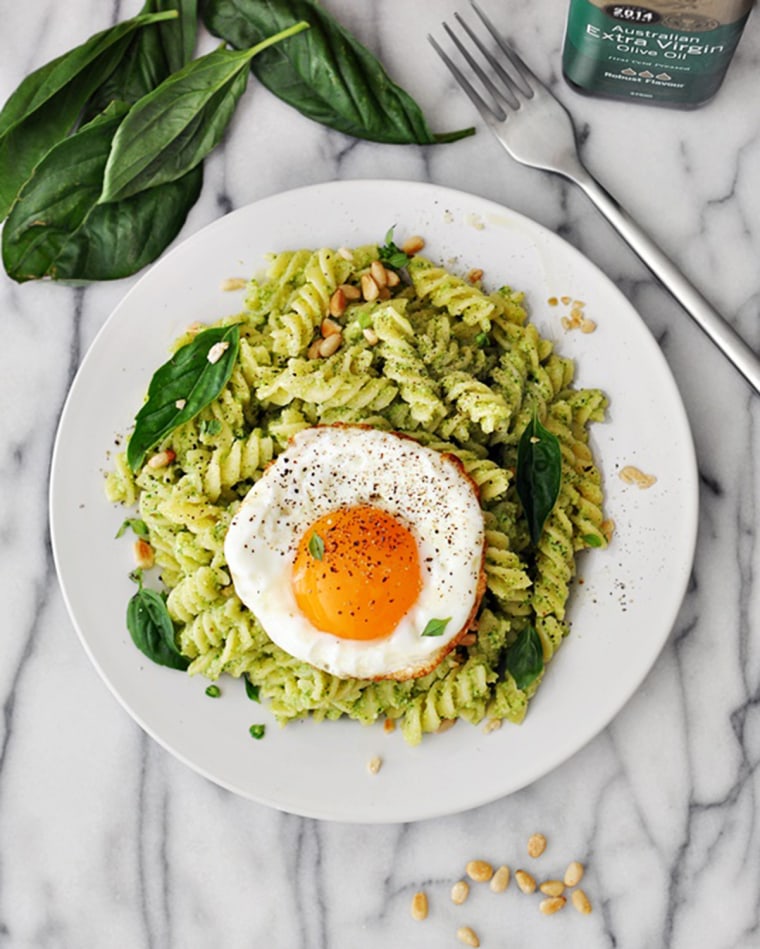 Pasta: It's the sauce, and the noodles, and the vegetables and the yolk mixed all together in one delicious bowl of goodness. It's almost too much to handle, really. You can top noodles with nothing more than a poached or fried egg and a little salt and pepper, or get fancier like Fuss Free Cooking by adding pesto and pine nuts. 
Soup: Just like with pasta, try giving the gift of an egg to a big bowl of noodle soup. Try 'em boiled, fried or poached in our easy ramen recipe or this spinach soup from Fork and Flower.