A ripple of excitement is about to spread through your Instagram feed. Literally. New York City's Doughnut Plant has just introduced "The Ripple," a bullseye-style mega-pastry that is unapologetically optimized for Instagram likes.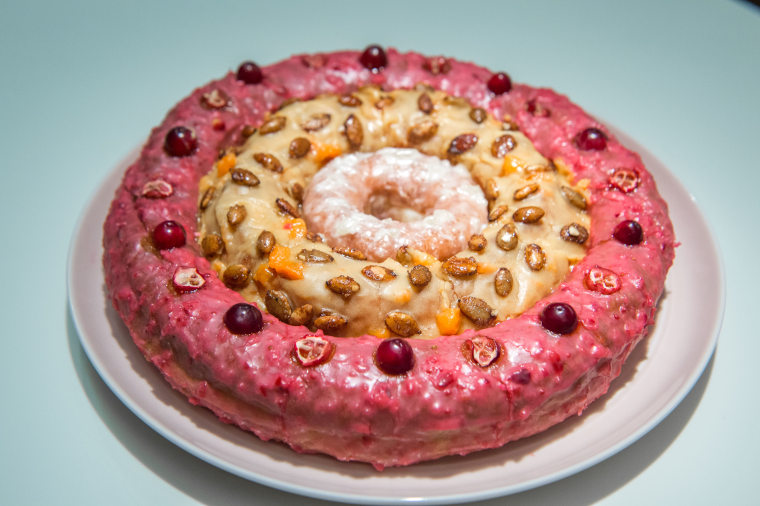 That's the idea here, we think. Sure, it's called "The Ripple" because it looks like a ripple of water — with three rings of doughnut in complementary flavors — but also because once someone posts it to social media, more and more people will order it and post it. A ripple effect (duh).
RELATED: Doughnut walls?! 17 wedding food trends we're loving
Not only does the Ripple have three flavors — it also comes in three varieties. The one we tried was basically the Thanksgiving side dish's answer to the turducken, with a massive cranberry-flavored doughnut on the outside, a smaller sweet potato doughnut in the middle, and a normal-sized crystallized ginger doughnut on the inside. You're supposed to cut into it with a serrated knife like a pie, so that you can get a little bite of everything.
The $24 monstrosity, which feeds six to eight people (or one, if you're feeling ambitious), also comes in berry parfait (blueberry, yogurt-granola, raspberry) and mochaccino (mocha, coffee and milk, with a cinnamon sprinkle.)
"And stay tuned," reads Doughnut Plant's website. "This is just the beginning."
Jeff Magness, chief creative officer at Doughnut Plant, told us over email that the Ripple is a permanent addition to their menu. And they're already developing more varieties.
"We're working on our next holiday flavors," he said. "Maybe something with marzipan, gingerbread and chocolate mint. Stay tuned.
"We'll eventually be ready for custom orders — make your own Ripple."
They're also working on a cake version (the current one is a yeast-raised variety), which will be available in December to ship.
Admittedly, it was a little much for us to eat. We couldn't get past a bite or two because it was very dense and sugary, but we appreciated that there was nothing artificial about the flavors — which is true. The ingredients are all-natural.
RELATED: An ode to life's greatest guilty pleasure: The doughnut
But, still, we think this is much more of an eat-with-your-eyes than a stuff-your-face situation. It'll stick around because people will keep 'gramming it, but we're not sure how many will actually get eaten.
The Ripple is only available at Doughnut Plant's Chelsea location (220 W. 23rd St.) at 11 a.m. daily (with limited quantities for purchase).