Domino's has been at forefront of integrating food delivery and technology since introducing its pizza tracker app in 2008.
Now the pizza company is rolling right into the future with its latest innovation — a driverless delivery car.
Domino's has teamed up with Ford to create a self-driving pizza delivery car that will be tested in Michigan to help the company better understand how consumers respond to and interact with automated technologies.
It's a concept that the company hopes will resonate with consumers.
"I mean, look, to me anything that holds pizza ... takes any automobile kind of-- to kind of the next level," Domino's USA president Russell Weiner told TODAY.
Starting Wednesday, random Domino's customers in the Ann Arbor, Michigan-area will be selected to have the option to accept pizza deliveries from the specially designed Ford Fusion Hybrid autonomous research vehicle. A Ford engineer will be at the wheel but the windows will be blacked out so the customers won't be able to see the driver. A team of researchers will also be accompanying the deliveries to take notes on the pizzas' progress.
But there is one major catch to this self-driving car thing.
Instead of a human actually ringing the door people, customers will have to come out of their homes and type a unique four-digit code into a keypad mounted on the car to access their pizza from the rear window. But that, says Weiner, is likely a temporary solution.
"We're really trying to figure out ... the last 50 feet because the vehicle doesn't show up and become a transformer and then walk up to your house and deliver you the pizza."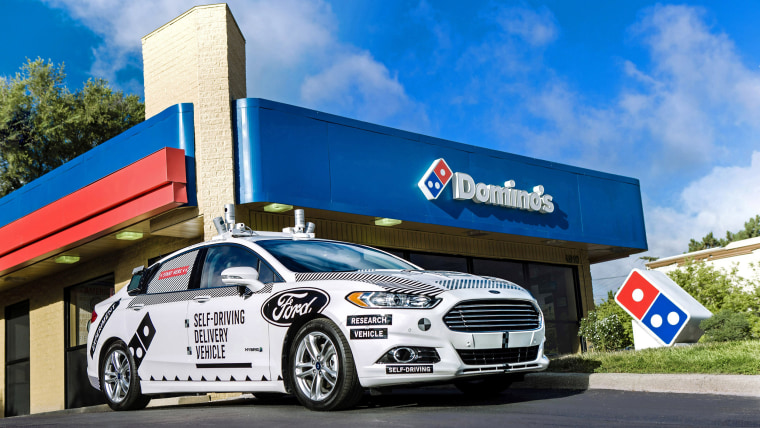 The car itself contains a heated compartment that can carry up to four pizzas and a handful of sides. And the vehicle, a true collaboration with the American auto manufacturer, is outfitted with radars and a camera that is used for autonomous testing.
Though the testing phase isn't a true door-to-door experience, Russell is excited for what the test may reveal about the future of food delivery.
"I have a feeling there's gonna be something that blows us away that we never would have thought of."