Pizza? Oh, there's definitely an app for that! But now that app can bring you pizza almost anywhere in the U.S.
On Monday, Domino's announced that its delivery team would start meeting customers pretty wherever they are ... no address required.
"We listened to customers and their need for pizza delivery to locations without a traditional address," Russell Weiner, president of Domino's USA, said in a statement. "We know that delivery is all about convenience, and Domino's Hotspots are an innovation that is all about flexible delivery options for customers."
Now, pizza lovers can place an order online to be delivered to more than 150,000 outdoor hotspots throughout the country and have their pie delivered right to their metaphorical doorstep. Before rolling out the program nationwide, Domino's first began testing it at hotspots in Miami last year. Significant new locations include the Gateway Arch in St. Louis, by the iconic Las Vegas welcome sign, and even next to a statue of soul legend James Brown in Augusta, Georgia.
Domino's will also deliver to thousands of local parks, sports fields and beaches, just in time for spring and summertime get-togethers that just need a little something extra cheesy.
The one small catch is that customers can only place Domino's Hotspot orders online or through the chain's mobile apps (sorry, no phone calls!). Once a customer's location has been determined, nearby Domino's Hotspots will crop up on a map for customers to select from and they can even leave specific instructions for the driver to find them more easily.
After ordering, customers can expect to receive text message alerts about the progress of their delivery, including an estimated arrival time by the driver at the agreed-upon hand-off spot.
Domino's Hotspots is not the pizza chain's first foray into futuristic food-technology fusion. Earlier this month, Domino's launched a first-of-its-kind gaming experience, "Piece of the Pie Pursuit," with a full pizza offered as a top prize for avid gamers.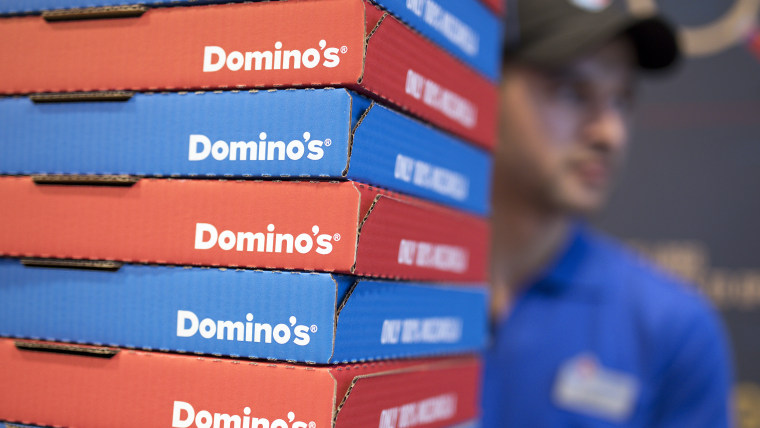 Last summer, Domino's also tried to incorporate technology in a different way, with self-driving pizza delivery cars taking to the road in Ann Arbor, Michigan, late August.
"I mean, look, to me anything that holds pizza … takes an automobile kind of — to kind of the next level," Weiner told TODAY at the time, explaining that the company hoped to better understand how consumers respond to and interact with automated technologies.
"I have a feeling there's gonna be something that blows us away that we never would have thought of."