While some people really want an espresso machine as a wedding gift, others may prefer a large pizza pie with pepperoni. Wait, what? Domino's recently announced the launch of a pizza wedding registry, and it's not a joke. This is the real deal.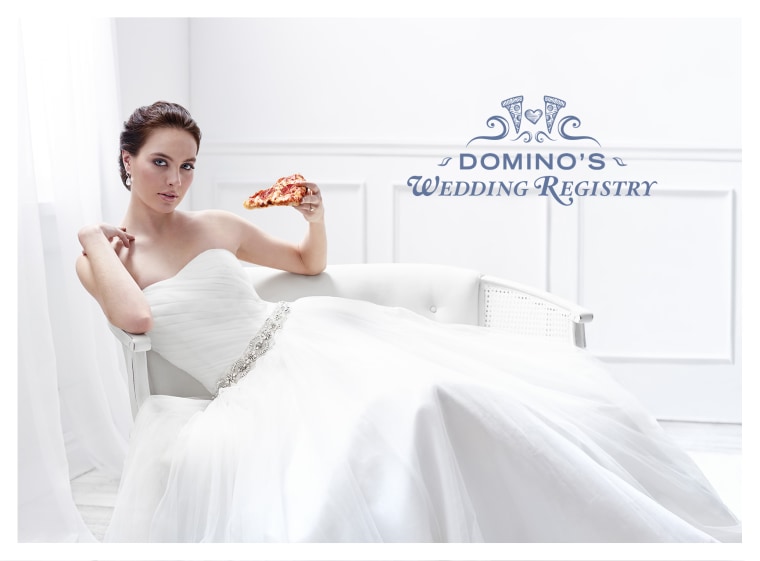 For those who rather be gifted with pizza than a slow cooker, you can use the pizza registry to register for wedding night pizza (the bride and groom rarely get to actually eat at their own party), date-night pizzas and more e-gifts of various denominations. This means if you have a lot of friends and family who really love you, you may be eating pizza courtesy of their gifts for decades.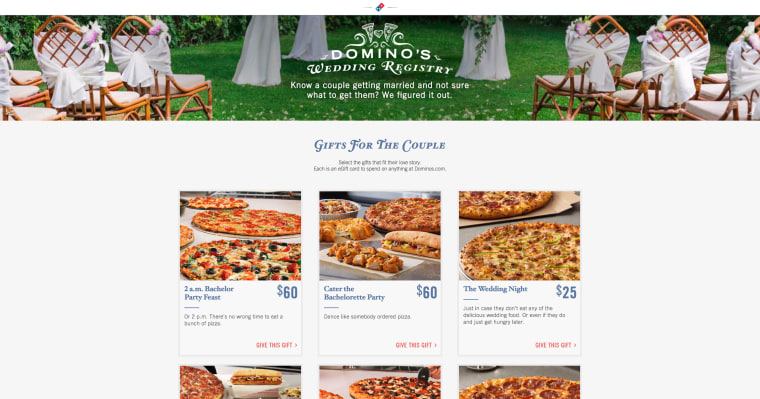 Considering some of the other kooky things that people put on their wedding registries, pizza isn't the worst idea. Or is it?
"Valentine's Day is right around the corner, so we wanted to give recently-engaged couples that are passionate about pizza the chance to register for something they both truly love as much as their partner," said Domino's Spokesperson Jenny Fouracre in a statement. "Choosing wedding gifts can be a daunting process, especially if couples can't agree on what to register for. Our registry aims to bring couples together over their shared love of pizza."
Social media is already having a field day in response.
Before this comes off as cheesy, there's already a pretty wide selection of things you can register for at your wedding, from high-end department stores to places like Target. Shouldn't we all get what we actually want on our big day? Don't we all deserve the greatest pizza love of all? I think so. I think so.