Flying Dog Brewing Company is launching a new Imperial India Pale Ale this week dubbed "The Truth" —something they feel is in short supply, given the problems they are facing with Anheuser-Busch InBev, the world's largest brewing company, over potentially misleading packaging. 
Flying Dog has perhaps the most iconic brand identity in the craft beer universe, featuring the splatterific art of legendary designer Ralph Steadman, best known for his surreal illustrations of Hunter S. Thompson's articles and books.
The collaboration between Steadman and Flying Dog began in 1995, and has generated a visual and verbal lexicon that is instantly identifiable to craft beer fans across the country.
Well, almost instantly identifiable.
You see, the packaging design of a set of "crafty" looking beers created by mega-brewer A-B InBev has led to some consumer confusion at store shelves.
The beers in question are Wild Blue, Rascal's Wild Red and Shadow's Wild Black, three fruit-infused lagers that have canine mascots and are adorned with scribbly artwork reminiscent of Steadman's style, and for some, the Flying Dog brand.
"I thought it was Flying Dog," said Alex Meyer, a healthy living blogger from Iowa, who accidentally purchased a bottle of Rascal's Wild Red. "I was excited to see one of their brews mixed in with the singles, as I hadn't before. I didn't read the packaging closely, just grabbed it and moved on."
"I only figured out it wasn't Flying Dog when I started Googling the beer while writing a review of it for my blog," Meyer said. "I felt tricked," she told TODAY.com. "The packaging was much too similar to Flying Dog's to not have been done on purpose, in my opinion."
Flying Dog CEO Jim Caruso is well aware of the confusion that's happening in beer stores across the country. "You don't have to squint hard to grab the wrong beer," he said.
"I hear about this a couple of times a week," notes Caruso, who's copied on every email submitted to the company's website. "People are outraged," he said of the emails he's read. "Customers say 'I just wasted eight or nine bucks' and feel like they've been flipped off by A-B InBev."
Caruso contends the similarities between the two brands go beyond how they look; the words used on the Blue Dawg beers' packaging are similar as well. "'Doggie style,' 'part of the pack' — this is our language," he said.
Asked if he thought the similarity between his brand and the Blue Dawg beers was just a coincidence, Caruso said probably not. "Other breweries look to us on how to stand out and not be boring. I could be wrong, but I don't think A-B InBev does anything by coincidence."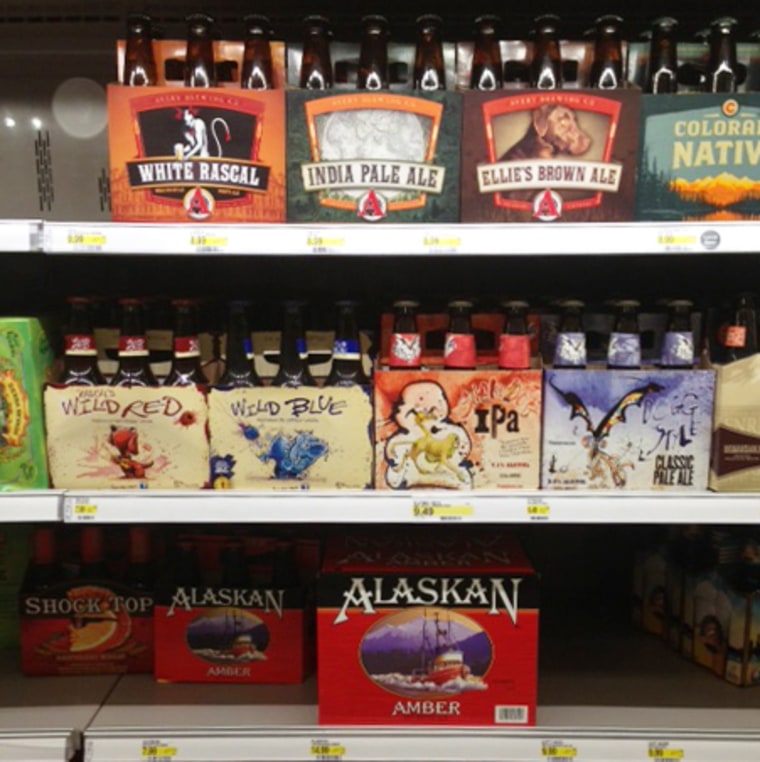 A-B InBev provided a statement about the issue to TODAY.com, which read in part, "To suggest that there is any consumer confusion between Wild Blue Blueberry Lager and Flying Dog is a very great stretch of the imagination…comparing the whimsical blueberry-kicking dog on the Wild Blue label to any of the gothic canines found on Flying Dog is like comparing da Vinci's Mona Lisa to a Picasso portrait — they may portray a similar subject but stylistically, there's no confusing the difference. "

See the whole statement here: A-B InBev Denies Packaging Similarities with Flying Dog Beers
While Anheuser-Busch InBev didn't supply the exact date that the Blue Dawg beers came to market, the earliest online reviews for the brand make mention of Wild Blue, the first of the trio to be released, rolling out for regional testing in the fall of 2005. That's a full 10 years after Flying Dog and Ralph Steadman began building their brand.
Flying Dog's Caruso has been told by a few retailers that their A-B InBev sales reps specifically ask for the Blue Dawg beers to be placed next to the Flying Dog beers. "It's possible that it's just a rep trying to hit their sales numbers, and not a corporate policy," Caruso said of the practice, but the tactic points to an obvious similarity between the brands.
Caruso is pragmatic when asked if he's considered legal action against the world's largest brewer. "If we ever sued them, they would crush us with legal fees," he said.
"I would hate the taste of the beer to reflect on the company they're imitating," says Alex Meyer, who gave Rascal's Red Ale a lukewarm review on her blog. "I still haven't gotten to try any actual Flying Dog beer, but if someone didn't realize they had the copycat, and didn't like the beer, it could reflect back on sales for the original company, which would be too bad."
Flying Dog's Caruso agrees. "It would keep me up at night if even if one person bought that beer and thought we made it," he said.
Even hardcore beer geeks have been led to purchase the Blue Dawg beers by mistake, like Jeff Bailey, who reviewed Rascal's Wild Red on BeerAdvocate.com, where it has a rating of 62 out of 100, giving it a "poor" designation.
"I felt ripped off," said Bailey, who didn't mistake the beer for a Flying Dog product, but did think it was a beer from an independent craft brewer. "I wouldn't have purchased it if I had known that it was A-B InBev," he said, noting that nowhere on the label does it indicate that the beer is manufactured by the brewing giant.
"The money that I spent on those beers was taken away from the craft brewers whose products I would have chosen in their place. It's a deceptive and essentially dishonest practice, and they're doing it intentionally to try to tap into the 'craft beer trend,'" Bailey opined.
Intentional or not, Anheuser-Busch InBev and their Blue Dawg beers are suffering from a perception problem, whether it's from some consumers misperceiving which brewer is actually making their beer, or others who feel that the brewing giant has intentionally misled them into purchasing their products.
Either way, A-B InBev doesn't seem worried. "If a consumer is surprised to learn that the beer they're enjoying is brewed by Anheuser-Busch, it should be a happy discovery," their statement said, "because our brewing credentials and quality standards are second to none in the industry."