True story: A long time ago, as a lowly magazine assistant with the ink still drying on my grad school degree, I dreamed of a promotion beyond my usual duties of grabbing lunch for my bosses and answering reader mail. When the day finally came and I got my own cubicle, a new title on my business card, and a RAISE, I didn't splurge on Louboutins or a Louis Vuitton tote. (Those came later.) Instead, I marched myself over to Williams-Sonoma and got myself a tangerine stand mixer.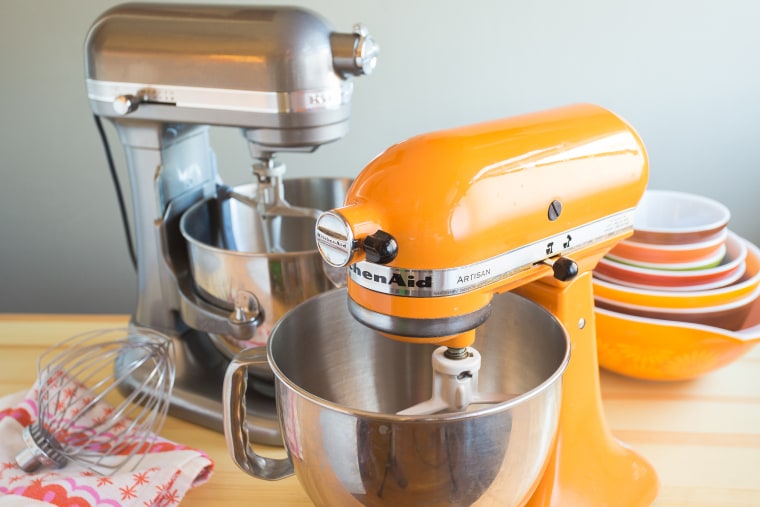 More than a decade later, the stand mixer is still one of my best friends in the kitchen, taking pride of place on the counter and outlasting the fancy bags and shoes collecting dust in my closet. If you want a splurge that actually pays off, a stand mixer is your best bet.
What is a stand mixer?
If you're mentally picturing a stand mixer, chances are what you're thinking of is the KitchenAid version — like Kleenex and Q-Tips, the brand name has become the industry standard descriptor, likely much to the chagrin of Breville, Cuisinart, et al. As of 2014, KitchenAid was selling more than 2.5 million stand mixers annually, so for all intents and purposes, that's probably the only brand you've encountered. A stand mixer combines heavy duty steel construction and a powerful motor to make it an indispensable tool for both bakers and cooks alike.
Essentially, a stand mixer is an extra pair of big, beefy arms in your kitchen. Use it wherever you could use a helper to do a mixing task while you busy yourself with another part of the recipe at hand. It's more efficient and better at evenly combining ingredients than a human could ever be; it cuts down on your prep time; and it's built to last. (Yes, as a professional cook, I actually own two stand mixers: the everyday 5-quart KitchenAid Artisan, and the big, badass 7-quart Pro Line version with 1.3 horsepower under the hood.)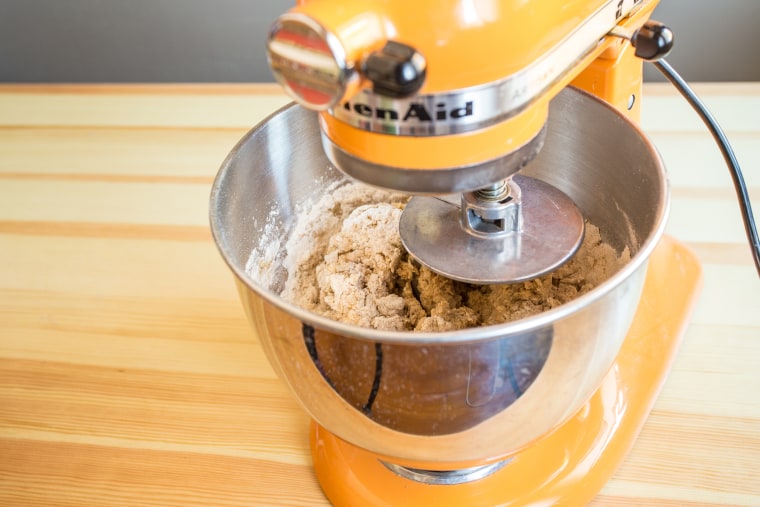 What's a stand mixer good for?
A basic stand mixer comes with three blade attachments: a beater, a whisk and a dough hook. Which one you want to use depends on your desired outcome:
• Use the flat beater for most tasks, including mixing cookie and cake batters and frostings; for shredding pulled pork or chicken; for mixing meatloaf or meatballs if you don't want to touch it with your hands; and for blending both sweet and savory ingredients, such as incorporating butter into warm citrus curd or mashing boiled potatoes with butter and milk for a creamy comfort meal.
• Use the whisk for beating eggs and cream into fluffy peaks, and if you take it even further, for making marshmallow fluff and homemade butter without lifting a finger. (OK, except for the finger you use to flick the power on.)
• Use the dough hook for kneading any kind of dough you can imagine, from stiff baguette dough and whole grain rolls to soft, pliant pizza dough and cinnamon buns.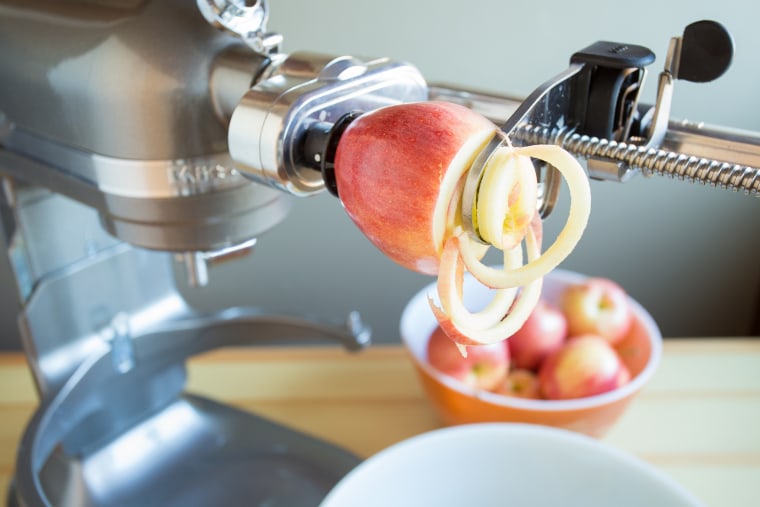 Get the most out of your mixer
Like a Vitamix, the price of a stand mixer essentially correlates to the horsepower you're purchasing. You're buying a powerful motor, so there's no reason to relegate it just to mixing and whipping duties. That's where the attachments come in.
At the very least, get a second beater blade with a silicone scraper edge. This tool should, in my opinion, come standard with every mixer — it scrapes the bowl as you mix, making it even more effective at creaming butter and sugar together, folding dry ingredients like flour and cocoa powder into your batter, and generally keeping everything well-blended.
If you want to go further, you can get attachments that will roll and cut pasta, grind meat, take the place of a food processor for shredding, slicing, and dicing, spiralize fruits and vegetables and even make ice cream. Each add-on isn't cheap, to be sure, but consider the ease in which you can make piles of pappardelle or stacks of spiralized sweet potatoes.
Related: Make an apple pie with spiralized fruit
Then think of how often you'd want to take on these tasks; for me, if I make pasta even only once a month, I'm spending less to make enough fettuccine for four people than I would on a single bowl of carbonara at a restaurant. That's a cost I'm willing to outsource.
Oh, and since you're making a lifetime investment with a stand mixer, it can't hurt to give it a tune-up every few years to make sure it's still working in top condition. Check your mixer manual to find a qualified repair shop in your area (mine happens to be a vacuum and appliance store!). For a nominal fee, you'll be assured that your mixer is running right.