If you've ever tried snapping a picture of your food at a restaurant, you know the challenges of making it look pretty and appetizing. In fact, there are filters and apps designed just for foodies who love sharing their meals on social media.
Now, one restaurant in London has taken it to a whole new (shameless) level. Dirty Bones, which serves NYC-inspired comfort food and cocktails, has added an "Instagram Pack" to its menu.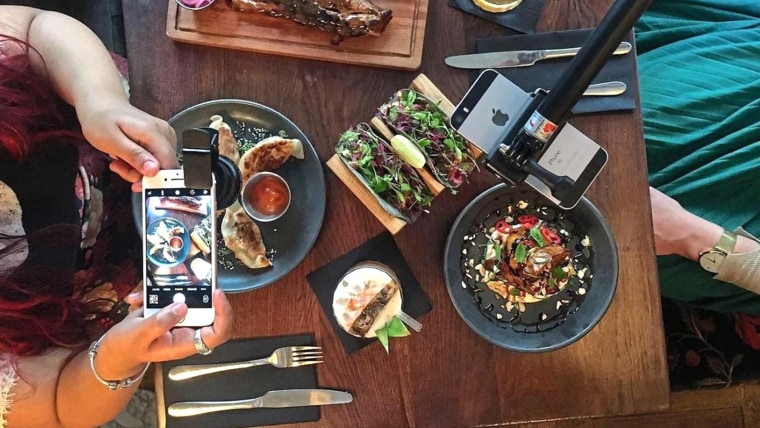 The free kit is available for customers to use upon request at the Denham Street location in Soho and comes with a portable LED camera light, multi-device charger, clip-on wide angle camera lens and a tripod selfie stick for overhead table shots — so that you can advertise for them for free on your social media accounts.
A spokesperson for the restaurant told TODAY Food that the Instagram pack was first made available on July 5 and that they've seen a big uptake in requests since it was first covered in the UK press. They also said they've noticed an improvement in the lighting and angles of shots under the "Dirty Bones Soho" location tag.
In fact, the restaurant confirmed the entire restaurant location was designed with Instagram in mind. (We appreciate the transparency.) The interior is carefully decorated to give off a post-industrial chic vibe. There's an antique floor-to-ceiling bookcase and bespoke neon lighting signage that's already proving popular on social media.
The menu was also curated to provide picture-perfect shareable content. The restaurant says its fish tacos are newly trending, right alongside the iconic Mac Daddy burger and cheeseburger dumplings.
The cocktails are also Insta-worthy, many with bright colors and pretty decorative touches.
Can't make it to London but want to up your Insta-foodie game? Check out our tips for "mmmm-astering" the art of food photography.