Hooked on Diet Coke?
Soon, you'll have four new versions of your favorite go-to, no-calorie craving to gulp down — and they'll be coming in sleeker, slimmer cans, too.
Coca-Cola is introducing four new flavors of the iconic drink (we bet a certain 104-year-old woman is ecstatic!), which will be available in stores mid-January. The flavors include Ginger Lime, Feisty Cherry, Zesty Blood Orange and Twisted Mango, each picked to complement the original soda's taste.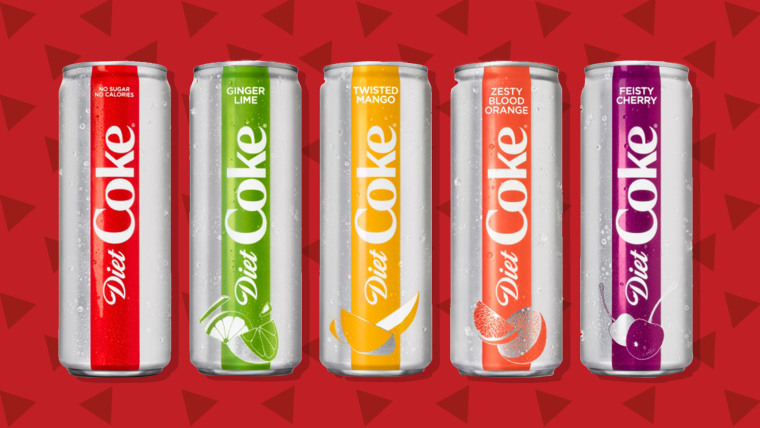 The new flavors, which use aspartame and acesulfame potassium as sweeteners, target millennials, an age demographic that the company says has "an affinity for bold, yet refreshing and great-tasting, flavors in their favorite foods and beverages — from hoppy craft beers to spicy sauces."
Amid increasing competition from flavored waters like La Croix, Coca-Cola created the new sodas and describes them as "fruit-forward, but with an unexpected twist." They chose the final four after testing 30 recipes and speaking with "more than 10,000 Americans."
The new flavors also come with clever taglines like "because ginger and lime are friends," "because cherries aren't so innocent" and "because zesty is besty." Diet Coke will also get a brand refresh to modernize its look with bolder colors and slimmer 12-ounce cans, the same size as Dasani's sparkling water cans.
Diet Coke Cherry, which debuted in 1986, and Diet Coke Lime, which has been on store shelves since 2004, will slowly be phased out of brick and mortar shops but will both be available through Amazon.
According to Reuters, soda giants Coca-Cola and PepsiCo have steadily been losing marketshare in the last several years as consumers opt for healthier drinks over sugary sodas. To keep up, they've been adding new drinks, like teas, juices and waters; smaller sizes and even reformulations of old favorites like Coke Zero.
However, Diet Coke still remains the best-selling, no-calorie drink in the U.S., so it's not surprising that many Diet Coke lovers are pretty pumped about the new foursome of sodas.
But not everyone is convinced shaking up flavor options is a good move for the brand.
"While the low- and no-calorie beverage category has been under pressure, Diet Coke remains an incredibly strong brand," Kate Hartman, group director of brand public relations for The Coca-Cola Company, told TODAY Food over email.
For all you original Diet Coke-loving fans, there's no need to freak out over the new flavor announcement. Unlike original Coca-Cola disappearing when New Coke emerged in the 1980s, the same formulation of Diet Coke will continue to exist alongside the fruity flavors.
Cheers, Diet Coke fans, 2018 is certainly looking more colorful!
Lyn Mettler is an Indianapolis-based lifestyle and travel writer, who blogs at GotoTravelGal.com, showing others how to fly free on Southwest Airlines. Follow her on social media at @GotoTravelGal.