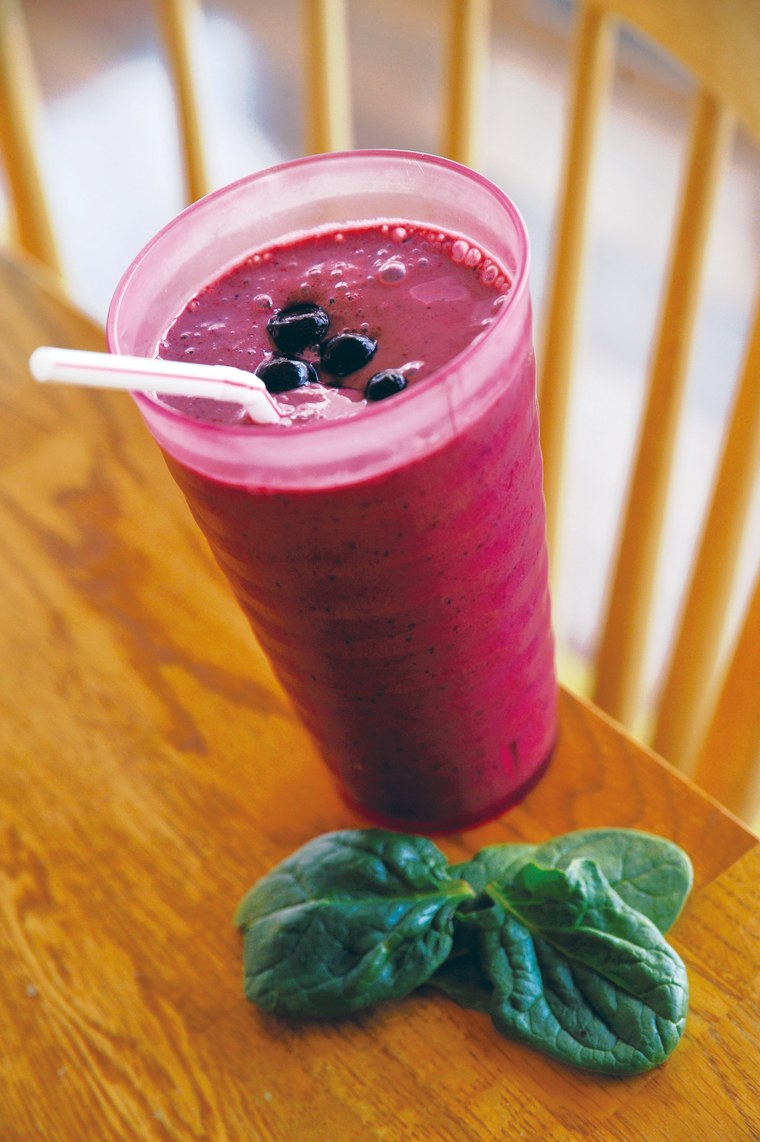 With the new year comes a host of resolutions to eat less and exercise more—intentions that are often all but forgotten come mid-February. So why not focus on simple strategies that will rid your body of holiday overindulgences and make you feel better and brighter all year long? Take that, broken resolutions!

Add veggies in the morning. The U.S. Department of Agriculture (USDA) recommends 5-13 servings of fruit and vegetables per day. An easy way to get a serving or two out of the way early is to have them with breakfast, says Rania Batayneh, MPH, author of "The One One One Diet." Add peppers or tomatoes to an egg scramble or swap the bacon and sausage for a side of last night's roasted vegetable medley.
Load up on kale, beets and bok choy. These nutritional powerhouses aid the liver in both phases of breaking down and neutralizing toxins, according to Lyssie Lakatos, RDN, CDN, CFT and Tammie Lakatos Shames, RDN, LD, CDN, CFT, authors of "The Nutrition Twins' Veggie Cure." Kale is also loaded with fiber, which flushes out your colon and flattens your belly.

More From Today: How to Detox Your Body Naturally
Reconsider a cleanse. Instead of going on a multi-day juice fast, which can leave you protein deficient, try incorporating one juice per day into your diet, suggests Batayneh. Use greens, such as kale or spinach, as your base. Then add blueberries or pineapple for sweetness.
Follow the red, orange and green rule. Include one serving of red, orange or green produce with every meal. "Doing so will flood your body with antioxidants and plant nutrients that will begin to denature damaging particles and toxins," says Shames. Plus if you fill up on veggies, you'll be less likely to reach for starchy sides.
Get your drink on. No, not alcohol, but you should drink 16 ounces of water, green tea, cucumber detox refresher (recipe below) or a combination of all three at every meal, say Lakatos and Shames. "Cucumbers are packed with antioxidant and anti-inflammatory properties," says Lakatos. This is especially helpful if you have had too much salt the night before and woke up feeling swollen. 
Sparkling Cucumber Detox and Refresher (from "The Nutrition Twins' Veggie Cure")

Serves 4
4 medium cucumbers, peeled and chopped

Juice of 1/2 lime (about 1 tablespoon)

Lime seltzer

Mint, for garnish

To make cucumber juice:
Blend the chopped cucumbers in a food processor for 2 to 3 minutes, then pour the mash into a strainer placed over a bowl. Use a spatula to press the liquid from the pulp (this also makes the drink less frothy). For less pulp, use cheesecloth or coffee filters over your strainer. Refrigerate.
For 1 serving of Sparkling Cucumber Detox and Refresher:
Fill a 12-ounce glass halfway with ice and add 4 ounces of cucumber juice. Add 1/4 tablespoon lime juice. Top with 4 ounces seltzer or more if desired. Add a wedge of lime and a mint sprig.
Per serving: Calories 8, total fat 0g, saturated fat 0g, cholesterol 0mg, sodium 2mg, carbohydrates 2g, dietary fiber 0g, sugars 0g, protein 0g
Grapefruit, Avocado and Kale Salad with Pistachios (from "The Nutrition Twins' Veggie Cure")
Serves 4
1 head of Lacinato kale, torn into bite size pieces and tough stems removed

1 grapefruit peeled, segmented and chopped into small pieces

1/2 avocado, cubed small

1 tablespoon pepitas (pumpkin seeds)

1 ounce shelled pistachios

Dressing:
1 minced shallot

1 tablespoon fresh lemon juice

Zest from 1/2 a lemon

1 teaspoon olive oil

Pinch of freshly cracked black pepper

Remove the stems from the kale leaves. Cut the leaves into bite sized pieces.
In a small bowl whisk together the shallot, lemon juice, lemon zest, olive oil and black pepper. Pour the dressing over the kale and toss to coat the leaves. Let sit 10 minutes or until the kale begins to wilt. Add grapefruit, avocado, pumpkin seeds and pistachios. Toss and serve.
Per serving: Calories 120; total fat 7 g; saturated fat 1 g; cholesterol 0 mg; sodium 32 mg; carbohydrates 14 g; dietary fiber 4 g; sugars 3 g; protein 4 g
Berry Detox Smoothie (from "The Nutrition Twins' Veggie Cure")
Serves 2
1/2 cup skim milk

1/2 cup flavored, fat-free yogurt

1 teaspoon honey

1/2 cup raw baby spinach, packed

1/2 teaspoon ground flaxseed (optional)

1/4 teaspoon ground cinnamon

1--1/2 cup frozen blueberries, unsweetened

Combine all ingredients in a blender in this order: milk, yogurt, spinach, cinnamon, honey, flaxseed, blueberries. Puree until smooth.
Variation: For an extra boost add 1/4 cup walnuts. For best results, soak the nuts in water for 15 minutes, drain, then add to the blender with the rest of the ingredients to process.
Per serving (not including optional flaxseed or walnuts): calories 150, total fat 1g, saturated fat 0g, cholesterol 2mg, sodium 76mg, carbohydrates 33g, dietary fiber 4g, sugars 26g, protein 6g
*If you prefer to use a non-caloric sweetener, try Truvia, which can be replace honey making each serving 140 calories.
Farmers' Market Frittata (from "The One One One Diet by Rania Batayneh)
Serves 6
1 tablespoon extra virgin olive oil

1/2 cup chopped onion

1/2 cup chopped asparagus

1/2 cup chopped zucchini

1/4 cup thinly sliced sun-dried tomatoes

Sea salt

Freshly ground black pepper

12 eggs, lightly beaten

1/2 cup crumpled goat cheese

2 tablespoons crumbled feta cheese

1/4 cup thinly sliced fresh basil

Preheat the oven to 350 degrees. In a large ovenproof skillet, heat the oil over medium-high heat. Add the onion and cook, stirring occasionally, until soft and translucent, about 10 minutes. Add the asparagus, zucchini, and tomatoes and cook, stirring occasionally, until soft, about 10 minutes. Season to taste with the salt and pepper. Reduce the heat to medium-low. In the same skillet, add the eggs and cook until just set, about 4 minutes.
Spread the reserved vegetable mixture on top of the eggs. Transfer the skillet to the oven and bake until the eggs are set, about 8 minutes. Scatter the goat cheese and feta cheese over the frittata during the last 2 minutes of cooking. Remove the frittata from the oven, let it cool slightly, and cut it into wedges. Garnish with basil.
Get more tips and recipes for seasonal eats at Made By Michelle.