After weeks of seemingly endless parties, potlucks and holiday cheer, many of us many want to take a break from it all to focus on getting healthy. And if you're looking to beat bloating and feel refreshed heading into the new year, you may be considering a detox.
But there are tons of them out there, from juices to soups to teas ... and even tacos. So what really constitutes a detox?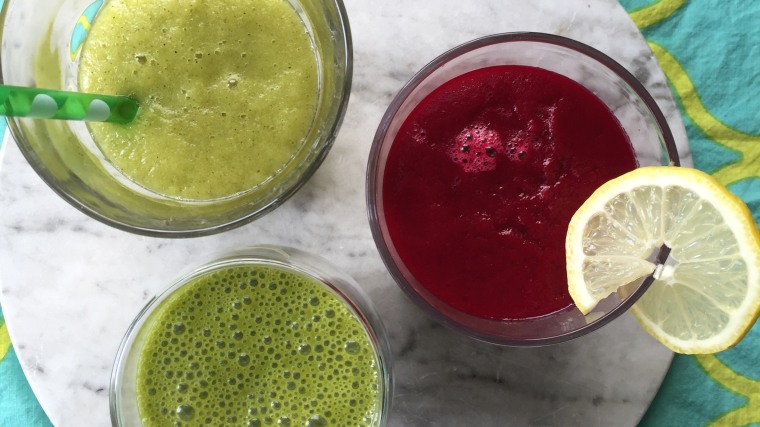 Most health experts, including me, will tell you that your body does a great job of detoxing all on its own. Our liver detoxifies chemicals and metabolizes drugs, while our kidneys filter our blood, remove waste and keep our electrolytes in balance. As long as you're a relatively healthy person, this system works pretty incredibly.
OK, so maybe you don't really need to "detox," but you may be feeling bloated from all the extra sodium and sugar you've been eating (and drinking) and your digestive system may be a bit sluggish from a lack of fiber. Those issues can be improved with the right combination of good-for-you ingredients.
These are some drinks I've developed to help you feel your absolute best as 2019 kicks into high gear. Not everyone has a juicer, so these smoothies are designed to be whipped up in any standard blender. Plus, that means that all of the filling fiber from the fruits and veggies is retained (more details on all that good stuff in the recipes), which will help if your skinny jeans are feeling tighter than they did before all of this holiday party business started.
Frances Largeman-Roth, RDN, is a nutrition expert, writer and best-selling author. Her books include "Feed the Belly," "The CarbLovers Diet," and "Eating in Color." Follow her @FrancesLRothRD.