In a small shop nestled in Los Angeles' Little Tokyo neighborhood, a small but popular Japanese confectionary shop called Fugetsu-Do is turning 120 years old.
Though this is a remarkable achievement — many L.A. restaurants fail very quickly to the point it's often a punchline to locals — you wouldn't know it walking into the small shop.
A small, red sign denotes the year it opened: "Since 1903." Though the family was interned during World War II at Hart Mountain, Wyoming, and the business was closed, they still count those years toward the 120th anniversary. After all, when word spread around the camp that Seiichi Kito, the shop's founder, was a pastry chef, fellow detainees saved their sugar rations to give him.
One woman of Japanese descent operates the worn counter as customers stop by, taking their orders in English and Japanese and passing them small bags of various treats through a plexiglass wall put up during the pandemic.
In the back, over the din of machinery and the slapping sounds of bare hands on colorful rice flour, staff speak to each other in a combination of Spanish, English and Japanese.
The crew is a testament to the diversity of Southern California and changing times — one that both owner Brian Kito and the larger (but still very small) consortium of Japanese American confectionaries hopes to keep up with.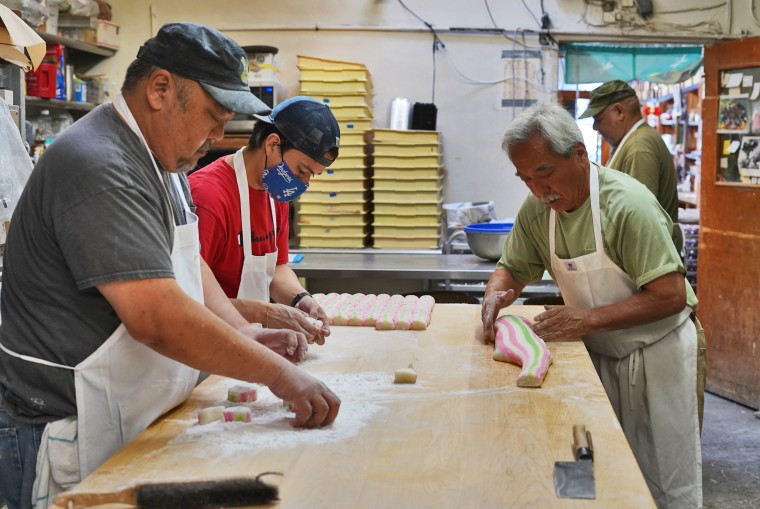 What is mochi?
Mochi has traditionally been made by pounding steamed rice in a large wooden mortar. The old-school style of using your hands and a wooden mallet called a kine to beat the glutinous rice is called "mochi-tsuki."
Nowadays, many confectioners use mochi rice flour and heavy machinery that does the most of the pounding for them.
What is the difference between mochi and manju?
When people think of mochi, they often are referring to the traditional balls of pounded rice flour carefully ensconcing some type of condiment — from the traditional red bean paste to other, more modern-style flavors, like Nutella or peanut butter.
Manju is a similar confection but is baked with cake flour instead.
At any given time, Kito says he has around 20 to 25 varieties of treats on hand in the shop. He categorizes them into traditional, artisan and snack categories.
The artisan ones are often unique — featuring things like steamed egg yolk flavored coating (pictured) or a very sticky, less pounded rice exterior that has to be served with a leaf.
New kinds of Japanese confectionary treats
Many of the Japanese confectionary shops still open in the United States — Kito estimates there to be fewer than 10 — have also had to modernize, making less traditional treats that appeal to younger generations. That forms the "snack" category for Kito.
He says he first started making suama mochi for decades ago to target Generation X kids who didn't have a taste for the more traditional desserts. Suama mochi doesn't have the condiments in the center, and instead are just sweet rectangles with colorful tops.
Then, in more recent years, Kito says he started making "rainbow dango." It's a similar-style treat to the suama mochi but instead of larger rectangles, they're instead rolled into little, snack-sized balls.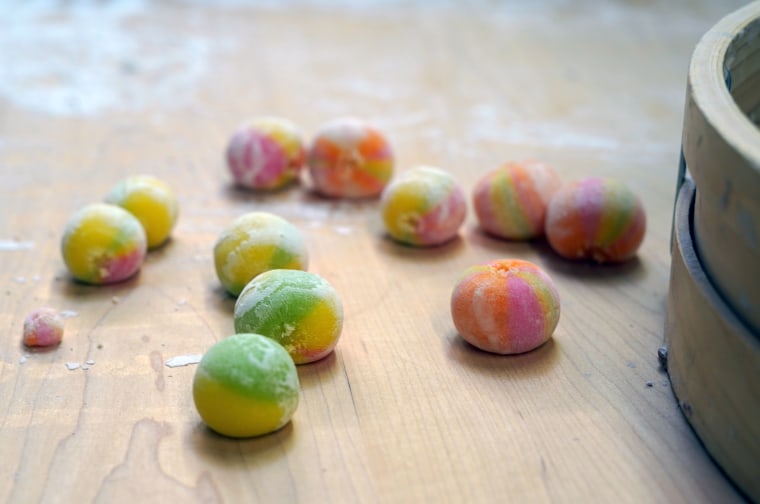 He says it quickly became his most popular treat. He also started to make the pounded rice treats with more unique, sweeter centers like peanut butter and chocolate ganache.
At Fujiya Hawai'i in Honolulu, their two most popular mochis are more modern — one features a fresh strawberry inside while the other has crunchy peanut butter.
Fujiya, which has been open since 1953, has taken inspiration from the local cuisine.
The confectionary sells chichi dango, similar to Kito's rainbow dongo, but with different, even less traditional flavors infused into the pounded rice flour.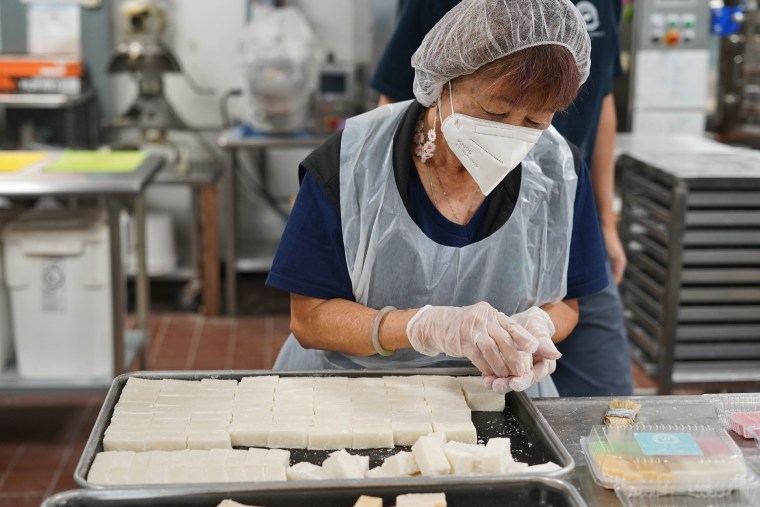 Hawai'i has long been a melting pot of sorts, Fujiya's owner Devin Wong tells TODAY.com in an interview.
Wong, who came aboard the longtime business two years ago during the pandemic, says he grew up in Hawaii eating mochi like "everyone else."
Their treats, especially the chichi dango, are largely inspired by the flavors of the Hawaiian islands — like coconut, strawberry or mango.
New audiences
In recent years, Kito says more non-Japanese Americans have taken an interest in his bakery. After a BuzzFeed YouTube video about his shop went viral in late 2019, Kito says the majority of in-person customers don't identify as Japanese American.
Though he still stocks his wares at the Southern California locations of Japanese American grocery store chain Mitsuwa — which helps keep business booming — he says he was almost unable to keep up with all the foot traffic, especially during the pandemic.
"We are so surprised on the big range of our customer base now," Kito tells TODAY.com "(At first) because of the exposure, but the fact that these people come and they come again and again, they're repeat customers. And yet, maybe three years ago, these people didn't even know what mochi was, possibly."
Continuing the tradition
Wong says that when he saw that Fujiya was looking for a new owner, he wanted to be a part of keeping the tradition alive — despite not being an expert in the craft of Japanese confectionary.
"A lot of (mochi shops) just got passed on to the son or whatever and a lot of them say it was more of an obligation than a choice," he explains, adding that the younger generations of longtime owners have been following their passions more instead of taking over their family shops.
But "all the people that work (at Fujiya) want to be here."
One of his employees, Dani Emoto, used to volunteer at the shop when it was struggling years ago. She says she and several other women retired from their normal office jobs and went to work at Fujiya to help keep it afloat.
When it became clear they'd need her expertise to keep going, the 72-year-old Emoto said her volunteer gig turned into a paid job and she earned the nickname "Mochi Mama."
"When other new people came on and younger helpers came on, everybody was like, 'OK, Class Dani," she says with a laugh. "And so it was like, 'I guess I'm the I was one of the oldest people here, too.' So I just became the mother."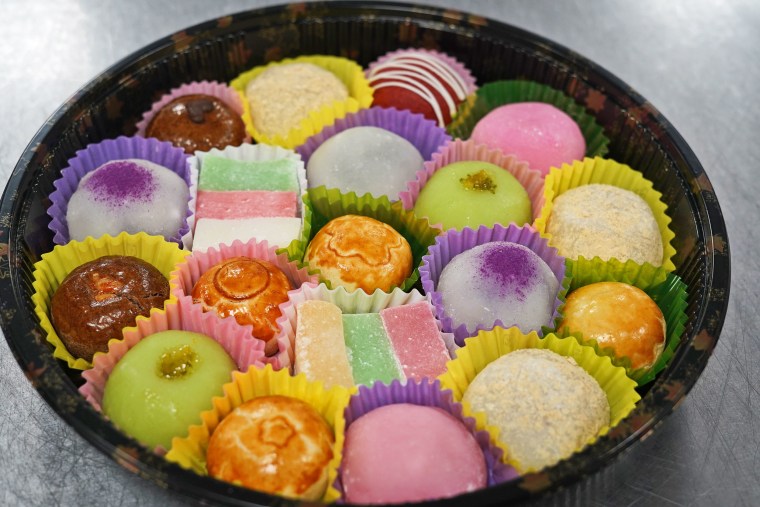 Since Wong took over, Fujiya has relocated to a larger location and hired several young people to staff the shop and learn the business.
The struggle of keeping a labor-intensive shop open with a highly specialized product is one playing out across the country.
In San Francisco, the famed store Benkyodo closed after 115 years in 2022.
"My kids ... all three of them have good jobs," former Benkyodo co-owner Rick Okamura tells TODAY.com. "They don't need to do the same thing I was doing all these years."
Both Okamura and Kito say they have worked nearly 12 hour days for six days a week for the past several decades — a difficult life they understand their kids might not choose for themselves.
"It's sad, it was sad," Okamura said. "And all I could think about was my my grandfather and my father who put all that work into it and and we have to end it."
But after years of hard work, Okamura said he was just "so tired" and had to close up shop. However, he's not entirely sure what to do with himself during retirement.
"I'm so bored!" he laughs.
As for Kito, who will see his shop turn 120 years old this year, he is unsure what will happen to Fugetsu-Do when (and if) he retires. But he can't believe he's managed to keep it afloat this long.
He tells stories about how his business floundered in the 1990s when the neighborhood was almost considered blighted and during the 1992 Los Angeles riots. He says when the shop turned 90 in 1993, he debated closing and "probably should've."
But through it all, he persevered. Kito cites his parents — who had to close the shop when they were detained during World War II, then later buy everything back to reopen when they were allowed to return — as his inspiration.
Kito notes a popular saying in Japanese, "Shikata ga nai," which loosely translates to "It cannot be helped."
"I look back at everything my parents had to go through and I just keep pushing through," he says. "Shikata ga nai."