A new year provides the opportunity to start over in many aspects of life — work, relationships, finances and more. But it seems like what rises to the top of everyone's list are health-related goals, which are often tied to food.
It might be that the constant stream of parties and sweets over the holidays has us all feeling a little blah, or maybe it's just time to kick an old vice to the curb. Either way, we hope this list of easy-to-implement ideas helps get you on your path to feeling and looking awesome in 2018.
1. If you want to ditch soda, try a new fizzy fix.
Whether you're trying to drop regular soda because of its high sugar content and empty calories or you want to avoid the artificial sweeteners in diet soda, it can be hard to go cold turkey.
For a healthier way to to quench your desire for something fizzy and refreshing, one choice is to grab a sparkling water, but if that doesn't have enough of a flavor punch for you, try a fermented drink like kombucha. Kombucha, which is made from green or black tea, contains some caffeine and also provides healthful probiotics, as well as potentially beneficial acids, amino acids and B vitamins. And the sugar content of most commercially made kombucha is only about 2 to 6 grams per 8-ounce serving, while the calories range from 25 to 35 per serving (compared to about 25 grams of sugar and 100 calories in 8 ounces of traditional soda).
2. If you're trying to cut back on added sugar, snack on these.
Sugar adds sweetness to foods, but it also contributes added calories and can cause inflammation in the body. Lots of us are looking for lower sugar foods that don't contain artificial sweeteners and now we're getting some tasty options.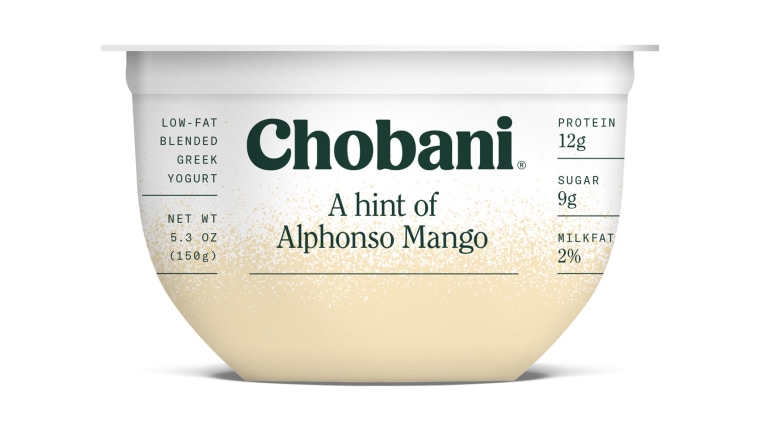 Chobani just introduced a new line of blended Greek yogurt called "A Hint Of," which comes in five flavors and boasts just 8 to 9 grams of sugar instead of up to 20 grams of sugar found in other blended varieties. And Siggi's has two tart but tasty flavors in their no added sugar line, which each have just 5 grams of naturally occurring sugar.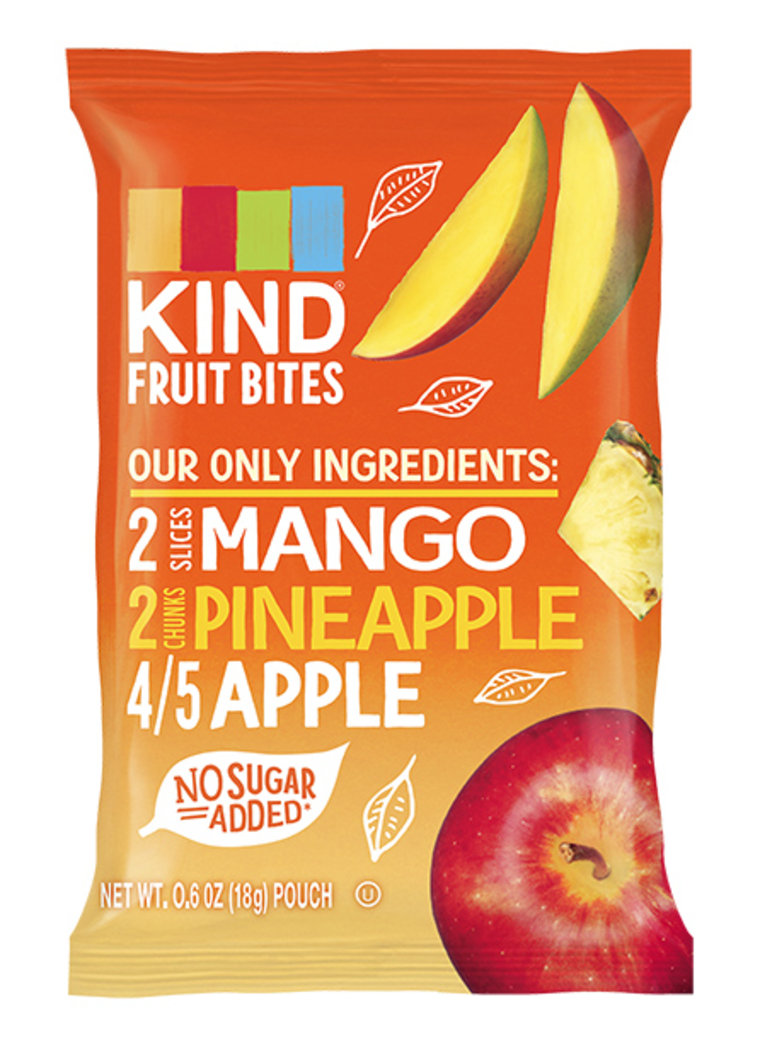 On the portable fruit snack front, Kind's Fruit Bites are made with just fruit — no juices, purees or anything else to make them sweet. The portioned pouches are easy to throw in a purse or backpack.
While the FDA has delayed the introduction of an updated Nutrition Facts panel that would tell consumers how much added sugar (versus naturally occurring sugar) is in a product, you can still cut down on your sugar consumption by checking out the ingredient list on the products you buy — sugar and its alternative names shouldn't be listed among the first three ingredients. And as always, fresh fruit has zero added sugar and provides an all-natural hit of sweetness, plus plenty of nutrients.
3. If you're looking to eat more probiotics, put this in your bowl.
We've all gotten pretty familiar with the possible benefits of probiotics — including better digestion, boosted immune system and even better skin — and we're looking for new ways to get these good bugs into our system.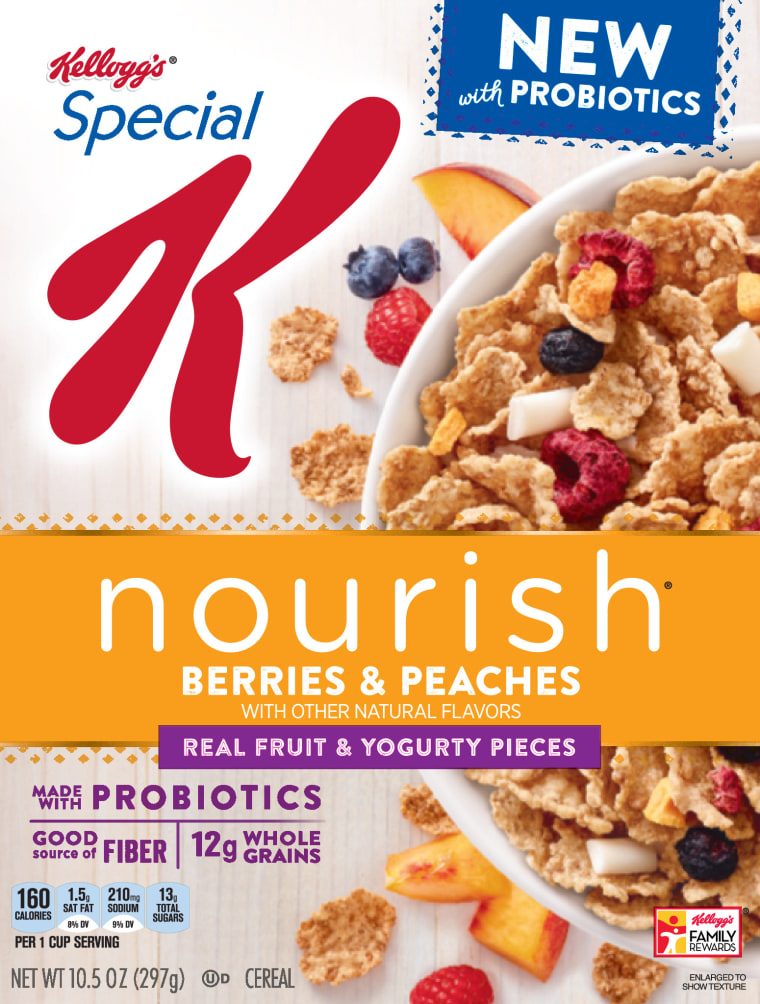 If you've already maxed out on yogurt, kimchi and sauerkraut, try kicking your day off with a good old bowl of cereal. Special K Nourish Berries and Peaches with Probiotics is now available in grocery stores across the country and offers an easy way to get probiotics without a refrigerator. A 1-cup serving also provides 12 grams of whole grains and 3 grams of fiber to get your morning on the right track.
Other cereals that pack a probiotic punch include Purely Elizabeth's Probiotic Granola with a patented strain of vegan probiotics and Earnest Eats' Protein & Probiotic Oatmeal, which comes in convenient on-the-go cups.
4. If you want to eat more veggies, swap this for salad.
I love vegetables, but I lose enthusiasm for salads in the winter. Let's face it, leafy greens aren't the most satisfying thing to eat when it's freezing outside. But shaving veggies offers a whole new way to enjoy them, and I find them to be more filling than the average bowl of greens.
Most vegetables can be shaved, including carrots, zucchini, cucumber, radishes and beets. You can use a chef's knife to slice these items thinly, but the best way to create uniform rounds and ribbons is with a mandoline. It takes some practice and you do need to be careful with it, but the results are awesome and before you know it, you'll be pushing shaved veggies on everyone you know!
5. If you're trying to spend less on dining out, get organized.
Your kitchen can become just as cluttered as your closet, hiding perfectly good ingredients that will just waste away in the back of your refrigerator and pantry. And when you can't find the healthy ingredients that you've already invested in, frustration takes over and that can send you on a one-way trip to ordering take-out.
Take stock of the contents in your refrigerator and pantry on a weekly basis — before you do your food shopping. This will help you with meal planning and prevent you from buying duplicate ingredients. Buying that box of farro doesn't do you much good if you can't find it, either. And since we're getting serious about cooking healthy, make sure to load up your grocery cart (real or virtual) with cheap and healthy ingredients like whole grains and pulses.
6. If you're trying to eat healthier, try an app.
Overhauling your eating habits can be daunting. Working with a registered dietitian nutritionist is a great way to go, but if you can't afford that, an app can be your next best approach. Numerous studies have shown that tracking food intake with a diary helps people lose weight, and taking that approach digitally can also be effective.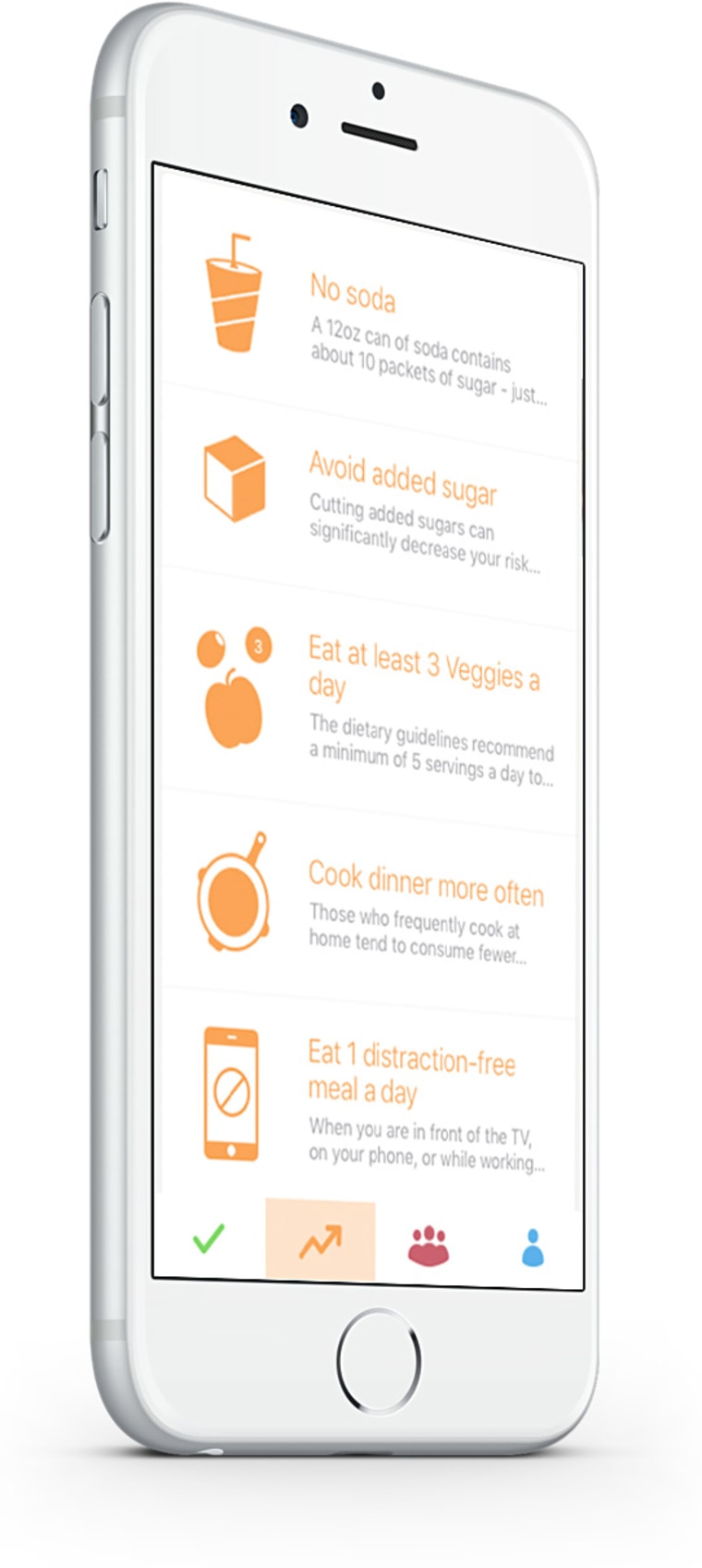 The popular MyPlate Calorie Counter app (free; available for iOS and Android) from Livestrong helps users track both food and fitness and gets high ratings for its community involvement. You can connect with folks who have similar goals, while tracking your calorie intake and using the app's short workouts to fit in exercise.
If you're looking for a more holistic approach, check out the Foodstand app (it's free and available for iOS and Android). Instead of focusing on calorie counting, Foodstand promotes making healthy eating choices, like eating less processed food and being more mindful of overall food choices.
7. If you're trying to stress less, eat more of this mineral.
The mineral magnesium has gotten a lot of attention lately for its possible anxiety-reducing effects. And there are lots of tasty foods that can help you get to your daily requirement (320 milligrams for women and 420 for men). An ounce of almonds boasts 76 milligrams of magnesium, a cup of oatmeal has 61 milligrams and 1/4 cup of pumpkin seeds contains 42 milligrams. Fruits and veggies like bananas, broccoli, beets, spinach, kale and peas also supply this vital mineral.
And keep that avocado toast on your menu for 2018 — a cup of the mashed green stuff rocks 67 milligrams of calming magnesium.
8. If you're trying to drink less alcohol, turn it into a game.
After all the holiday parties, many people feel motivated to drink less alcohol. The calories from booze add up quickly and lots of us have a hard time sticking to moderate sipping. The first step is understanding what "moderate drinking" means.
According to the Centers for Disease Control and Prevention, moderate drinking is one alcoholic drink per day for women and two for men. A standard drink is 5 ounces of wine (measure it out to see what it looks like), 12 ounces of beer or 1.5 ounces of liquor (such as gin, rum, vodka or whiskey). And no, you can't save up all of your drinks and enjoy them on Saturday — that counts as binge drinking.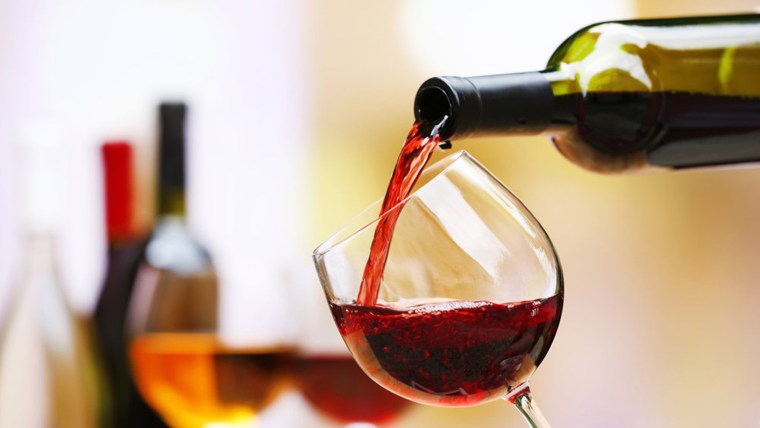 It may feel childish, but here's what I recommend to help all people stick to a healthier alcohol intake. Make little tickets that say "one drink" and put them in a jar. Women get seven tickets and men get 14 per week. Every time you have a drink — at home or at an event — take a ticket out of the jar. If you had more than your daily allotment, which 2 out of 3 of adults admit to doing at least monthly, be honest with yourself and take out the appropriate amount of tickets. Once you've used up all your tickets, you're done for the week.
If nothing else, this little game helps you focus on the amount you're drinking, which forces you to contemplate whether it's a healthy amount or not. If you're consistently drinking more than your allotted number of tickets, it may be time to seek help.
Here's to shedding bad habits and picking up some new, healthy ones this year!
Frances Largeman-Roth, RDN, is a nutrition expert, writer, mom of three and bestselling author. Her books include "Feed the Belly," T"he CarbLovers Diet" and "Eating in Color." Follow her @FrancesLRothRD and check out her website.