Dinnertime is freighted with expectations: The food should be healthy and home cooked; your family should assemble to share the meal; you should sit at the table and eat from nice plates; you should talk about your day.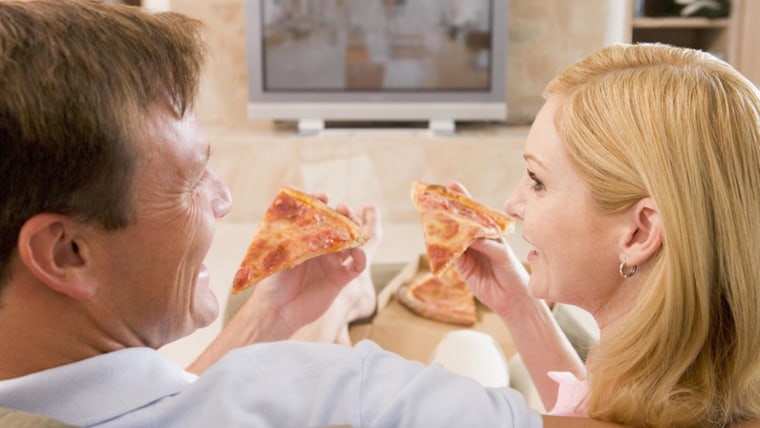 But, above all, you must switch off the television.
My husband and I will celebrate our 10th wedding anniversary this year, and I've finally come to accept that our meals just don't work that way. I may have the "home cooked" part down, but we eat from a beat-up coffee table in front of the flickering flat screen almost every night. After years of feeling bad about this habit, I've realized that this practice is actually good for our marriage.
My husband Dan is a classic introvert. He dislikes talking. It's an extrovert's world that he's living and working in, so he arrives home temporarily talked out.
When he walks in the door, I'm usually making us dinner. Our weeknight meals are mostly simple no-recipe dishes I've been making for years. We love a big green salad showered with toasted nuts and served with roasted potato wedges and my homemade garlic mayonnaise or a generous bowl of basic lentil soup threaded with tender shreds of chicken and dusted with sharp pecorino cheese.
Sometimes, I experiment with more exotic flavors and ingredients, like a Thai-inspired meatball curry (get the recipe below). Though it's still fast and easy to pull together, it can make a weeknight dinner feel like a treat, and it's cheaper and healthier than takeout. (Bonus: it yields leftovers for an effort-free homemade meal the following night.)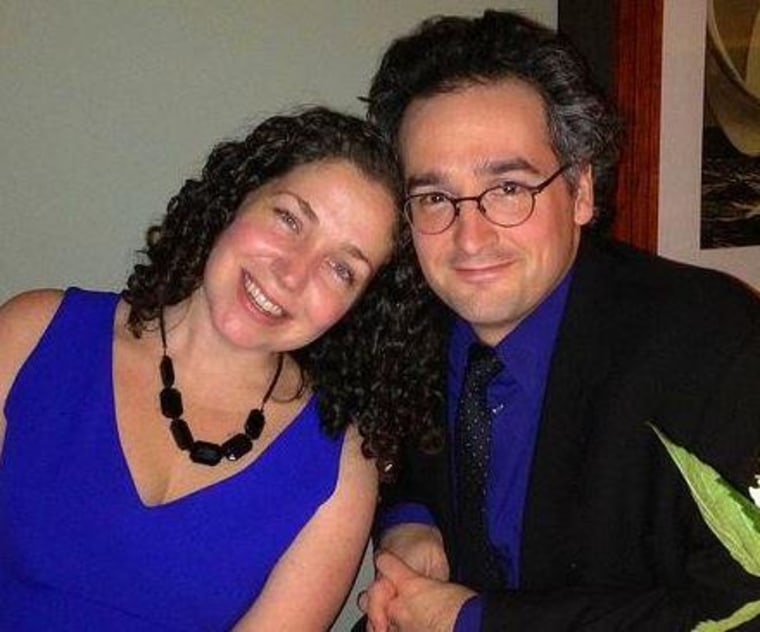 Dan is greeted with the perfume of sizzling lemongrass, garlic, and ginger instead of the barrage of questions about his day, work, or commute that I used to fire his way. Now, I let him quietly change clothes and return to our kitchen at his own pace. Instead of prying dinner conversation from him, I hand him his plate and a cloth napkin before we take our seats on the sofa.
Then we'll turn on the TV and continue with whatever series we're currently watching. Right now we're working our way through "Parks & Recreation,"doing our best to avoid the many spoilers popping up online surrounding the recent series finale. Other funny favorites include "Community"and "The Mindy Project."
Over the years, I've learned that comedies are best for digestion and stress reduction. Laughing together at Leslie's over-the-top dialogue on "Parks & Rec" or cracking up at Abed's Batman impression on "Community" is more bonding by far than strained "dinner conversation." By the time the credits roll, Dan has transformed from a tightly sealed clam to a relaxed person who, if not exactly chatty, will discuss anything on my mind, whether it's trying to figure out if we should refinance our mortgage or batting around some new story idea I have. This is when he is most likely to share with me a problem he's trying to solve at the office or that his boss praised one of his projects.
"There's a big difference between deciding to watch TV during dinner and just kind of letting it happen," says Dr. Ellen Hendriksen, host of the "Savvy Psychologist" podcast. It's true that mealtime screen time can put you at risk for mindless eating and missed opportunities for communication, but Hendriksen stresses that it's up to individuals to choose what works best for them. "If it buys you more than it costs you, it's healthiest to give yourself full permission and enjoy," she says.
In our case, it does buy us more than it costs. We rarely watch TV at other times, and it never runs as background noise. We pick the shows we watch together and love laughing together. We also eat out at restaurants at least once a week. That's our time to sit face to face across a set dining table and just talk.
And the rest of time? We're unapologetically dining by the TV's bluish glow.
Joy Manning is a Philadelphia-based food writer and cookbook author whose work has appeared in Food & Wine, Cooking Light, Women's Health, Details and Shape magazines.
This article was originally published Mar. 27, 2015 at 12:53 p.m. ET.