In no other scripted TV series does wine figure so prominently as in "Downton Abbey." In just about every episode, Carson the butler and his staff can be seen taking stock of, decanting or pouring the evening's wines for Lord Grantham and other members of the Crawley family and their guests. Wine, undoubtedly good wine, is the social lubricant, helping the family celebrate its triumphs and easing it through its tribulations.

With that in mind, Ron Roy and his partners saw an opportunity. Why not create a line of "Downton Abbey" wines? Their company, Wines that Rock, had already successfully blended wine with a rock music theme, creating such California brands as Grateful Dead Wine, Rolling Stones' Forty Licks Merlot, Pink Floyd's The Dark Side of the Moon Cabernet Sauvignon and The Police's Synchronicity.
Like those legendary groups, "Downton Abbey" quickly became a global phenomenon. As the company thought about going beyond music and tapping into other parts of pop culture, "'Downton Abbey' was a no-brainer," Roy told TODAY.com. "Wine plays a really important part of the experience of 'Downton Abbey,' so that was our aha moment." The company was able to negotiate a licensing deal with NBCUniversal, the owner of Carnival Films, which produces "Downton Abbey."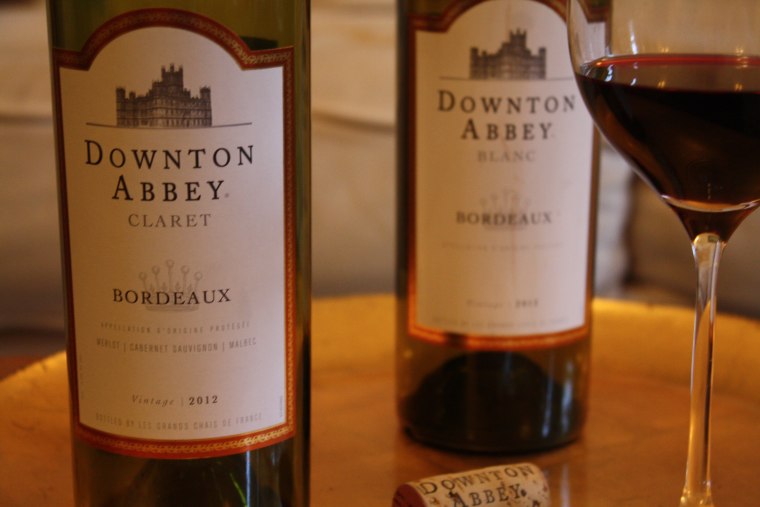 That was a year or so ago. The first wines will be released next Wednesday, two months before the start of Season 4 of "Downton Abbey" on January 5. (The original release date was on Nov. 1, but the recent government shutdown delayed the approval process at the Alcohol and Tobacco Tax and Trade Bureau.)

And the choices? There is no question that back in Edwardian England, Carson and his staff would have served French wine with an emphasis on Bordeaux, and that is what fans will be offered under the Downton Abbey label. "We wanted to stay authentic to the period and what was being served at the time," Roy said.

While Bordeaux has become wildly popular in China, where it is considered a status symbol, it has a somewhat stodgy image in this country and has struggled in recent years, even though it is still the world's most famous wine name. Yet I wouldn't be surprised if these particular wines, with the brand and its marketing muscle, do very well. Priced at $15, there is a white, the 2012 Downton Abbey Blanc Bordeaux, and a red, the 2012 Downton Abbey Claret Bordeaux (claret is the British nickname for red Bordeaux). Some 15,000 cases have been imported to the United States.
"Bordeaux" is the broadest and most common of the region's appellations, and these wines are from the large -- and largely undistinguished – Entre-Deux-Mers area within Bordeaux. That said, there are good wines to be found there, and I would put the Downton Abbey white among them with its easy-drinking, low-alcohol style with notes of green apple, citrus, herbs, a creamy finish and an interesting touch of black licorice. It's a blend of 70 percent muscadelle and 30 percent semillon. Lady Grantham might have considered it with a first course of raw oysters.
The red is really too young to appreciate fully at this point. A blend of 70 percent merlot, 25 percent cabernet sauvignon and five percent malbec, its firm tannic structure is something I always like about Bordeaux (it's usually missing in California wines at this price) but the pretty red and dark berry fruit notes are very much in the background right now. It needs six months to a year of bottle age (alternatively, try opening it and letting it breathe for a few hours before pouring it).
That said, you may well enjoy it as you sit back with a glass and settle into "Downton Abbey." And that's the goal. As Roy put it, "When you go to a Rolling Stones concert you wear a Rolling Stones T-shirt." While Lord Grantham might sniff at these inexpensive Bordeaux as wines for the masses, preferring more prestigious Bordeaux appellations such as Pauillac or Pomerol, the new wines will give Americans in love with the series the chance to drink, at least in spirit, as the Crawleys did at those grand dinners in Downton Abbey.
Edward Deitch is a James Beard Award-winning wine critic. Find many more of his wine reviews and commentary on his blog, Vint-ed.com, and follow him on Twitter.