Danish food is about to mean a whole lot more to Americans than sugary, cheese-filled breakfast pastry.
Famed Danish restaurant Aamann is opening a location in New York City, and among the first to preview its offerings were the Danish royal family. Chef and owner Adam Aamann says "it is a great honor" to have Prince Frederik and Princess Mary try his food in the U.S., but he stayed mum on other details. 
Denmark may be a tiny country, but it is making a big impact on the culinary world; its Michelin-starred restaurant Noma stayed at No. 1 on the S.Pellegrino World's 50 Best Restaurants list for the last two years in a row. Although there are a few Danish restaurants in the U.S., including one serving the small Danish community of Solvang in Southern California, Denmark's dishes are largely unknown to Americans. But that will change, if Aamann has a say.
Chef Aaman says the focus of his namesake eatery is on "local, organic, sustainable ingredients ...  all of the menu items are made from scratch in our kitchen, including the fresh rye bread, cured meats, mayonnaise and even our homemade aquavit."
The restaurant specializes in one of Denmark's most famous dishes, smorrebrod – a slice of rye bread topped with various combinations of meat, fish, vegetables and herbs – thus bringing Denmark's equivalent of the build-your-own-burger-bar to New York.
"In terms of flavor, Danish cuisine features a wider range of flavors, including bitterness and saltiness found in things like pickled vegetables and cured meats," Aamann said. And what a selection of pickled vegetables and cured meats there is!
Expect to see traditional Danish items on the menu, like lumpfish roe, pickled beets with bone marrow, braised radius bone and herring – lots and lots of herring. In fact, the classic Danish dish of fried, pickled herring is both Aamann's personal favorite on the menu and one of the most popular offerings at his Copenhagen restaurant. Though it may not be a common dish around these parts, he has high hopes that Americans will acquire a taste for it. For meatier options, Aamann enjoys the beef tartare smorrebrod with mustard, cornichons, tarragon, capers, egg emulsion and, oh yes, potato chips.
Smorrebrod pique your interest? You will have to wait until December to try the fare at Aamann's, but you can make the signature Fried Herring with Warm Onion Compote at home: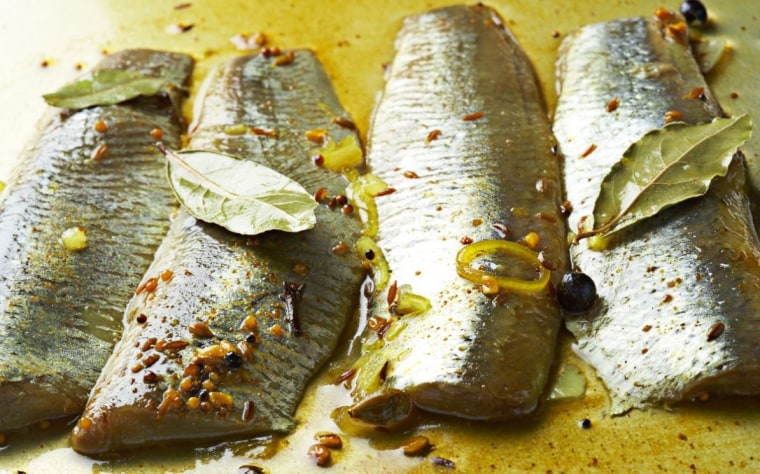 Fried Herring in Seasoned Vinegar with Warm Onion Compote
Serves 8-10 people
2 kg boneless herring in double fillets (approx. 15 pieces)
1 bunch of chopped dill
8 tablespoons coarse Dijon mustard
5 cups rye flour
3-4 tablespoons rapeseed oil
4 tablespoons chopped capers
salt and freshly ground pepper
 Brine
5 cups vinegar
4 cups sugar
2 1/2 cups apple juice
3 sticks cinnamon
2 star anise
3 bay leaves
2 tablespoons salt
2 tablespoons whole black pepper
2 tablespoons coriander seeds
5 whole cloves
2 onions, sliced
1 8-cm horseradish cut into strips
Onion compote
3 onions
3 tablespoons cold-pressed rapeseed oil
3/4 cup balsamic vinegar
2 tablespoons honey
salt and freshly ground pepper
Herring
Combine brine ingredients, except onions and horseradish, in a saucepan and bring to a boil. Boil for 7 minutes and then add onion to the brine. Continue boiling for 3 additional minutes. Turn off the heat and add the horseradish. Allow the brine to cool.
Mix the chopped dill, capers and coarse Dijon mustard in a bowl.
Cut the dorsal fins off of the herring fillets and lay the fillets on a board with the flesh side up. Brush with dill-mustard mixture and season with salt and pepper. Fold fillets together, roll them in rye flour and fry in oil on a hot pan until they are cooked through. Leave to cool.
When they have cooled a little, place the fillets in a container, preferably plastic. Pour the now cooled brine over the fillets and place a small plate on top of the herring to keep them under the brine. Keep refrigerated for a maximum of 14 days.
Onion compote
Cut onions into strips and saute them in oil over low heat for 10-15 minutes until they have a bit of color. Add the balsamic vinegar and honey and boil until the liquid is almost totally vaporized and the moisture is barely hanging on the onions.
Season with salt and pepper.
Presentation
Take herring fillets out of brine half an hour before they are to be served and arrange them on rye bread. Warm the compote if you like and serve with the herring fillets.