Local fairs across the country are home to some of the most innovative new treats.
There's Oreo cookie-flavored beer in Texas, bacon-wrapped churros in Minnesota and ice cream nachos in Iowa.
But one dessert being served up at the Pensacola Interstate Fair is making news not just for its creativity, but also for the health risks it poses.
Since the fair opened earlier this month, some fair-goers have been enjoying a treat dubbed "Dragon's Breath." The vendor describes it as a "dessert cereal snack that tastes like Fruit Loops dipped in liquid nitrogen." Why dragon's breath? "When you eat it, you will smoke like a dragon," reads the vendor's sign.
While the dessert sounds cool, the liquid nitrogen used can be as cold as negative 320 degrees. At least one woman has come forward to complain after her 14-year-old granddaughter reportedly burned her hand while handling the dessert, according to WEARTV.
"The ER doctor had to cut it open, cut away the dead skin and get the infection out," Tina McArthur recalled. "They [the doctors] said had we not come in and got her finger treated she could have possibly lost her thumb."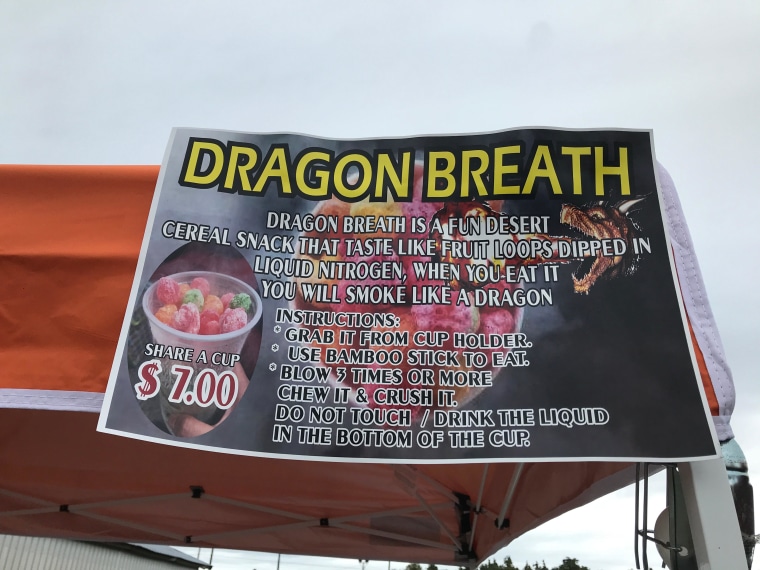 Cooking with liquid nitrogen isn't a totally new technique — in fact, many chefs use the liquefied gas for livening up cuisines and cocktails. And there's also an emerging trend of ice cream shops using it to serve up futuristic desserts.
But is using liquid nitrogen in food really safe?
Dr. Reed Caldwell, assistant professor at Ronald O. Perelman Department of Emergency Medicine at NYU Langone Health, said there are three main concerns when dealing with liquid nitrogen.
"First is rapid significant damage to the skin and body if swallowed," he explained to TODAY Food. "Liquid nitrogen is what's used by dermatologists to burn things off skin so we know it can be destructive to tissue." (In India, a cocktail containing liquid nitrogen that was consumed improperly put a hole in a man's stomach.)
Caldwell also said that nitrogen displaces oxygen, so if inhalation occurs, there's a big risk of asphyxiation, which can be deadly.
Finally, he cautions that if it splashes in your eye, you could damage your cornea. "I would urge caution for anybody around liquid nitrogen, particularly children," Caldwell said.
The vendor of Dragon's Breath has a sign outside of the booth with specific instructions for customers to follow carefully before trying the treat. The sign reads:
Grab it from cup holder.
Use bamboo stick to eat.
Blow 3 times or more.
Chew it and crush it.
Do not touch/drink the liquid in the bottom of the cup.
In an Instagram video posted by Hudson Miller, you can also see the vendor giving these instructions verbally and making sure the customer understands them. In both cases of injury, the customers apparently did not follow the instructions correctly, according to a spokesperson for The Pensacola Interstate Fair.
In a statement issued to TODAY Food over email, the fair's spokesperson confirmed that since McArthur complained, they have not received any new complaints or heard any cases of injury among customers at the Dragon's Breath dessert booth. "The vendor has sold thousands of the dessert product in the past week and has had two reported cases of injury," the statement said.
Though the product was available through the remainder of this year's fair, the spokesperson told TODAY Food that the "Dragon's Breath booth will not return in 2018."