When it comes to Father's Day, look no further than your grocer's meat section for dinner inspiration. Aussie chef and grilling master Pete Evans, host of "Moveable Feast With Fine Cooking" on PBS, shared two steak recipes that will satisfy any carnivorous dad this Sunday. 
Chile salt-crusted rib-eye steaks with lemon

Serves 4

2 1-1/4 lb. rib-eye steaks, bone in (about 1 1/2 inches thick)

Olive oil

1 tbsp. course sea salt

1 tbsp. black peppercorns

1 tbsp. chile flakes

1 tbsp. finely chopped fresh rosemary

2 lemons, halved

Bring the steaks to room temperature. Preheat a grill to high.
In a mortar and pestle, pound together the salt, pepper, chile flakes and rosemary (alternately, pulse several times in a spice grinder). Rub both sides of each steak with a little olive oil and coat with the spice mixture, rubbing it into meat.
Lower grill temperature to medium-high. Grill the steaks for 5 minutes on each side. Remove from grill and tent with foil. Let steak rest about 15 minutes. Place the meat back onto the grill to cook until done to your liking. Rest for a few minutes before slicing.
Sprinkle with lemon juice and a drizzle of olive oil before slicing and serve.

Grilled sirloin with mushrooms, horseradish and arugula
Serves 4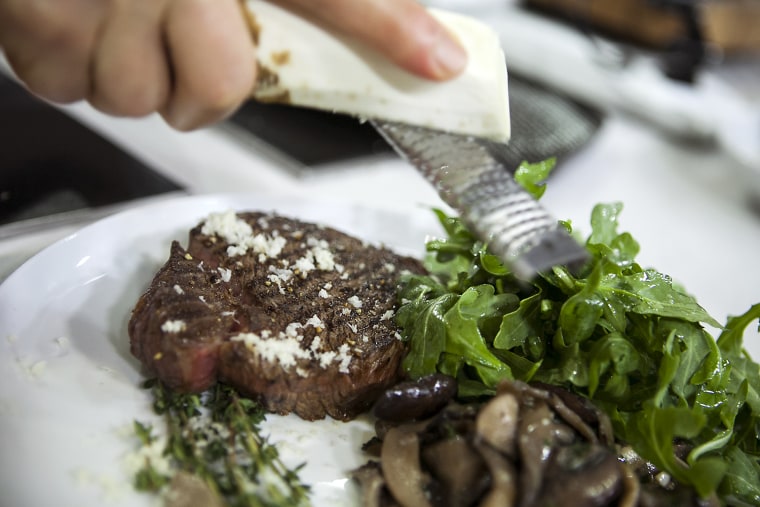 4 7-ounce sirloin steaks, about 1-inch thick

2 tbsp. coconut oil, ghee or duck fat, melted

Sea salt and coarsely ground black pepper

2 cups cremini mushrooms, sliced 

1 cup oyster mushrooms, sliced

2 cloves garlic, minced

3 sprigs or 1 tsp. fresh thyme, chopped 

1 tbsp. chopped fresh flat-leaf parsley

1 tbsp. freshly grated horseradish, or more to taste

2 handfuls arugula, about 3 cups

3 tbsp. extra virgin olive oil or macadamia nut oil

2 lemons, cut into wedges

Preheat a grill pan or outdoor grill to high heat. Coat the meat with a little coconut and season with sea salt and freshly cracked black pepper. Put the meat on the grill and cook on one side for 4 minutes, or until golden, then flip the meat over and cook for another 4 minutes, or until golden and medium rare. Remove from the heat, place the meat on a tray or plate and cover with aluminum foil. Allow the steaks to rest for 4 to 6 minutes and keep warm.
Meanwhile, in a large skillet on the grill or stove top over medium-high heat, heat the remaining coconut oil. Add the mushrooms, garlic and thyme and sauté until the mushrooms are cooked through, 2 to 4 minutes. Season to taste with salt and pepper. Stir in the parsley, remove from the heat, and cover to keep warm.
Once the steaks are well rested, heat the steaks by placing them back on the grill for 1 minute on both sides. Transfer the steaks to serving plates, then sprinkle with the freshly grated horseradish.
Toss the arugula with the olive oil and a squeeze of lemon juice and season with salt and pepper. Place on top of the steaks and serve with the sautéed mushrooms and lemon wedges.