To ease the strain on pocketbooks of federal employees going unpaid during the government shutdown, numerous restaurants in the Washington, D.C., area began offering free or discounted food and drinks to furloughed workers on Tuesday.
Z-Burger, a fast-food chain with locations throughout the region, offered free hamburgers from 11 a.m. to 1 p.m. and 5 to 7 p.m. to anyone with a federal or District of Columbia identification card.
"A lot of our customers are government workers and we like to do our part to make things easier for them," the chain's co-founder Peter Tabibian told TODAY.com. "If the shutdown continues, this might put us out of business. But we want to show that we care more about the people than politicians do."
Pork Barrel BBQ, located in nearby suburban Virginia, offered a free pulled pork sandwich for any government employee — except members of Congress, it said in a tweet.
Soupergirl began offering a 10 percent "furlough special" discount to government employees. "Members of Congress will be charged DOUBLE!" according to a sign outside its door, although the store tweeted a post that it actually "should be charging Congress triple!"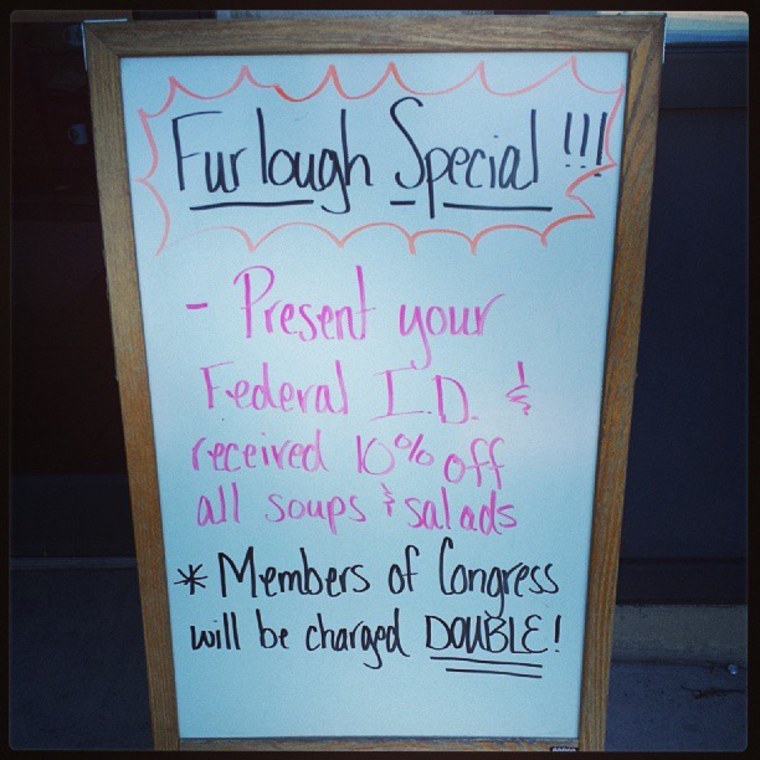 José Andrés, one of the nation's leading culinary minds, offered up free sandwiches at three of his seven popular D.C.-area restaurants, Jaleo, Zaytinya and Oyamel. He made the offer on Twitter just minutes after the Spanish-born chef revealed his concern over another way the government shutdown could have an impact on him: He is scheduled to be sworn in as an American citizen next week. (The U.S. Citizenship and Immigration Services, however, is one of the few federal agencies expected to continue running because of its fee-based funding.)
Others providing a helping hand to government workers include Sprinkles, which gave out free cupcakes, and Taylor Gourmet, which offered federal employees a 10 percent discount and a free cookie with a hoagie or salad purchase.

The freebies applied to drinks as well. The Daily Dish in suburban Maryland offered a free cup of coffee. For those with stronger tastes, Mockingbird Hill provided free glasses of sherry, while the Kangaroo Boxing Club advertised $3 screwdrivers from noon to 5 p.m., with the first drink free to people with a federal ID.
Many local watering holes extended their happy hours through the shutdown, including Uptown Tap House, which will run specials from 4:30 p.m. to closing. In addition, federal employees can also get a free dessert while supplies last.
And offers were not solely related to food. Carmine's CEO Jeff Bank offered top federal lawmakers any of the nine private meeting rooms in its Washington location. That way, President Obama could hammer out an agreement over the spending bill at the center of shutdown over a warm, family-style Italian meal with Senate Majority Leader Harry Reid and House Speaker John Boehner.
Bank said his restaurant offers "wow factor, big portions" that would be perfect for the situation.
"Obviously, this is a big problem. Come down and have some big spaghetti and meatballs. What's more classic and American than having some comfort food and just working this out?" he said. "That's what the American people want. They want everything to move forward."