About eight million Cuisinart food processors are being recalled after consumers reported pieces of the product's blade breaking off into their processed foods.
The products in question have a riveted blade that can crack over time, resulting in small metal pieces breaking off into the food and posing a laceration risk, according to a news release issued Tuesday by the U.S. Consumer Product Safety Commission and Conair, which manufactures the food processors.
Conair received 69 reports of consumers finding broken pieces of the blade in processed food. Thirty of those cases involved mouth or tooth injuries.
Any consumer with the affected blade should immediately stop using the food processor and contact Cuisinart for a free replacement blade. Anyone seeking more information may call Cuisinart toll-free at 877-339-2534 from 7 a.m. to 11 p.m. ET, Monday through Friday, and from 9 a.m. to 5 p.m. ET Saturday and Sunday. They can also learn more at www.cuisinart.com/recall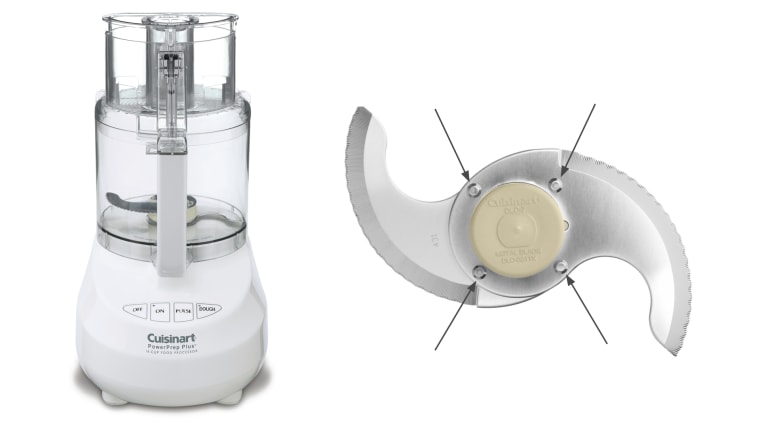 The recall involves stainless steel blades that have four rivets. It affects 22 models that were sold between July 1996 and December 2015. The affected model numbers begin with the following: CFP-9, CFP-11, DFP-7, DFP-11, DFP-14, DLC-5, DLC-7, DLC-8, DLC-10, DLC-XP, DLC-2007, DLC-2009, DLC-2011, DLC-2014, DLC-3011, DLC-3014, EV-7, EV-10, EV-11, EV-14, KFP-7 and MP-14