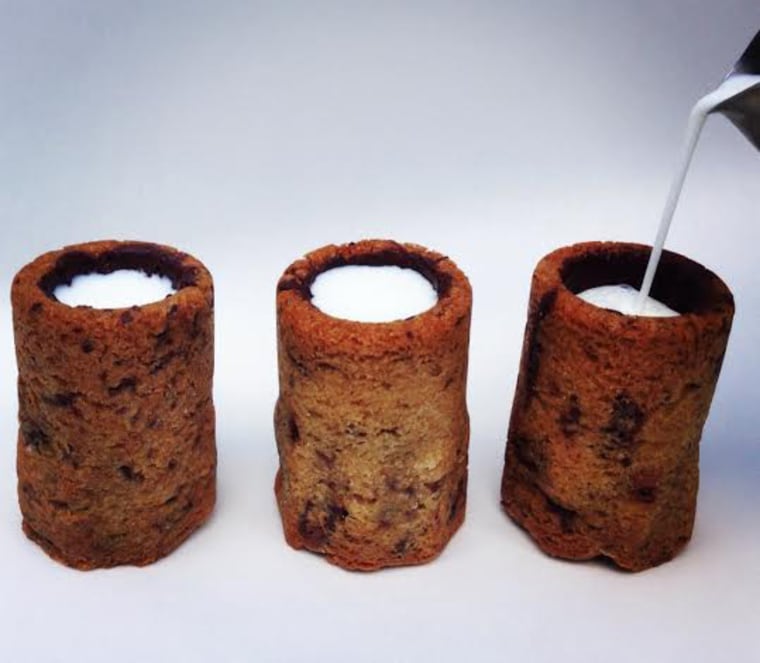 Dominique Ansel, the mad pastry scientist behind the Cronut, is unveiling a new dessert at Austin's SXSW this weekend: the Chocolate Chip Cookie Milk Shot. Like the Cronut, the new invention is a hybrid, but that's where the similarity ends.
To make the Cookie Milk Shot—a mash-up of a chocolate chip cookie and a glass of milk—Ansel uses an extra-aerated cookie dough, which allows him to mold the cookie into the shape of a shot glass while retaining the cookie's crisp edge and moist base. The cookie shot is then filled with ice-cold milk. As Ansel told TODAY of the playful name, "You don't have to be 21 to have one."
Story: Cronut creator Dominique Ansel predicts dessert trend for 2014
The inspiration behind this latest dessert happened a few weeks ago, when Ansel tried an Oreo for the very first time (!!). Everyone told him he had to try it with milk, and so he thought, why not create a dessert that combines the two? Ansel elaborates: "I love a good cookie, and it's funny because I never had one until I moved to the U.S. This is my version 2.0."
Right now, the Chocolate Chip Cookie Milk Shots are only being offered at SXSW. Ansel made them especially for the event, but we're hoping (praying, really) these glorious treats find their way to Ansel's New York bakery. Only time will tell!