After this week's shocking "This Is Us" ending, it appears one of the most-hated characters on television isn't a super-evil political mastermind, or even a superhero's archenemy, but rather, a device millions of people have in their homes: a slow cooker.
Many viewers threatened to throw out their slow-cooker devices after the intense episode aired, in which a faulty switch on an old, second-hand slow cooker sparked a massive blaze. But the formal brand name Crock-Pot wasn't actually mentioned during the tearjerker episode.
Still, days later, the popular brand is continuing to do damage control online.
But apparently one social media account hasn't been enough to stifle the fervor surrounding the now-controversial cooking device. In response to the internet raising arms against the beloved cooking apparatus, Crock-Pot started a Twitter account — @CrockPotCares — to respond to some of the attacks. The account is also commiserating with fans about Jack Pearson's untimely demise (though, of course, we still don't know exactly what happened).
The brand confirmed to TODAY Food that the account is actually Crock-Pot's first-ever official Twitter account.
After Tuesday night's episode aired, Crock-Pot (which is owned by Newell Brands) started to reassure fans that its modern products are completely safe to use.
"For nearly 50 years, with over 100 million Crock-Pots sold, we have never received any consumer complaints similar to the fictional events portrayed in last night's episode. In fact, the safety and design of our product renders this type of event nearly impossible," a representative for Crock-Pot said in a statement issued to media.
The statement continued, "In addition, and most relevant to the concerns consumers are having after watching the recent 'This Is Us' episode, our Crock-Pot slow cookers are low current, low wattage (typically no more than 200 or 300 watts) appliances with self-regulating, heating elements."
Ultimately, the slow cooker in question was a vintage machine with a switch that was clearly broken. Viewers saw Jack turn the machine off, but he left it plugged in, and threw a wet rag next to it.
Of course, accidents do happen but is a slow cooker really to blame here? And could this ever happen in real life? TODAY Food reached out to the experts.
"The safety standards of current machines are obviously far superior to what they were several decades ago," Phyllis Good, a slow cooker expert and author of "Stock The Crock," told TODAY Food.
Older slow cookers, like the model seen during the recent "This Is Us" episode, did not have an inner crock that you could lift out to wash separately from the electrical unit. "Those old cookers warned against immersing the full unit in water, for safety reasons," says Good. "I don't know of any currently made slow cookers where you can't remove the inner crock from the electrical unit to wash it. So it's not a danger with today's slow cookers. And it shouldn't be a danger with the older models if you follow their safety warnings, as well as common sense!"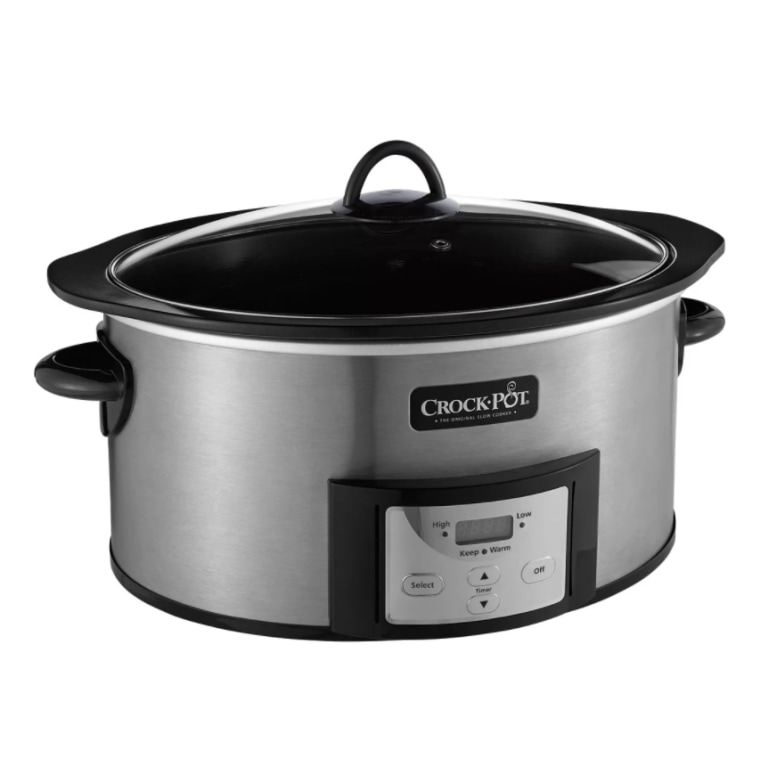 Of course, accidents do happen and a manufacturer isn't responsible for careless actions of all users. "The only way the slow cooker could have shorted out is if it was still plugged in while Jack was washing it ... never mind that he had flipped off the switch. What he did is just asking for trouble," said Good.
So, do we have anything to worry about when it comes to preparing our next slow-cooker meal?
Yes and no.
"Any appliances should be properly maintained and unplugged after each use," John V. Murray, Chief Fire Safety Instructor at Nassau County Firefighters Museum, tells TODAY Food. He also advises home cooks to always thoroughly review any manufacturers' guidelines for safe use.
"Check the electrical components, such as the wiring, plug, and any switches to ensure that they are in proper working order," added Murray. Also, regularly check to make sure the entire cord is intact, and that there are no cracks or frays in the wire.
When it comes to slow cookers specifically, the fire chief advises home cooks to also check the unit itself for any cracks or dents. If you see any, it might be time for a new one. "When in use, a slow cooker, or any small kitchen appliance, should have clear space around and above it — not touching anything that is combustible, such as curtains, towels, or papers," said Murray. The slow cooker should also be sitting on a flat, non-combustible surface whenever it's in use.
"Slow cookers are generally safe appliances, as long as proper safety precautions are taken, as with any kitchen appliance," Murray continued. "Always remember to unplug appliances when not in use and store in a safe space. Kitchen fires are the leading cause of house fires in the United States."
Of course, there was another malfunctioning household appliance that played a potentially villainous role in the infamous episode: the Pearson family's smoke alarm was not in proper operating condition and the family had run out of batteries. Says Murray, "Alarms equipped with either removable or sealed-in batteries both need to be tested. Removable batteries should be replaced, and sealed-in batteries should be checked to confirm they are functioning."
Editor's note: This article was revised to reflect that the slow cooker depicted on the program was not identified by any brand name.