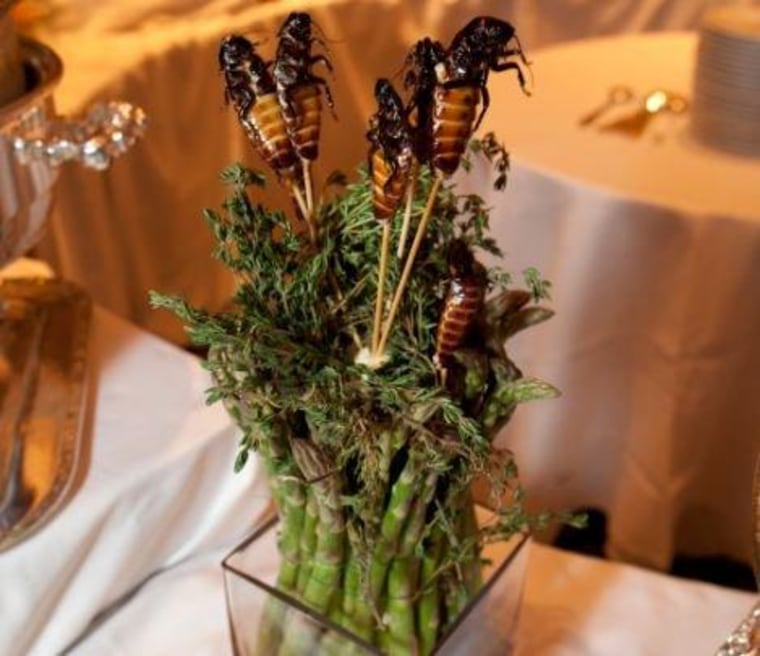 Farm-to-table cuisine may be old news, but is America ready for the roach-to-plate revolution?
I let my inner "explorer" find out Saturday night at a cocktail hour that featured its fair share of creepy-crawly fare.
The Explorers Club is a nonprofit focused on scientific research and education. Each year the organization celebrates the accomplishments of its members during an annual dinner at New York's Waldorf-Astoria.
Gene Rurkahas been the chairman of the Explorers Club Annual Dinner Exotics Committee since 1998. Rurka conceptualizes the cocktail hour's menu not only for showmanship, but to challenge eaters to think about alternative and sustainable food options.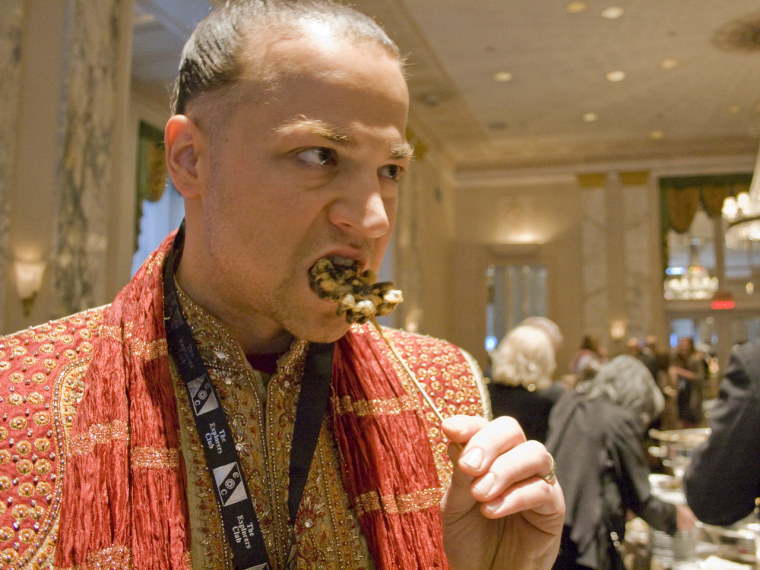 "This isn't 'Fear Factor,'" Rurka said. "We want to show people there is more out there than chicken, beef and poultry, and hopefully this will be eye-opening for some."
Goat eyes were among this year's nearly 40 items featured. Many of the items were displayed with the heads of the animals and bodies fully intact, which gave explorers the opportunity to see the source of the food.
"A lot of these things aren't good-looking, they're ugly, and humans have no problem killing them," said Rurka, who is a trained biologist and a farmer. "So why not turn them into a food source? Some people are already doing this."
In fact, since 2004, the U.N. Food and Agricultural Organization has been researching and recommending a look at alternatives like insects as a new, environmentally friendly food source.
Rurka added that the insect dishes are a hit every year and "go like hot cakes." Earthworms, crickets, larvae, cockroaches and tarantulas were some of the crawlers on the menu, and yes, I took tastes.
The earthworms were plump and rubbery. It felt as if I was chewing on handful of hair ties. The consistency was challenging, but the flavor was mild.
The crickets and larvae didn't have much taste either, but they were simpler to eat. The Madagascar cockroach and tarantula were logistically more challenging to consume.
Baron Ambrosia, host of Cooking Channel's "The Culinary Adventures of Baron Ambrosia" and the alter ego of filmmaker Justin Fornal, is familiar with outside-the-beef eating. He coached me through insect-munching.
"Once you get past the crunch of the cockroach, the middle is creamy like tiramisu," said Fornal, who has been a member of the Explorers Club for the past two years.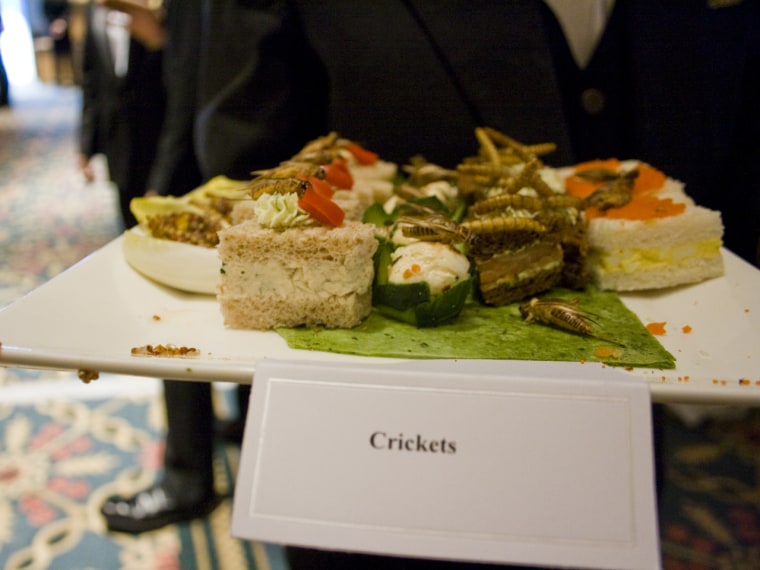 I personally didn't taste any resemblance to the delicious Italian dessert. I was chewing on something that was doing its best to dodge my teeth. The exoskeleton of the insect was both crispy and slippery so it took a few extra passes through the bicuspids to get into the bugs' ice wine and maple syrup-infused center. My takeaway? If this were a post-apocalyptic situation, I would do my best to find a second option to cockroach so I could intake my nutrients faster.
The tarantula was the most substantive and flavorful of the insect dishes.
"Outside is fried so it tastes like anything else," Fornal said. "But inside you have this beautiful white meat."
The arthropod was soaked in brandy and deep-fried. It had the consistency of a tempura dish you could find at a your neighborhood Japanese restaurant. Once I bit in, the airy fried layer immediately collapsed between my tongue and teeth. If I hadn't seen the eight-legged creature I was eating, I could have been easily convinced that I was served a crustacean.
"One hundred years ago, lobster was the cockroach of the sea," Rurka said. "If you can eat a soft-shell crab, you can eat a tarantula."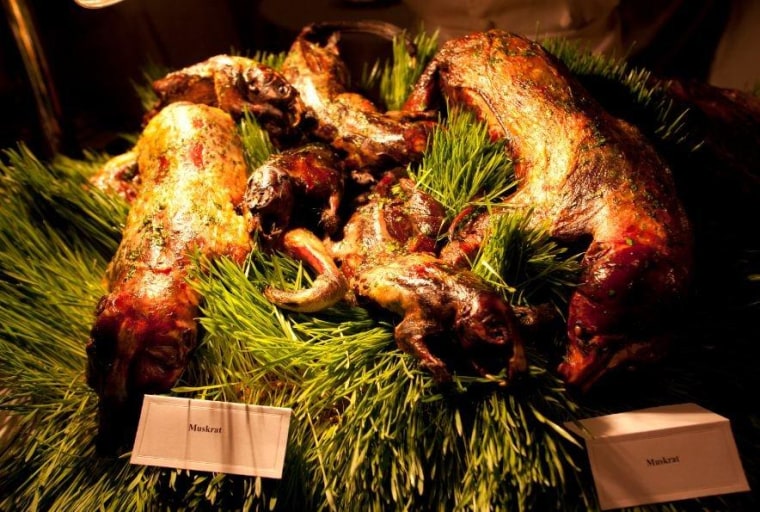 Diners could also sample larger animals like beaver, kangaroo and alligator, along with other animals not typically eaten by Americans.
Attendee Kathleen Whitby had earthworms and muskrat on her plate. Whitby ate a worm for the first time on a dare in junior high, so that was old hat to her. But this was her first bite of muskrat.
"The meat is tough, but it has a mild flavor, a little like veal," Whitby said. "It is a type of rodent, but still a good source of protein."
The barbecued muskrat was gamey, not surprising considering the burrowing rodent's active life and vegetarian appetite.
Many of the flavors were familiar rather than revolutionary, which goes along with the theme – these might be options for almost anyone willing to try it. Camel sliders and the glazed ostrich tasted like hamburger meat and roast beef respectively. The only reason I knew I was not eating cow was that I had been told I was not eating cow.
Faanya Rose, who has been an explorer since the '60s, said that she does not normally eat red meat, but she tasted the ostrich, which she described as marginally drier than beef.
"We are all here because we are curious about new things," Rose said. "We are explorers, this is what we do!"
More from TODAY Food:
'Breaking Bad' fans flock to Albuquerque restaurant
Mixologist shares tips, recipes for 'hot-tails' to beat the chill
Restaurateur with Down syndrome serves up tasty grub -- and hugs