Pureed roasted carrots give this bright soup a sweet and creamy texture without the addition of dairy. It keeps and reheats well, so make a big batch to enjoy on those nights when you need a quick and cozy meal.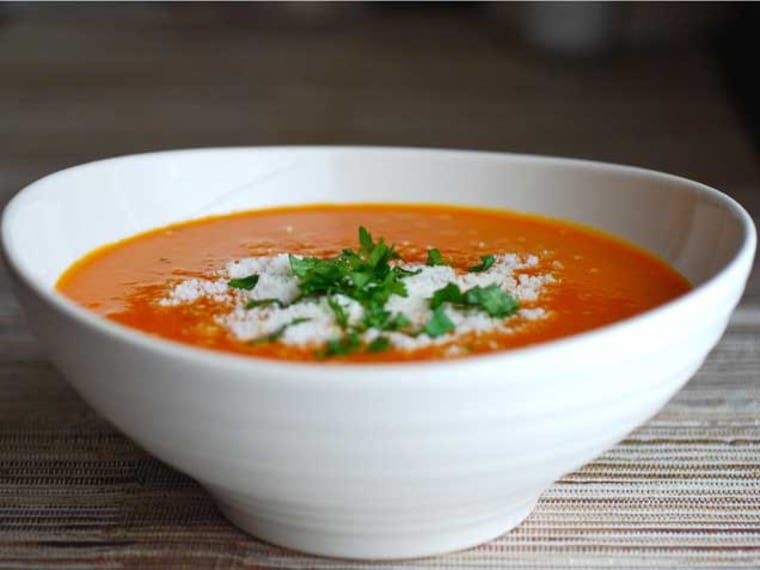 Ingredients:
2 large red bell peppers, sliced into 1" thick strips

1/2 tsp red pepper flakes5 large carrots, chopped into 1" pieces
Kosher salt and black pepper

1 yellow onion, sliced into 1" thick slices

1/4 cup fresh cilantro, minced

2 garlic cloves

Grated parmesan cheese, for serving (optional)

3 cups low sodium chicken broth (or vegetable broth)

Yield: 4 Servings
Directions:
Preheat oven to 400 degrees. Line a baking sheet with parchment paper. Toss peppers, carrots, onion, and garlic with oil and roast 20-25 minutes or until vegetables are tender. Once vegetables are roasted, remove from oven and puree in batches in a food processor or blender, adding a bit of the chicken broth if necessary to loosen it.

Pour the pureed vegetables into a large stock pot and add the remaining chicken broth and red pepper flakes. Let simmer for 20 minutes, stirring occasionally until thick and creamy. Season with kosher salt and black pepper to taste. Serve topped with fresh cilantro and parmesan cheese, if using.

Leftovers will keep well in refrigerator up to one week, or can be frozen for up to three months.

This recipe originally appeared on iVillage.