Nearly 20 million hot dogs will be consumed during this Major League Baseball season according to the National Hot Dog Sausage Council, making it baseball's #1 food. But from coast to coast, stadiums aren't just serving your average franks. They're loading them up with over-the-top fixings from mac n' cheese to Fruit Loops, believe it or not. Here are the best in show of MLB's craziest hot dogs, available at a baseball stadium near you.
1. Oriole Park at Camden Yards Crab Mac & Cheese Dog
The American League East is a slugfest between the Red Sox, Blue Jays and Baltimore Orioles. But long before Baltimore was a baseball town, it was known for its steamed crab, hence this hot dog that's loaded with mac n' cheese, fresh lump crab meat and Old Bay seasoning.
2. PNC Park Crack Jack Mac & Cheese Dog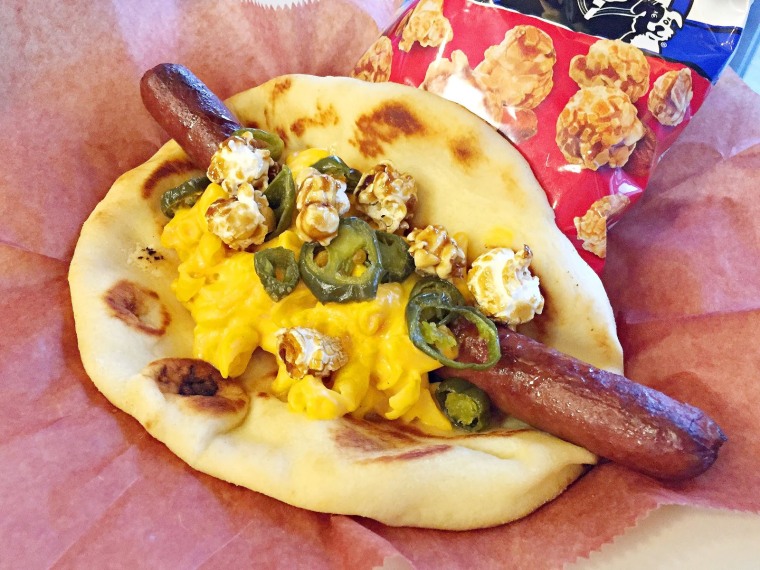 The only food more synonymous with baseball than hot dogs may be Cracker Jacks and the Pittsburgh Pirates have managed to combine the two. The team's foot-long all-beef hot dog is topped with macaroni and cheese, salted caramel sauce, deep-fried pickled jalapeños and a side of the iconic caramel-covered popcorn.
3. Globe Life Park in Arlington Flamin' Hot Cheetos Dog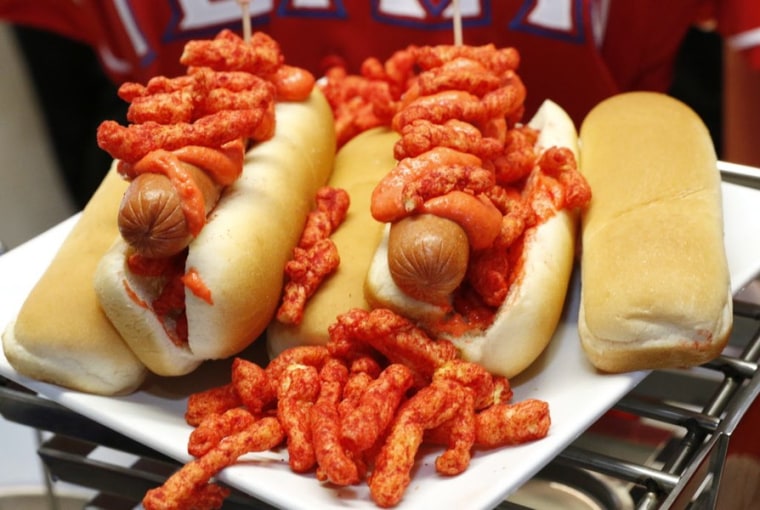 Leading the American League, the Texas Rangers' quest for their first World Series Championship may finally end. They're bringing the heat off the field as well: the team's all-beef hot dog is topped with Flamin' Hot Cheetos-infused nacho cheese and sprinkled with Flamin' Hot Cheetos.
4. Progressive Field Slider Dog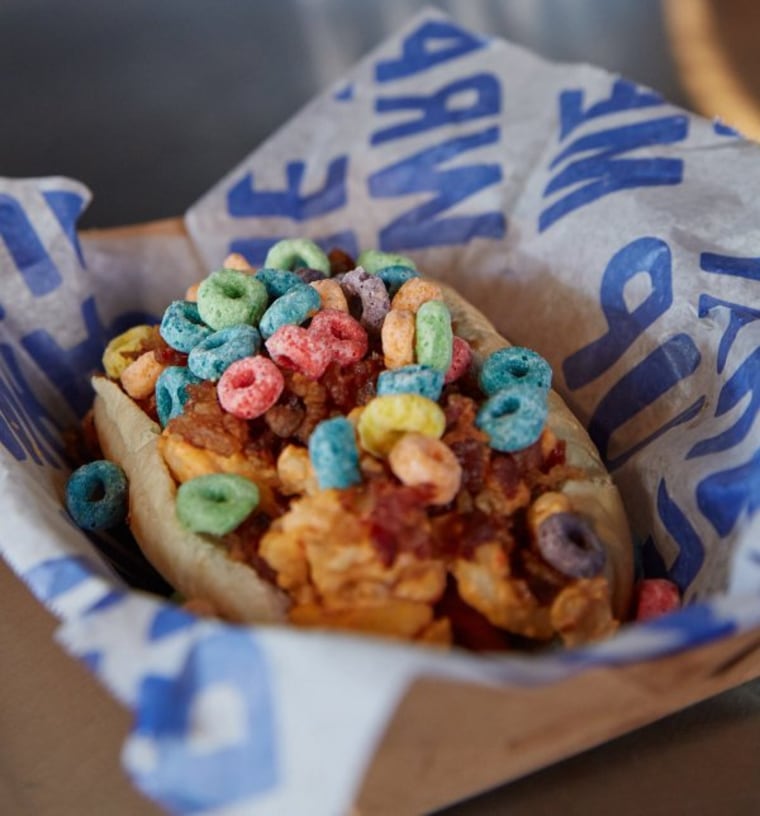 The Cleveland Indians are among the surprising story lines in the game, leading their American League Central. The real shocker is what they're topping hot dogs with at Progressive Field: mac n' cheese, smoky bacon and Fruit Loops cereal! Yes, really.
5. Marlins Park Taco Dog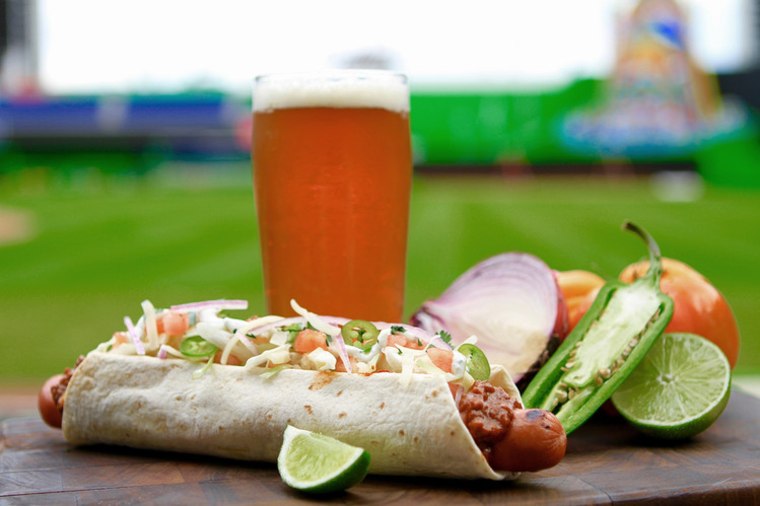 More than 70 percent of South Florida's population is Hispanic and the Miami Marlins have taken notice of their devoted fan base. Here, a tortilla-wrapped, char-grilled foot-long hot dog is topped with chili, pickled red onions, Jack cheese and jalapeño-lime crema.
6. Wrigley Field Chicago-Style Hot Dog Deep Dish Pizza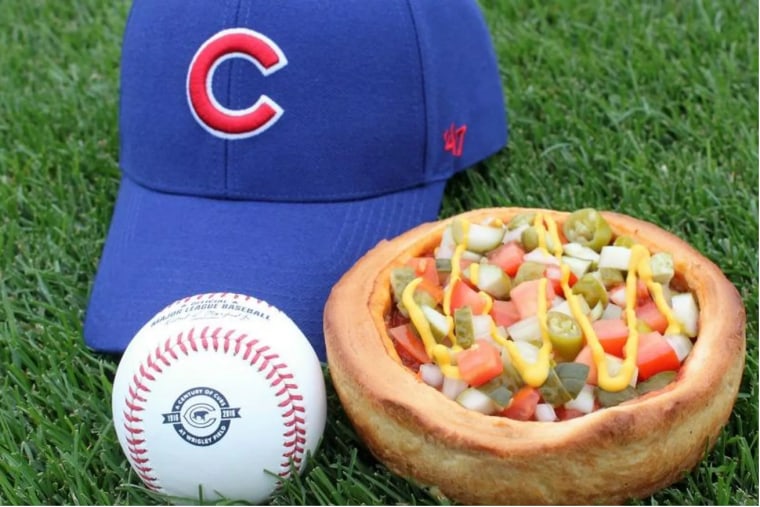 The Chicago Cubs may boast the best hot dog bun: a Giordano's personal cheese deep dish pizza crust. It's filled with tomato sauce, chopped hot dogs and all the traditional Chicago-style hot dog toppings: tomatoes, onions, peppers and mustard.
7. Kauffman Stadium Champions Alley Dog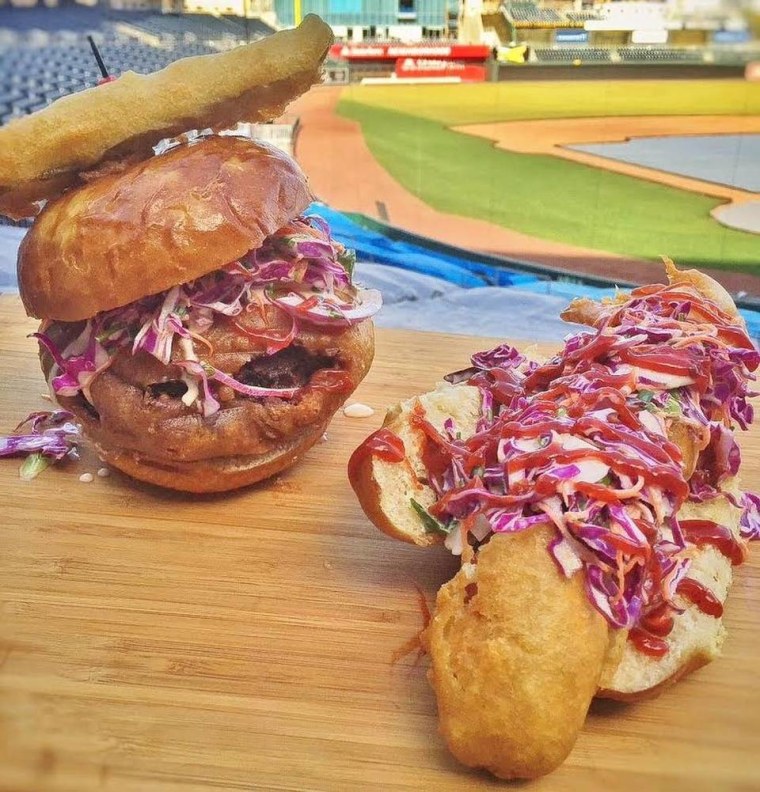 The defending World Series Champion Kansas City Royals are a bit off their pace from a year ago but still swinging a big stick. Their bacon-wrapped and tempura-battered foot-long hot dog is slathered with sweet slaw and chipotle ketchup and served on a pretzel bun.
Bonus: The Los Angeles Dodgers did not make the list but on they do lead their division and all of baseball in terms of hot dogs consumed: more than 2.6 million expected this year alone. Now that can't be topped—even if they prefer plain old ketchup and mustard.