What a trip! Ray Yoder, and his wife Wilma of Goshen, Indiana, made headlines earlier this summer for after visiting 644, out of 645, Cracker Barrel Old Country Stores in the country.
Now, they can finally cross the last one off their list.
On Monday, the couple walked into the Tualatin, Oregon location, ending their quest to visit all of the Cracker Barrels in America. It also just so happened to be Ray's 81st birthday — so naturally the couple had quite a lot to celebrate in one day.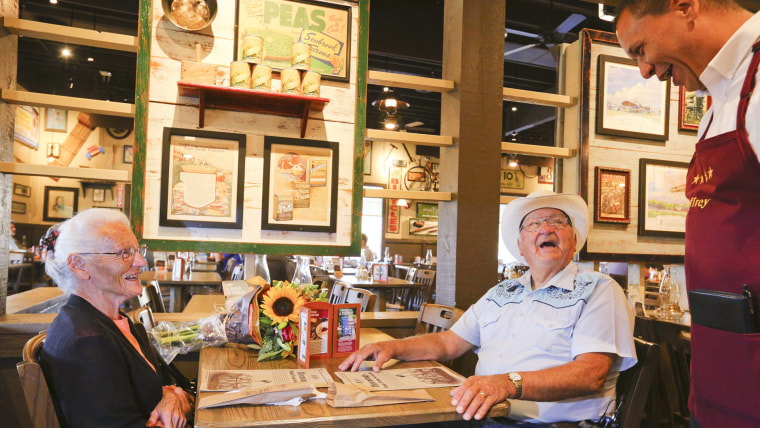 TODAY Food previously reported that the couple first started visiting Cracker Barrels 40 years ago while Ray was often on the road, working as a truck driver delivering recreational vehicles across the country.
"Travel was in our blood and we've always liked it," Ray explained in a new video produced by the restaurant. "And, of course, the best place to eat was at Cracker Barrel. It took the boredom out of the highway to eat there because it was so much like home — we could order what we liked, and they always had what we liked."
After the Yoders' mission went viral, the company learned about the Cracker Barrel enthusiasts and invited them to the most recent store opening in Tualatin on an all-expense paid trip.
"When they arrived, our employees formed a 'clap tunnel' of sorts to cheer and celebrate them," Breeanna Straessle, spokesperson for the homestyle restaurant and store, told TODAY Food. "We gave them custom Cracker Barrel aprons with their names on them — with four stars, of course, the highest rank."
Straessie said this is the first time the brand has ever given its iconic aprons to anyone outside the company. "We also gave them a few other goodies — a set of our famous rockers, a vintage-looking Coca-Cola cooler, Lodge cookware — just lots of classic Cracker Barrel items."
By the looks of it, the couple had a wonderful time during the opening. "It's quite special," Ray told reporters. "These little farm kids aren't used to all of this hype."
For now, the couple has visited every American Cracker Barrel location but when a new restaurant is announced, we're sure they'll be on the road once again.