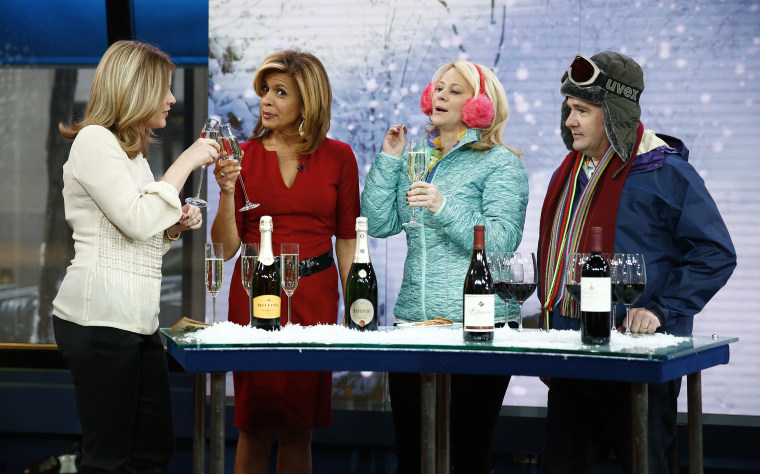 Looking for the perfect winter wines? Whether you need some sips for a tropical vacay or looking for a good bottle to warm you up, Food & Wine's Ray Isle and Thirsty Girl founder Leslie Sbrocco have you covered with these affordable picks.

Sparkling winter whites:

Ray's pick: Ruffino Prosecco, Italy $13
Ruffino has been known as a Chianti producer since the 1800s, but they've recently also started making Prosecco — and mighty appealing Prosecco at that. This crisp, inexpensive sparkling wine is a great aprés ski choice, or an ideal aperitif for winter dinner parties.
Leslie's pick: Berlucchi Cuvée 61 Brut, Italy $16
Prosecco is Italy's most famous bubbly, but there are others from northern Italy. This crisp and elegant dry sparkling wine is a terrific value from the classic Franciacorta producer Berlucchi who in 1961 created their company. Made in the traditional method, it's a high quality sparkler with style.
Winter reds:
Ray's pick: 2011 Antinori Tormaresca "Neprica" Puglia, Italy $13
The classic Tuscan producer Antinori's estate in Puglia, Tormaresca, produces impressive southern Italian reds that are just the kind of thing to warm you up while you sit indoors on a wintry day, wishing you were by the Mediterranean. This one is a luscious blend of the Italian grapes Negro Amaro and Primitivo together with Cabernet Sauvignon.
Leslie – 2012 Estancia Pinot Noir Monterey County, California $12
Pinot Noir usually falls on the elegant side of the scale, which makes it an ideal wine for all seasons. This fruit driven, fleshy style from sunny California's breezy Monterey area is ideal with everything from braised beef stew to après ski appetizers.
Vacation vino: White wines
Ray's pick: Bandit Pinot Grigio, California (comes in a tetrapak) $8
A crucial consideration for beach parties—no glass. Bandit's juicy Pinot Grigio comes in a one-liter, recyclable, environmentally friendly Tetrapak. It's appealingly unbreakable; you could even play beach volleyball with it for a while before sitting down for your glass of wine.
Leslie's pick: 2013 Douglas Green "The Beach House" Sauvignon Blanc, Coastal Region, South Africa $9
What better way to welcome the sunshine than with a glass of succulently zesty Sauvignon Blanc? This bottling from South Africa is citrus laden and juicy. A perfect choice with grilled fish or a simple walk in the sand. It will become a favorite in your house (beach location or not).
Tropical reds:
Ray's pick: 2011 Cultivate Copa Cabana Cabernet/Carmenere, Chile $12
Cultivate is a new venture that donates 10 percent of their gross revenues to a variety of charities—that's been about $550,000 so far. They make wines in various regions around the world. This is a juicy, spicy Cabernet-Carmenere blend from Chile. Who doesn't want to drink something called Copa Cabana while you're on an island vacation?
Leslie's pick: 2011 Jim Barry "The Lodge Hill" Shiraz, Clare Valley, Australia $15
An impress-for-less red that ranks among my favorites. Australian Shiraz is often (mistakenly) thought of as only heavy and bold, but this version from the cool Clare area of South Australia is laser focused and elegant. Sporting dark berry fruit flavors with a peppery kick, it's a wine that balances rich meat dishes with its vibrancy, but goes just as easily with fleshy fish preparations.