Think you're committed to your favorite burger chain? Meet Karl and Carol Hoepfner. The husband-and-wife team have made it their mission to visit every single one of the 722 Whataburger locations in the United States. They've made through 225 of them and aren't looking to slow down any time soon.
"I've been all over the world and it's probably the best hamburger I've eaten," said Karl, 75, who says he has visited the Whataburger near his Rockport, Texas home at least 7,000 times. "We eat every breakfast there and almost every lunch, although sometimes we go somewhere else for dinner."
Karl estimates he and his wife, who is 73, eat all but three of their meals every week at Whataburger. The order is usually the same: a Whataburger with grilled onions and jalapenos for him, a Justaburger with grilled onions for her. Both of them order their buns toasted. Their love affair with the chain began back in 1963, when the couple got their first taste.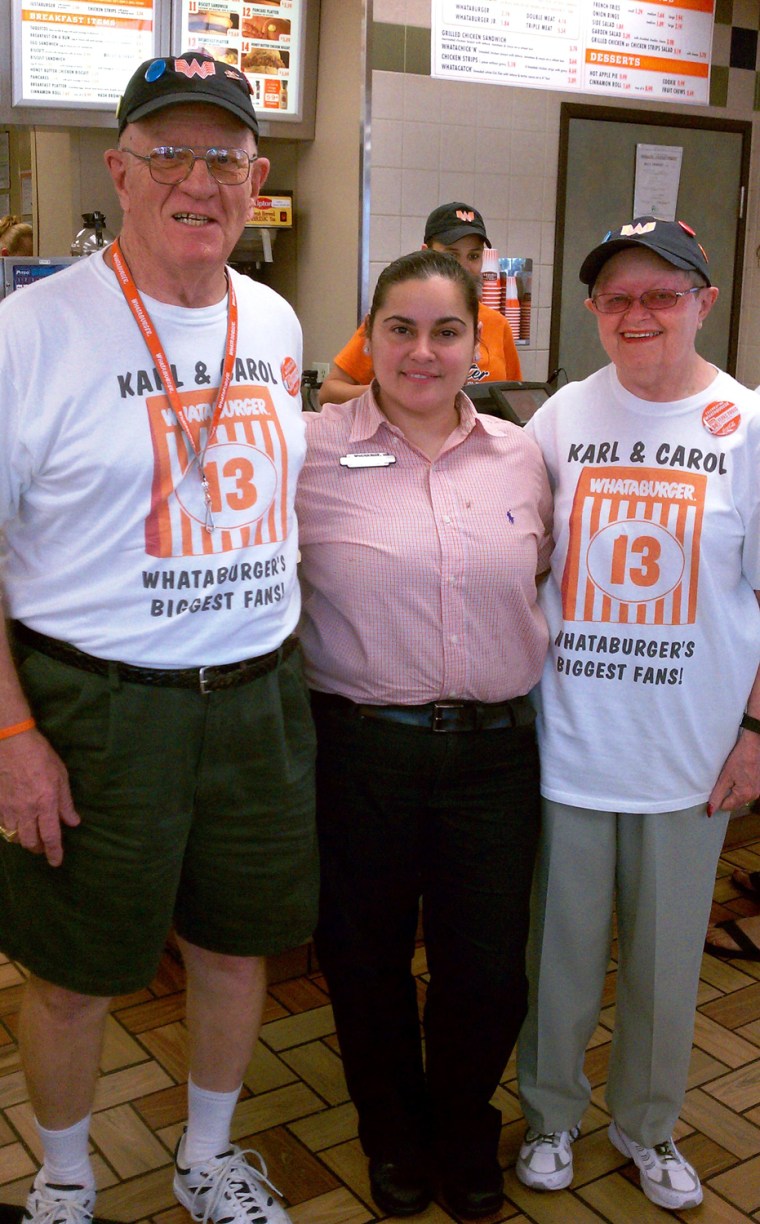 While the Hoepfners eat plenty of Whataburgers, they also spread the wealth around to the people who need it most. Back in 2010, Karl won $8,600 in free Whataburgers after winning an essay contest by explaining why he was the chain's biggest fan. He decided to give $7,000 of it back, asking for 1,000 gift cards for $7 that they could give out to hungry people on the street and do-gooders like firemen.
"We just like to give back to the community," he said. "It's a win-win situation for everybody. We help people who are down on their luck and when they're back on their feet, where are they going to go? Back to Whataburger."   
At home in Rockport, the staff knows them so well, they save the number 13 just for them, a nod to the Hoepfners' home street address. The couple is currently traveling through 10 states to visit every location, treating each journey as a vacation.
"I had one fella ask me if I ever got tired of it and I said 'No, because every store is different and they always try to outdo themselves when we walk in.'"
When asked how they felt, healthwise, after eating so many burgers, Karl responded, "We've visited 225 of them so far, but we don't eat at them all or we'd weigh like 300 pounds." 
Is there a restaurant chain that's captured your heart like this? Tell us in the comments!
Related stories: