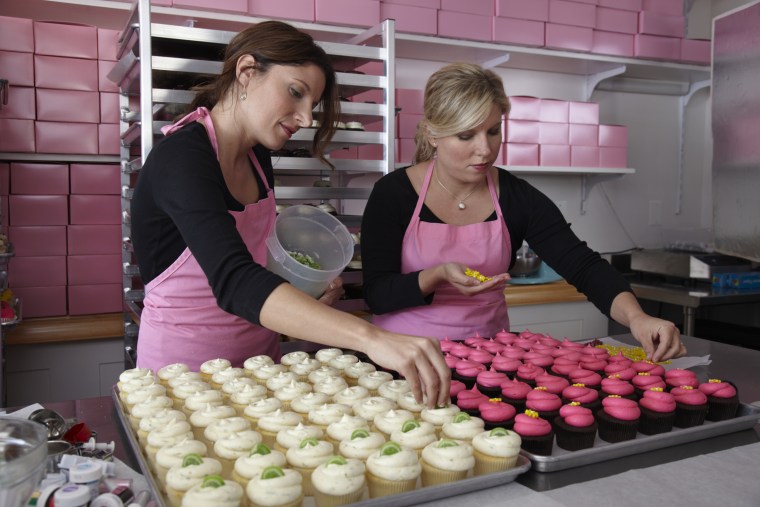 Katherine Kallinis and Sophie LaMontagne, cupcake bakers extraordinaire and reality-TV stars, are speed talkers. They're also sisters, so they often finish each other's sentences as they tell their stories. Like:
How they're 18 months apart and when they were little, their Greek grandmother was a big part of their lives. "Our parents were always working," they explained, "so after school we hung out there and bonded with her over her cake recipes."
How their family was puzzled at first when they decided to leave successful careers to become bakers. "People from Greece want to get out of the bakery," they said, laughing. And:
How a customer got them their own TV show.
Sophie and Katherine (or was it Katherine and Sophie?) thought it was funny when at the end of our phone interview I confessed that sometimes I wasn't sure which sister had said what. They told me not to worry: They are of the same mind -- at least about their business, Georgetown Cupcake, and their show, "DC Cupcakes," which has its Season 2 debut tonight at 10 p.m. (ET) on TLC.
Besides, they continued, they fought a lot as kids, which turned out to be "really beneficial in our business, because your sister knows you better than anyone else." Squabbling taught them to be better business partners. "We talk everything through," said Sophie, 33 (or was it Katherine, 31?), and even though it may seem like fighting, "we make great decisions."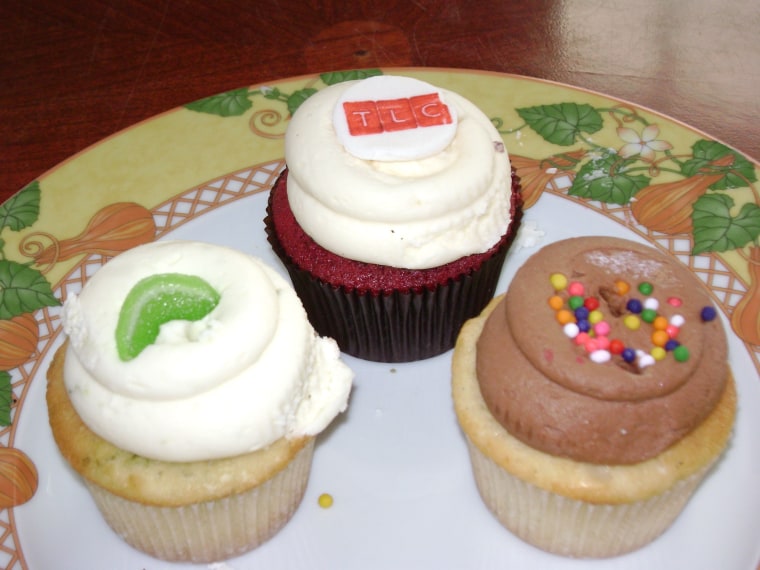 Like the decision to go for it. "Ever since we were little, we hoped one day to open a bakery: It was our passion." So in 2007, they left their careers in fashion (Katherine) and finance (Sophie). It wasn't easy, because "we were really happy in our jobs, and it's harder to leave something you like for something that's unknown." They knew they wanted to be bakers, but since "there were so many fabulous bakeries where you could buy anything," they decided to focus on cupcakes.
Armed with their grandmother's recipes and determined to use only the best ingredients, the sisters started small. "We didn't want to involve anyone else," they said, because if the business didn't succeed, "it had to be just us going down. Anyway, what bank would lend us money?"
So they maxed out their credit cards, rented a small space, and opened Georgetown Cupcake in February 2008. It took off "beyond our wildest dreams." Now they have two shops -- one in Georgetown and one in Bethesda -- and dozens of employees. Their mother works with them as well, though according to the sisters, she "does not bake to save her life."
And along with all that, they also have their own TV show. Together they explain how it came to be. "A customer came in and saw Katherine at the front counter --" Sophie began.
"-- and Sophie was there all covered in frosting and flour," Katherine continued.
"He thought we just worked there," they said together, "and when he came back, there we were again, all covered, and we told him it was our shop."
The customer happened to be an executive producer with a production company associated with TLC, and he asked Sophie and Katherine if he could take some footage of them working. "We thought we'd see something on YouTube that everyone would laugh at," the sisters said. Instead, they wound up with their own series: "It happened so fast."
Their best-seller is a red velvet cupcake with vanilla cream cheese frosting that I can personally verify is delicious (see how they make it here). But so were the other flavors I tried (fortunately, Sophie and Katherine's cupcakes are the perfect size to make sampling more than a few a very important part of a blogger's job).
Each month the sisters introduce two new flavors. March will bring Irish crème (for St. Patrick's Day) and mint cookies and crème; April's new varieties are a cherry blossom cupcake and a hummingbird cupcake (banana-pineapple-pecan cake with vanilla frosting).
Flavor aside, they also are interested in "art as cupcakes," says Sophie -- like the 9-foot-tall, glow-in-the-dark cupcake guitar they created for a sweet 16 party, which is featured on tonight's TLC episode. But the biggest challenge they tackled before the cameras was when the chairman of the Joint Chiefs of Staff called and ordered 10,000 cupcakes to be shipped to U.S. troops in Afghanistan. In perfect unison, the sisters said: "It's our favorite episode."