The classic nursery rhyme "Old MacDonald Had a Farm" has been used by teachers and parents for years to help children learn about sounds that animals make.
This month, the catchy tune will now teach the world about something else: female empowerment.
In the week preceding Women's Equality Day (which falls on Aug. 26), Land O'Lakes, country singer Maggie Rose and Grammy award-winning songwriter Liz Rose rewrote the song — and it's all about women who work in agriculture.
The revised version, titled "She-I-O," celebrates the thousands of women in the farming industry (and all women, for that matter) who work hard to put food on our tables.
While the original lyrics regale little ones about Old MacDonald, his farm and all the animals he owns — punctuated by that oh-so-catchy "E-I-E-I-O" — the new lyrics remastered by Liz, whose credits include songs by Taylor Swift, Little Big Town, Carrie Underwood and Kenny Chesney, focus on MacDonald's imagined hardworking offspring:
You know Old MacDonald had a daughter
She-I-She-I-O
Look what she does with what he taught her
She-I-She-I-O
She's got the future in her hands
She's proud her roots are where she stands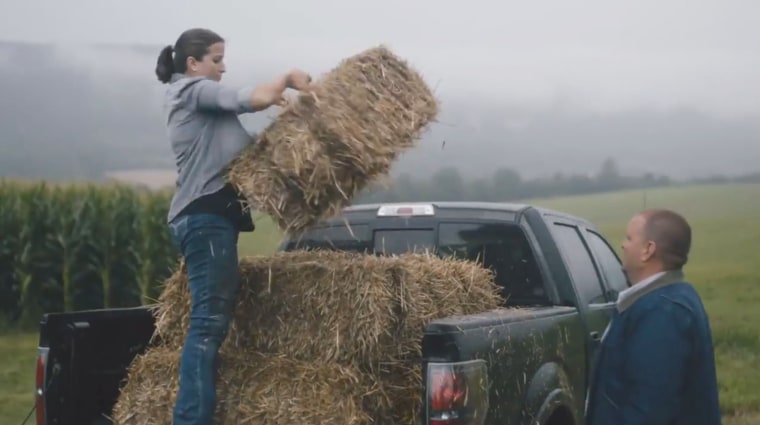 Land O'Lakes, one of America's favorite butter brands (which is actually a member-owned cooperative run by over 1,700 farmers), announced its All Together Better initiative to give the many women in their cooperative a voice.
The song (which will be available on iTunes Friday) features some of the dairy brand's actual farmers — including the Dotterer sisters, along with their cousins and daughters, who live in Pennsylvania.
"I'm passionate about the message at the forefront of 'She-I-O,' which celebrates the power of inclusivity and the role women play in modern farming, " Maggie Rose said in a press release. "My husband's family owns a cattle ranch in Missouri, so I've had a glimpse into what goes into putting food on our tables. Like so many of us, I grew up singing 'Old MacDonald' when I was young."
She added, "Where you hear the lines 'on his farm' and 'he had a cow,' it's nice to finally add in the other half of the population."
"She-I-O" is only one part of the All Together Better initiative as Land O'Lakes and its partners are working illuminate women's work in an industry that's traditional seen as being male dominated. In fact, according to USDA figures, over 30 percent of farmers today are actually female.
This week Land O'Lakes also debuted a three-part documentary, "In Their Words," produced by The Female Farmer Project. The series, now viewable online, delves deeper into the lives of the Dotterer sisters and other female farmers with personal stories that portray their role in supplying food for the U.S.
The dairy cooperative also partnered with Feeding America to make food insecurity awareness part of the All Together Better initiative.
Anytime Maggie Rose's "She-I-O" music video gets a share, tag or comment, Land O'Lakes will donate $1 to Feeding America, up to $100,000. Every dollar donated covers at least 10 meals at "local member food banks." A spokesperson for Land O'Lakes told TODAY Food that they expect to meet their donation pledge this week.
She-I-She-I-O, y'all!