How will Cookie Monster, that famed devourer of all things sweet and round, deliver a message about healthy-eating without making it feel like he's forcing kids to eat their veggies?
He'll be getting a food truck, of course.
"Cookie Monster's Foodie Truck" is a new, five-minute segment that will be airing semi-regularly on "Sesame Street" starting this fall. Cookie Monster will even be joined by a new sidekick, a fuzzy, bright-pink pal in a chef's hat named Gonger.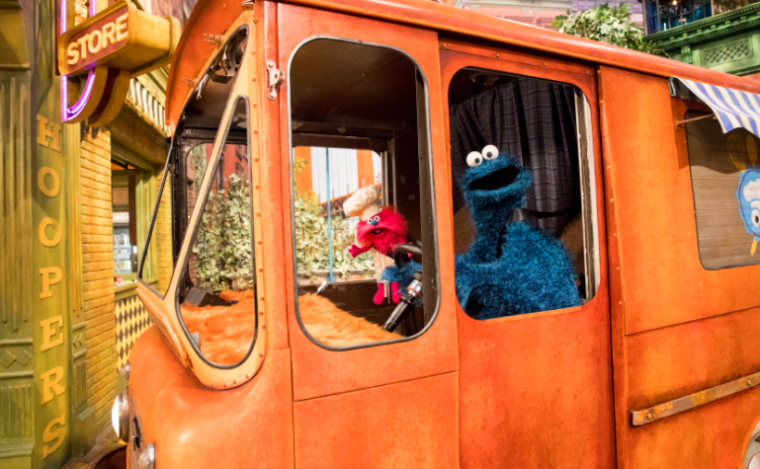 The concept sounds pretty cute. A kid viewer will video-chat in an order, prompting Cookie Monster and Gonger to realize they need a key ingredient — cranberries, for example. "Where are we going to get those? Let's go to a cranberry bog!" they might say.
Off they go, to a live-action shot in a cranberry bog to retrieve the ingredient of the day. Then, the duo hurries back to Sesame Street to deliver the meal to the hungry customer.
OK, so a sustainable, real-life business model this is not — but it's a pretty adorable-sounding way to teach kids about healthy ingredients and where our food comes from.
Other outings include an avocado farm, a pasta factory and other farms.
It sounds entertaining for parents, too. An HBO spokesperson told TODAY Food that the new character, Gonger, is "really hysterical."
The segments will also feel reminiscent of classic "Sesame Street" sketches, Brown Johnson, EVP and creative director for Sesame Workshop, wrote in a statement. Plus, "Cookie Monster — an enduring favorite with fans of all ages — is the original food fanatic," she added.
The new segment will debut during a "Sesame Street" primetime special on Saturday, Nov. 11, at 7 p.m. ET.
The special, called "The Magical Wand Chase," is all about mutual respect and understanding and will promote "recognizing similarities and celebrating differences, particularly around race, ethnicity, and socioeconomic class," according to a statement from the Sesame Workshop.
Subsequent "Foodie Truck" segments will air semi-regularly on new episodes of "Sesame Street" on Saturdays at 9 a.m. ET on HBO, starting Nov. 18. After nine months on on HBO, the new episodes will start airing on PBS, per a 2015 lifeline financial agreement.