There are few greater guilty food pleasures than taking a bite of raw cookie dough — but there's also that gnawing feeling in your stomach telling you you're not supposed to do it, thanks to all those health warnings about the chance of contracting a foodborne illness from eating raw products like eggs.
DŌ, Cookie Dough Confections, a raw cookie dough shop in New York City that became famous on Instagram with its heaping scoops of multi-flavored dough, claimed to have found a way around those pesky safety concerns by using a pasteurized egg product. The process, says the shop, supposedly prevents any chance of salmonella by using heat to kill any potentially harmful bacteria.
But two college students are now suing the cookie dough sweet shop, alleging they still got food poisoning from consuming DŌ's dough .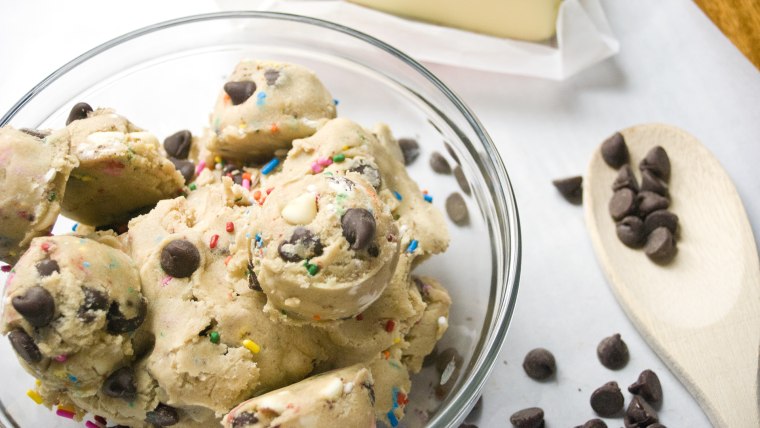 According to the New York Post, the lawsuit, filed by Julia Canigiani and Katherine Byrne of Manhattan College, claims the duo got sick after consuming treats from DŌ.
The base ingredients for the store's cookie dough include heat-treated wheat flour, brown sugar, butter, pasteurized egg whites, sugar, pure vanilla egg whites, corn starch and baking soda.
Most cookie dough, however, is usually considered unsafe to consume because of the raw eggs and raw flour. The latter ingredient can spread E. coli infections, according to the CDC.
DŌ's website states that the store's version is safe to eat because besides using pasteurized eggs, they use a heat-treated, ready-to-eat flour. "All ingredients in each of our delicious, homemade recipes are completely safe to consume just as they are – unbaked," it says.
But the lawsuit says customers were deceived by shop since they eventually got sick after consuming the product anyway. And it turns out the students weren't the only ones to experience a yucky feeling. Several consumers have complained on Yelp about feeling ill after eating the products, with some even claiming they felt sick after one bite and others saying the illness came on the next day.
The CDC says symptoms of salmonella appear six to eight hours after eating a contaminated food, while E. coli takes about three to four days to manifest.
However, the company says it stands behind the safety and representation of its product. In a statement sent to TODAY Food, DŌ said, "We will fully and faithfully defend ourselves against any and all false accusations. The health and happiness of our customers has, and always will be, a top priority."